Notes: Faith Lutheran freshman Ma'a Gaoteote blazing his own path
September 26, 2017 - 7:38 pm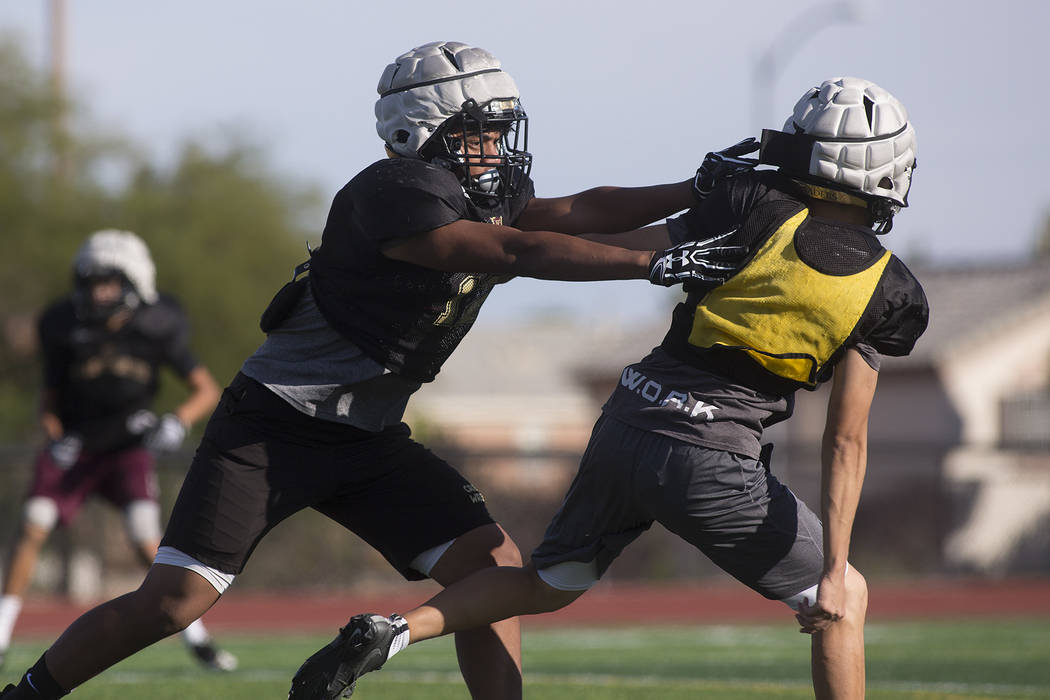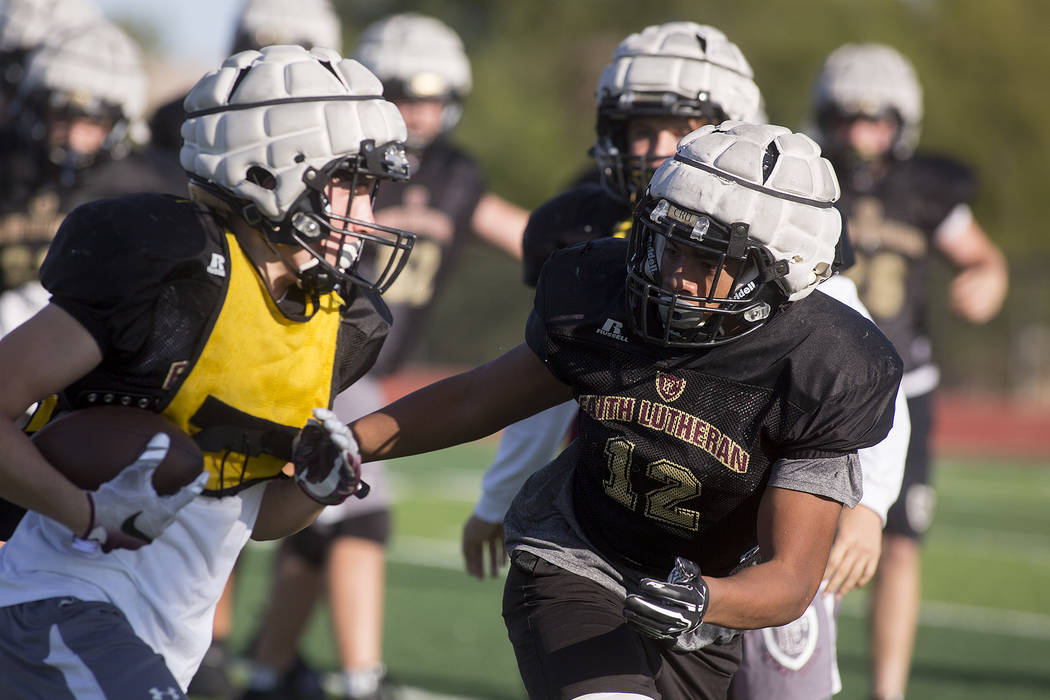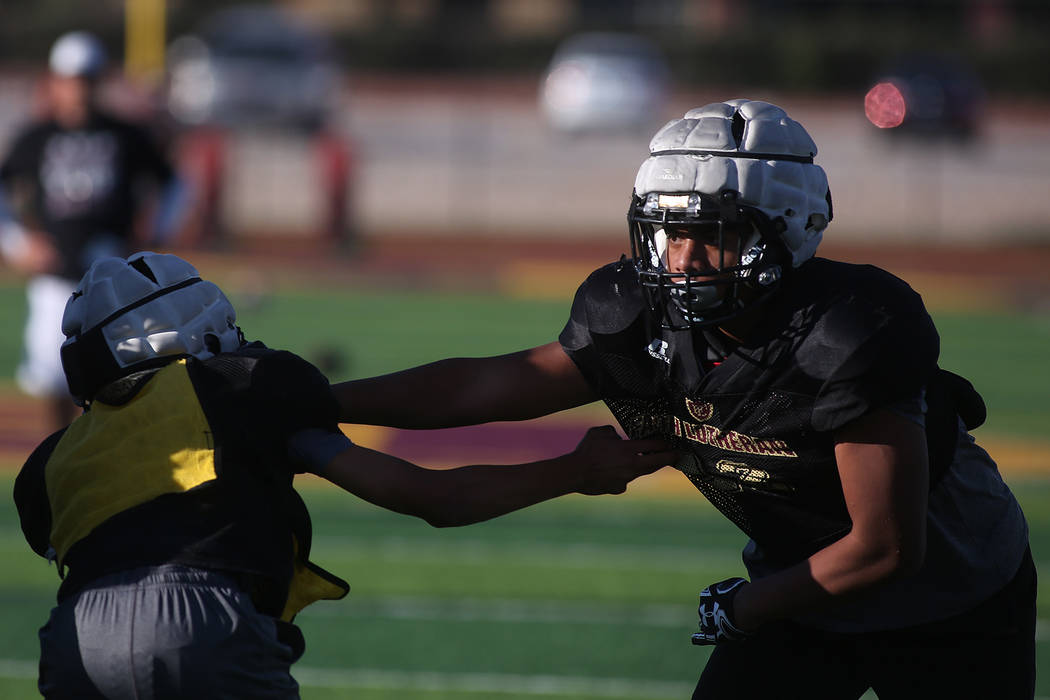 Bishop Gorman senior and five-star linebacker Palaie Gaoteote stood near rival Faith Lutheran's sideline Monday evening, waiting patiently for the Crusaders to conclude football practice.
A few minutes later, freshman Ma'a Gaoteote shed his Faith Lutheran practice jersey and walked past his older brother to get into the school.
"His freshman year is so much greater than my freshman year," said the elder Gaoteote, who is committed to the University of Southern California. "Looking at all the tools and all the intangibles he has, I can tell that he's going to be better than me."
At 6-foot-1 and 200 pounds, the younger Gaoteote starts at outside linebacker for the Crusaders and is emerging as one of the best underclassmen in the state.
He already has procured a full-ride scholarship offer from Ole Miss, and Faith Lutheran coach Vernon Fox said "the sky's the limit" for the frosh standout.
"When he got here, we saw right away within the first two to three weeks that he could eventually play at the varsity level," Fox said. "If you look at him, you would never notice that he's a freshman … We're excited to have him around here. Obviously, he could have went somewhere else."
That somewhere else is undoubtedly Bishop Gorman.
Gaoteote played middle-school football for the Bishop Gorman Gators — the Gaels' youth program with which he earned his offer from the SEC school. He, too, thought about attending national power Gorman, but wanted to avoid following his brother's footsteps.
So he toured Faith Lutheran in the spring and, with Palaie's blessing, decided to play for the Crusaders.
"I just wanted to do my own thing and get away from everybody knowing me as my brother's little brother," Gaoteote said. "I thought about the opportunity that I have here, and that I could do what I've always dreamed of doing."
Which is start for a Class 4A school as a freshman.
Fox was blown away by Gaoteote's maturity and said his field vision and awareness are advanced such for a young player.
He's quick enough to stick with skill-position players in coverage, saavy enough to blow up plays in the backfield and he showcased the ability to do both in a 20-17 win over Palo Verde on Saturday.
"I want to come down and be more ruthless with ball carriers," he said. "I still have a lot to prove … I feel that I need to prove that I am probably one of the best freshmen in the nation."
Palaie Gaoteote said he had always dreamed of playing with his little brother at Bishop Gorman but added that attending Faith Lutheran was "a great move" for Ma'a's future.
"All his life he's always been known as (Palaie's) little brother," Palaie Gaoteote said. "Right now he's just known as Ma'a … He came out here and did his own thing. I'm glad for him. I'm happy for him."
Division I commitments
*Cimarron-Memorial senior outfielder Trevor Doyle tweeted Sunday he will play baseball for Sacramento State. Doyle hit .449 for the Spartans last season and struck out six times in 104 plate appearances.
*Desert Oasis guard Jacob Heese tweeted Monday that he'll play basketball at the University of South Carolina Upstate. Heese averaged 23.9 points, 10 rebounds, three assists and 2.5 steals for the Diamondbacks last season.
Their commitments are nonbinding and won't be official until they sign national letters of intent. The early signing period begins Nov. 8.
Gorman soccer climbs
Bishop Gorman's boys soccer team (10-0-2) moved up to No. 14 in the USA TODAY/United Soccer Coaches Super 25 rankings. The Gaels were No. 16 last week.
Contact reporter Sam Gordon at sgordon@reviewjournal.com. Follow @BySamGordon on Twitter.