Rancho recovers from slow start, hammers Eldorado
October 24, 2008 - 3:08 pm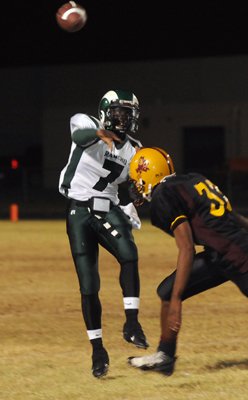 After suffering a disappointing home loss to rival Las Vegas last week, Rancho came into Friday's game at Eldorado with a case of "Bone Game hangover."
And the host Sundevils took advantage, parlaying an onside kick to open the game into a touchdown and an early lead.
But Rancho awoke from its funk behind senior quarterback James Cammack, who threw for 235 yards and four touchdowns to power the Rams to a 28-7 Northeast League victory.
Rancho coach Elvin Dick said that after a lackluster week of practice for his team, Eldorado offered a big wake-up call after recovering the onside kick on the opening kickoff and marching 47 yards in four plays to take the lead on Ezaevan Williams' 3-yard touchdown run.
"We had a little residual from last week. They weren't focused like they were in practice last week," Dick said. "But my hat's off to (Eldorado). They were doing things that were hurting us right up the middle, running some zone stuff that took our tackles out of the game.
"It was a good job scheme wise by them."
But the Sundevils (4-5, 2-3) — with starting quarterback JaQuorrey Williams on the sideline with his left arm in a sling — had no answer for Cammack, who saw Eldorado's defensive backs playing tight coverage on the Rams receivers early on and took advantage.
"I saw their DBs were little, and they were pressing our big receivers," said Cammack, who connected on 14 of 23 passes. "I (said to) Coach, 'They are pressing; let me get it up there to them.' And he did. He let me get the ball to my playmakers."
Cammack tossed one touchdown pass per quarter, finding Dijon Holman for two and Perry Benson and Justin Flygare for one apiece.
After a 2-yard Cammack-to-Holman hookup on the last play of the first quarter tied the score at 7, Eldorado marched down the field to the Rancho 7. But Danny Diaz hauled in an interception for Rancho at the 5-yard line. From there, Cammack drove the Rams (5-4, 4-1) out from under the shadow of their own goal post — including an 18-yard pass to Holman on third-and-13 from the 2 — before tossing a 41-yard bomb to Perry Benson for a TD to give Rancho a lead it would never relinquish, 14-7.
"A lot of those big plays were audibles by him," Dick said of Cammack. "(Cammack) being able to do that when they had single coverage or press coverage really helped us."
And after Cammack found Holman on a 16-yard touchdown pass on the left side of the end zone on the Rams' opening drive of the third quarter, Eldorado was forced to throw the ball more after having success in the first half running the ball.
Tone Gatewood had a game-high 111 rushing yards on 21 carries for Eldorado. But Gatewood was limited to four carries for 15 yards in the second half as Rancho made adjustments and the Sundevils were forced to throw the ball more after falling behind.
The Rams held Eldorado's first-time starting quarterback, Leslie Hildreth, to 29 passing yards, intercepted him twice and sacked him twice.
"In the beginning we had a slow start, but in the end we finished up like we wanted to," Cammack said. "This was very important because we know we have a spot in the playoffs now."
After playing with the Rams when the team had no home field and no real practice facility two years ago, Cammack said winning next week to secure a home playoff game would be huge.
"It's really good now," he said. "I'm very happy to have a facility now. I'm very happy to be practicing in a place where we don't have to fight with bums.
"If we could play (in the playoffs) at home in front of our fans, that would be really good. Hopefully we could get a win."