RECRUITING: Gorman tackle Stanley commits to Notre Dame
December 15, 2011 - 9:40 pm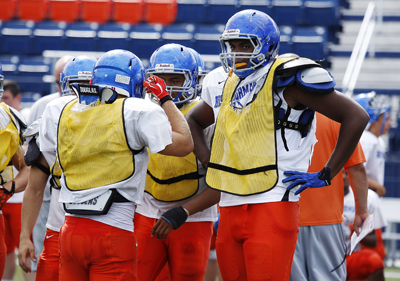 Ronnie Stanley is soft-spoken during interviews and greets classmates at Bishop Gorman High School with a happy-go-lucky smile.
"But when you get him on the field, he's an old-school tough guy," Gorman football coach Tony Sanchez said. "His competitiveness is through the roof."
That's music to the ears of Notre Dame fans.
Stanley, a senior offensive tackle, announced his commitment to Notre Dame in a ceremony Thursday at Gorman.
The 6-foot-7-inch, 275-pound lineman kept a Notre Dame cap hidden in his backpack as he strolled through campus and was itching to put it on all day.
Stanley donned his Fighting Irish cap in front of dozens of classmates, teammates, coaches and teachers in a Gorman lecture hall, drawing applause and cheers as he made his announcement.
"I just know this is going to be the biggest decision of my life. It's probably where I'm going to find my wife and lifelong friends," Stanley said. "I'm glad it's over with, and I picked a really good school. I was pretty anxious to tell everyone. It was hard holding it in."
Stanley picked Notre Dame over offers from Arkansas and Nebraska, among others. The first day he can sign a national letter of intent is Feb. 1.
Stanley left his official recruiting visit to Notre Dame last weekend impressed not only with the football program, but the academic and spiritual atmosphere of the campus.
"I like to pray a lot, so I just feel like Notre Dame would be a good place to do that, and have really good academics," Stanley said.
"On my visit there, at the banquet, they had a video of all the moms, how proud they were of their kids at Notre Dame, and I couldn't help but think of my mom (Juli) and how proud she'll be of me."
Stanley was a first-team all-state selection this season, paving the way for Gorman (16-1) to win its third straight Class 4A state title.
He's also a productive post player on Gorman's basketball team and boasts a rare blend of size and athleticism that makes him the top prospect in Nevada, according to Rivals.com's rankings.
"I think in either sport he could have succeeded (in college)," said Stanley's father, Ron. "He has the athleticism and smarts. Notre Dame has a lot of tradition, and that's one of the points that (Ronnie) made. It was a good choice."
Stanley had been inundated with calls from college coaches and media and expressed relief at finalizing his decision.
"I can be more focused and have time to do homework. It's a lot of stress off," he said.
Stanley said he is still healing from a dislocated left elbow he suffered in the Sunset Region final, but he expects to join the basketball team by next week.
Stanley said he wanted to make the announcement in front of family and close friends all along.
"It just means a lot, and I'm going to remember this day for the rest of my life," he said.
HUTCHINS COMMITS — Gorman senior linebacker Zach Hutchins committed to San Jose State, Sanchez said.
The 6-2, 222-pound Hutchins was a first-team all-state pick after he made 78 tackles and three sacks on his way to Southwest League Defensive Most Valuable Player honors this season.
Sanchez said senior guard Ron Scoggins and senior linebacker Marc Philippi will make official visits to UNLV this week. Scoggins visited San Jose State last week and Philippi was at Montana.
Scoggins, a first-team all-state pick, said he also is considering New Mexico State and Fresno State.