ROUNDUP: Coronado breaks through, 21-7
November 10, 2012 - 12:30 am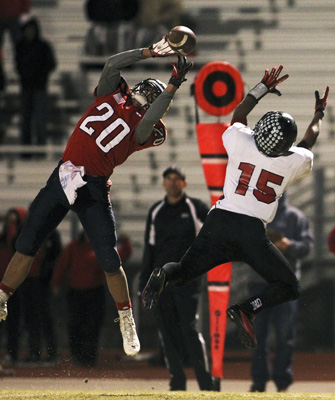 Coronado football coach Brad Talich called it the end of an era.
After years of mediocrity, the seventh-ranked Cougars finally broke through Friday with a convincing 21-7 home victory over perennial powerhouse Las Vegas in their Division I Sunrise Region quarterfinal.
Derrick Keller rushed for 117 yards and a touchdown for Coronado (8-2), which will play at Green Valley in the semifinals next Friday.
"We just want our kids to believe they're just as good as Vegas and Palo Verde," Talich said. "We've tried to instill that pride, and the kids now deserve to have the feeling that they're just as good."
His defense proved that point from the beginning, forcing a fumble to end the Wildcats' first drive.
The Cougars capitalized three plays later, scoring on a 31-yard run by Keller to go ahead 7-0 early in the first quarter.
"We knew we had to put pressure on them," said Talich, whose squad forced four turnovers. "And it turned out pretty good."
Several strong defensive stands gave Coronado good field position throughout the first half. The offense took advantage early in the second quarter by driving 35 yards in nine plays to go ahead 13-0 on a 1-yard plunge by Jason Warren.
"Field position was important," Talich said. "With the wind like it was, we had to take advantage, and we did that."
The best first-half scoring opportunity for Las Vegas (6-4) followed a fumble recovery midway through the second quarter. Though they moved the ball deep into Coronado territory, the drive fizzled at the 2-yard line.
Las Vegas' only score came in the third quarter when Jason Cottle scooped up a Cougars fumble and sprinted 62 yards for a touchdown to cut the deficit to 13-7.
But Coronado intercepted Wildcats quarterback Trevor Swenson minutes later and converted the opportunity with a 16-yard TD pass from Kevin Lucero to Jackson Cofer.
Cofer finished with 81 yards on seven carries, and teammate Trevor Spina ran nine times for 79 yards. Lucero completed seven straight passes early in the second half and was 9 of 16 on the night.
Vince Castro carried 25 times for 141 yards to lead Las Vegas. Swenson completed 18 of 32 passes for 125 yards.

Canyon Springs 37, Basic 15 — At Canyon Springs, Diamante Luna returned his teammate's interception 86 yards for the tying score in the third quarter, then hauled in a 32-yard pass from Stevie Farmer for the go-ahead points early in the fourth quarter as the No. 8 Pioneers (7-3) downed the No. 9 Wolves (6-4) in a Sunrise Region quarterfinal.
Luna scooped up a pitch from teammate A.J. Cooper, who intercepted a Basic pass at his 6-yard line and began to return it. Luna then rambled 86 yards, and Rayshawn Henderson's 2-point conversion run tied the game at 15 with 3:25 left in the third quarter.
Farmer's scoring strike to Luna with 7:44 to play gave the Pioneers a 23-15 lead.
Henderson added a 1-yard touchdown run, and Zaviontay Stevenson scored on a 69-yard run to allow Canyon Springs to pull away.
Basic built an early 9-0 lead on Jaylen Rose's 6-yard pass to Devonte Boyd and Tim Lane's 33-yard field goal, but the Pioneers closed the gap to 9-7 on Stevenson's 83-yard touchdown run with 5:26 left in the second quarter.
Stevenson had 172 yards on 15 carries for Canyon Springs.
Antraye Johnson's 40-yard pass to Tyrus Williams early in the third quarter gave the Wolves a 15-7 lead.
Canyon Springs will take on Liberty in the semifinals next Friday.
— Sam Leeper
Liberty 33, Silverado 14 — At Liberty, Kai Nacua ran for four touchdowns and forced a key fumble in the fourth quarter as the No. 3 Patriots (9-1) pulled away to beat the Skyhawks (5-5) in a Sunrise Region quarterfinal.
Liberty will host Canyon Springs in a Sunrise semifinal game at 7 p.m. next Friday.
Trailing 19-14 with just over 10 minutes left in the fourth quarter, Silverado (5-5) drove from its 20-yard line to the Liberty 31. But on fourth down, Nacua came up with a strip sack, chopping the ball free from scrambling Skyhawk quarterback Marquise Edward, and Ka'imi Batoon recovered for the Patriots at the Silverado 44.
Three plays later, Nacua scrambled and broke free for a 43-yard touchdown run. He added a 7-yard TD run on the Patriots' next drive to put the game away.
Nacua finished with 140 yards on eight carries and also threw for 73 yards.
Liberty appeared in control of the game after Nacua capped the first drive of the second half with a 10-yard touchdown run to give the Patriots a 19-6 advantage.
But Silverado answered after an odd sequence where the Skyhawks completed an 18-yard pass only to fumble at the 1-yard line out of the end zone for a touchback.
Liberty fumbled on the ensuing play, and Silverado's Ryan Contorelli recovered at the Patriot 9-yard line. Alex Cater scored on the next play, and Silverado trimmed the lead to five with a 2-point conversion.
Cater finished with 175 yards rushing on 36 carries to lead the Skyhawks.
— Tim Guesman

Green Valley 43, Foothill 14 — At Green Valley, Christian Lopez threw for 182 yards and three touchdowns, two of them to Markus Varner, to help the No. 4 Gators (9-1) bury the Falcons (3-7) in a Sunrise Region quarterfinal.
Green Valley will play Coronado in the semifinals next Friday.
Gino Jonassaint added 77 rushing yards and a touchdown for Green Valley.
Foothill scored on its opening drive but was overwhelmed after that. Jalen Shepard was 22 of 44 for 213 yards with a touchdown for the Falcons.
— Steven Slivka

DIVISION IV
Pahranagat Valley 48, Carlin 0 — At Alamo, Austin Poulsen threw six touchdown passes, including four to Mason Stirling, as the Panthers (10-0) advanced to the Division IV state final and ran their winning streak to 56 games by routing the Railroaders (6-5).
Poulsen hit Stirling on TD passes of 16 and 43 yards on the Panthers' first two drives, then added a 15-yard score to Wade Leavitt and a 7-yard touchdown to Stirling on the next two possessions as Pahranagat Valley built a 26-0 halftime lead.
Tyler Higbee's 13-yard run made it 34-0, and Poulsen capped the night with a 5-yard TD pass to Stirling and a 1-yard scoring strike to Tyson Sparrow.
Poulsen threw for 149 yards and rushed for 136 more. Higbee added 177 rushing yards on 17 carries as the Panthers piled up 568 yards of total offense.
Pahranagat Valley will meet the winner of today's game between Spring Mountain and Virginia City for the state title at noon Nov. 17 at Bishop Gorman.