ROUNDUP: Love powers Green Valley win
October 1, 2011 - 10:44 pm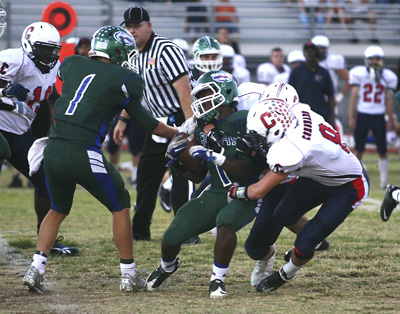 Even when he didn't have the ball, Green Valley running back Aaron Love was the focus of Coronado's defensive attention Saturday night.
Love made his job look easy, rushing for 230 yards and three touchdowns on 22 carries to guide the Gators to a 45-28 home victory over the Cougars.
Quarterback Jacob Olim was the primary beneficiary of Love's performance. Green Valley's passing game opened up once Coronado identified Love as a constant scoring threat.
The Gators were held to 7 passing yards in the first half, but finished with 152.
"If you can run it you can pass it, and if you can pass it you can run it," Green Valley coach Brian Castro said. "When Aaron gets going, he puts some pressure on the defense."
Coronado (2-3, 0-3 Southeast) took a 6-0 lead when Brock Taeubel capped an 80-yard first-quarter drive with a 21-yard touchdown reception from Derrick Keller.
But Love took over in the second quarter, scoring on runs of 46 and 7 yards to put the Gators (4-1, 3-0 Southeast) ahead 14-6 at halftime.
Love said it wasn't as easy as it appeared.
"Coronado has a great defense," he said. "They're really well coached and they've improved a lot. But we watched a lot of film, and I got some really good blocks."
Olim's 9-yard TD pass to David George made it 21-6 early in the third and minutes later Conor Perkins kicked a 21-yard field goal. The kick was set up by Love's 41-yard pass to Barry Curvant after a direct snap.
Coronado answered with a 65-yard scoring run by Keller, but Green Valley needed only two plays to take a 38-14 lead when Olim connected with Tevis Labrador for a 50-yard pass with 11:50 to play.
The Cougars scored twice in the fourth quarter on a 39-yard pass from Keller to Tyler Proctor and Christopher Johnson's 33-yard run.
"I think our guys just got too comfortable with the lead," Castro said of his defense. "When you do that, nothing is safe."
The Gators fumbled on their ensuing possession, giving Coronado a chance to further cut the gap.
But Green Valley's Dimitri Santos intercepted a Keller pass and returned it 51 yards to put the game away at 45-28 with 2:25 left.
Though the Gators maintained a share of first place in the Southeast with the win, Castro said he was far from comfortable.
"There are some tough games coming up, and we know it," the coach said. "There are never easy games. All you can do is try to get better every week."
Olim completed 8 of 19 passes for 110 yards to help Green Valley.
Keller led the Cougars with 141 yards on nine carries and Johnson supplied 132 yards on 22 carries.
Cimarron-Memorial 20, Legacy 14 — At Cimarron, Demaryae Williams rushed for 162 yards and two touchdowns on 32 carries as the No. 9 Spartans (4-2, 3-2 Northwest) held on to beat the Longhorns (2-3, 2-3).
Williams broke a tackle and shed another tackler on a 44-yard TD run to give Cimarron a 20-8 lead with 9:55 to play.
Legacy's Steffan Webb had an 87-yard run, but slowed down before crossing the goal line and was caught from behind by Cimarron's Marques Price who stripped Webb of the ball and recovered the fumble in the end zone for a touchback with 5:18 left in the first half.
Cimarron's defense, led by defensive end Austin Cervantes who had a sack, forced four straight punts by Legacy to start the second half before the Longhorns took advantage of a pass interference penalty and scored on the following play with a 9-yard run by D'Andre Hughes to make it 20-14 with 2:24 left.
Legacy failed to convert the 2-point conversion attempt as Cimarron's Tristan Grimmet knocked quarterback Kashawn Richardson out of bounds.
Cimarron's Robert Padilla recovered the onside-kick attempt by Legacy on the ensuing kickoff.
Legacy held Cimarron and got the ball back with 58 seconds left but failed to score.
Williams scored on a 36-yard dash in the second quarter and quarterback Gerard Martinez scored on a 1-yard keeper to cap Cimarron's 15-play opening drive in the first quarter.
Hughes finished with 115 yards on 15 rushes, including a 64-yard TD scamper in the second quarter.
— Brennan Karle
Palo Verde 41, Cheyenne 8 — At Cheyenne, the No. 2 Panthers scored five touchdowns in the first half and defeated the No. 6 Desert Shields for their 34th league victory in 35 games.
Ryan Beaulieu scored on a 54-yard punt return for Palo Verde (6-0, 5-0 Northwest), Lee Griggs ran for a 2-yard score and Eric South added a 1-yard run for a 20-0 lead. Griggs, who rushed for 120 yards, set up South's score with an 88-yard run.
Cheyenne (4-1, 3-1 Northwest) was held to 202 total yards, led by Myloe Lewis with 78 yards on 10 carries.
— Sam Leeper
Las Vegas 31, Valley 16 — At Valley, the No. 4 Wildcats (5-0, 3-0 Northeast) scored touchdowns on four of their first five possessions to build a 31-0 halftime lead and defeat the Vikings (2-3, 2-1).
Las Vegas senior quarterback Hasaan Henderson threw three touchdown passes: 22 and 18 yards to Farrell Victor and 22 to Andrew Moreland. Henderson finished 12-for-18 for 136 yards and also gained 103 yards on nine carries.
Victor ran for a 3-yard TD in the first quarter, Moreland had 37 yards rushing and 45 receiving, and Joshua Mayfield made three catches for 52 yards.
Valley scored twice in the final 11 minutes on a 54-yard run by Bryon Peeples and an 8-yard keeper by Anthony Sanders. Peeples ran for 106 yards on three carries, all in the second half.
Dillard Davis added 65 yards rushing for the Vikings. Kennedy Williams had 50 yards rushing and 53 yards receiving.
— Tristan Aird
Desert Oasis 34, Spring Valley 0 — At Desert Oasis, Devin Fortenberry rushed for touchdowns of 2, 25 and 7 yards, and Trevon Barnes supplied a 24-yard scoring reception as the 10th-ranked Diamondbacks blanked the Grizzlies.
Matt Howard kicked field goals of 26 and 25 yards for Desert Oasis (3-2, 3-1 Southwest), and Brandon Andrews ran for 115 yards on 22 carries.
Barnes made a 13-yard catch that led to Fortenberry's first TD, and Barnes' scoring catch capped the Diamondbacks' 17-point second quarter. Barnes finished with four catches for 56 yards.
Desert Oasis' defense, led by linebackers Kyle Henry, Jonah Montenegro and Blake Kutz, held Spring Valley (2-3, 2-2) to 70 yards and compiled four sacks.
— Angela Denker
Arbor View 55, Shadow Ridge 6 — At Shadow Ridge, the No. 3 Aggies shook off a sluggish start with touchdowns on five consecutive possessions to pull away from the Mustangs.
Leading 7-6 midway through the second quarter, Arbor View (5-1, 4-1 Northwest) pulled away by scoring four times in the next 4:50 and then on its first second-half possession to go ahead 41-6.
The Aggies ran for 524 yards, led by Roderick Eason with 130 and two touchdowns, including a 90-yarder in the second quarter. He also had a 3-yard TD.
Donnie Gaskin rushed for 129 yards including a 23-yard score and Rob Milner had TDs of 2 and 11.
Henry Hoffend (1 yard), Steve Burns (55) and Marcus Lavergne (3) also had rushing scores.
Shadow Ridge (0-5, 0-4) got field goals of 39 and 25 yards by James Grigsby.
— Alan Abair
Clark 24, Sierra Vista 20 — At Clark, Shane McLin rushed for 184 yards and four touchdowns, leading the Chargers' comeback from a 20-0 defici.
McLin's 30-yard run with 9:20 remaining gave the Chargers (2-3, 2-3 Southwest) the lead. The touchdown came two plays after Devonte Taylor made his second fumble recovery at the Clark 35.
McLin, who had 24 carries, also scored on runs of 1, 1, and 10 yards. He rushed for 156 yards in the second half, when Clark outgained the Lions 200-98.
Trailing 20-6, the Chargers opened the second half with a six-play, 65-yard drive — all McLin runs — capped by his second 1-yard TD. Sierra Vista (1-3, 1-4) fumbled the ensuing kickoff, recovered by the Chargers' Alex Yoder, and McLin ran in from 10 yards eight plays later.
Sierra Vista used big plays to seize the early lead, with Mike Dominique returning the opening kickoff 86 yards and Taz Wilson connecting with Matt Murphy on an 84-yard pass in the second quarter.
Justin Green added 82 yards on 18 carries, including an 8-yard touchdown.
— Tim Guesman
Basic 20, Silverado 10 — At Silverado, Antraye Johnson scored on a 39-yard reception and a 69-yard punt return to lead the Wolves over the Skyhawks.
Johnson's catch from Eddie Vega in the third quarter gave Basic (3-2, 2-1 Southeast) a 13-2 lead.
Silverado (1-4, 0-3) answered with Deandre Gause's 80-yard TD run and 2-point conversion run before Johnson's punt return put the game away with 5:35 to play.
Vega was 14 of 24 passing for 169 yards, with Devonte Boyd catching nine for 97 yards.
Silverado's Izaiah Thurmon had 138 yards on 21 carries and Gause added 101 yards on 10 carries.
— Tim Guesman
Durango 34, Pahrump Valley 0 — At Pahrump, Kameron Gillis returned two interceptions for touchdowns and the Trailblazers' defense did the heavy lifting in a shutout of the Trojans.
Two other interceptions set up a pair of 6-yard touchdowns by Marcus Williams, and Arie McQuaig scored on a 29-yard run following a shanked punt by Pahrump Valley (1-4, 1-3 Southwest).
McQuaig's 118 yards on 11 carries led the offense for Durango (3-3, 3-2)
Pahrump Valley sophomore quarterback A.J. Segura was 15 of 31 for 162 yards with five interceptions. Brandon Murphy made six catches for 93 yards.
— Don McDermott
Desert Pines 53, Eldorado 20 — At Desert Pines, Eric Wilkes rushed for 216 yards and four touchdowns and also scored on a 4-yard fumble return as the Jaguars (1-4, 1-2 Northeast) beat the Sundevils (1-4, 0-3) for their first win.
Desert Pines compiled 307 yards and 34 points after trailing 20-19 at halftime. The Jaguars finished with 469 yards on the ground.
Wilkes made his fumble return in the third quarter and TD runs of 48 and 47 yards in the fourth. His first-half scoring runs went for 11 and 81 yards.
Leon Hayes, who ran for 185 yards, supplied a 65-yard touchdown, and Davion Toney scored on a 17-yard run and an 84-yard return on the opening kickoff. Leon Flintroy made two interceptions.
Eldorado's Nicholas Blackmon threw for 229 yards and had first-half TD passes to Javen Nihipali (70 yards), O'Darius Mitchell (10) and Darion Ashley (39).
— Sam Leeper
Centennial 35, Mojave 3 — At Mojave, Coby Newton rushed for 126 yards including a 1-yard TD, and the Bulldogs held the Rattlers to 150 yards.
Centennial (2-2, 2-2 Northwest) led 14-3 at halftime after touchdown runs by Austin Turley (4 yards) and Jacobi Owens (28). Owens added a 2-yard score in the fourth quarter, and Jacob Meltzer threw a 15-yard TD pass to Trajan Pill.
Mojave (1-4, 0-4) scored on a 27-yard field goal by Bryant Lewis, who rushed for 91 yards on 20 carries.
— Adam Berchin
Bonanza 52, Western 28 — At Western, the Bengals (5-1, 4-1 Southwest) pulled away from the Warriors (0-5, 0-5) with a 28-6 edge in the second half.
Carlos Soto and Jayveon Taylor ignited Bonanza's surge with 65-yard touchdown runs. Brett Doyle passed for 267 yards, and six Bengals had at least 70 yards of offense.
Reggie Williams scored twice for Western, on an 89-yard kickoff return and 4-yard run.
— Neil Grepke
Rancho 44, Chaparral 12 — At Chaparral, Cody Hafen rushed for 136 yards and three touchdowns on 24 carries to spark the Rams (2-3, 2-1 Northeast) past the Cowboys (1-4, 1-2).
Hafen had two 1-yard scoring runs and an 8-yarder. Will Gosse-Gardet ran for TDs of 1 and 17 yards and was 13 of 18 passing for 123 yards. Jason Ferrell rushed for 78 yards, including a 4-yard TD.
Antonio Thomas ran for 76 yards and two touchdowns for Chaparral.
— Zac Alexander
Canyon Springs 54, Sunrise Mountain 7 — At Sunrise Mountain, Donnel Pumphrey ran for two touchdowns and caught a pass for another as the Pioneers (3-2, 3-0 Northeast) scored the final 47 points to roll over the Miners (0-5, 0-3).
Pumphrey scored on runs of 28 and 4 yards and caught a 50-yard touchdown pass from Kevion Glenn.
Glenn also ran for a score and threw a 10-yard TD strike to Adam Tuala. Rayshawn Henderson and Rasheen Adams added TD runs and Isiah Charles hauled in a 60-yard pass from Diamante Luna.
Sunrise Mountain's touchdown came on a 6-yard pass from Chris Moore to Charles Manning in the first quarter.
— Nolan Lister
Moapa Valley 59, Faith Lutheran 26 — At Overton, Sean McConnell ran for 162 yards and three touchdowns on five carries and scored on a 61-yard punt return to carry the Pirates (5-1) past the Crusaders (1-4).
McConnell scored on runs of 25 and 17 yards in the second quarter to help Moapa Valley build a 47-13 halftime lead, then added a 95-yard TD in the third.
Conner Mortensen ran for 118 yards and two TDs for Moapa Valley. Dakota Watters completed 10 of 13 passes for 152 yards, including a 20-yard TD to Austin Prisbrey, and ran for a 1-yard score.
Shane Terril caught six passes for 96 yards for the Class 3A Pirates, who are 4-0 against 4A teams this season.
Faith Lutheran's Gino DeGeorge threw for 289 yards, including an 80-yard TD to Chris Mays, who made five catches for 170 yards and a 2-yard TD run.