ROUNDUP: Nacua, Pats pick off Foothill
October 27, 2011 - 11:47 pm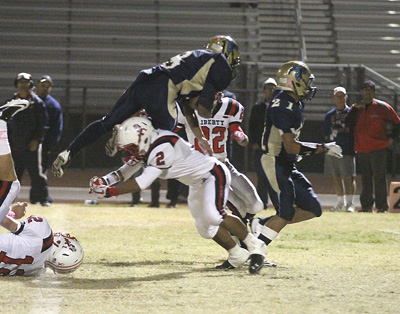 Liberty High quarterback Kai Nacua has made his share of big plays this season, but most have come on offense.
Nacua's biggest play Thursday came on defense, however, as his interception with just over a minute to play helped the fourth-ranked Patriots secure a 49-41 road victory over No. 6 Foothill.
Liberty (8-1), which will host Valley in the first round of the Sunrise Region playoffs, won the Southeast League at 6-0. The Falcons (7-2, 4-2) will host Desert Pines.
Patriots coach Rich Muraco, who has become accustomed to strong performances by his defense, said he wasn't sure his squad would pull it off until Nacua's interception .
"The defense did come through when we needed them," Muraco said. "When you throw the ball, three things can happen and two of them are bad. Kai made a great read on that pass."
Liberty's offense was potent from the start, as Niko Kapeli carried 38 times for 296 yards. He ran for four touchdowns and had another when he caught Nacua's 55-yard pass to cap the Patriots' one-play opening drive.
Jordan Kapeli added 103 yards on 17 carries, and Nacua racked up 100 yards on 10 carries to contribute to the Patriots' 627-yard attack.
But even with those strong performances, Liberty struggled to shake Foothill.
"The problem was that (the Falcons) would score in like a minute," said Muraco, whose defense gave up several big plays. "Our whole game plan is to burn the clock and make the other team earn their scores."
Kapeli scored twice in the first five minutes, following his TD reception with a 68-yard sprint to give Liberty a 14-0 lead.
But Kyle Keplinger scored on passes of 19 and 20 yards from Drew Doxtator to help Foothill tie it.
Kapeli scored on a 63-yard run two plays later, but Keplinger tied it at 21 when he caught an 18-yard pass with 1.6 seconds left in the half.
Nacua and Kapeli scored on 1-yard runs in the third to give the Patriots a 35-21 lead, but Keplinger's 48-yard run cut it to 35-28.
Liberty appeared to put it away with a 1-yard Kapeli plunge that made it 42-28, but Marc Harris' 8-yard TD reception from Doxtator and Keplinger's 1-yard TD run brought the Falcons within 42-41. Vincent
Franzeos' extra-point attempt failed, however, and Nacua sealed it with a 5-yard TD run on fourth down and his interception to squelch a Foothill drive a minute later.
Nacua completed 2 of 4 passes for Liberty. Doxtator completed 15 of 30 passes for 275 yards to lead Foothill, and Harris finished with 66 yards on four receptions.
Centennial 21, Cheyenne 20 — At Centennial, Jacobi Owens rushed for 101 yards on 24 carries and scored two fourth-quarter touchdowns to lead the seventh-ranked Bulldogs (7-3, 7-2 Northwest) past the No. 10 Desert Shields (6-4, 5-4).
Owens scored on a 5-yard run to tie it at 14 with 6:10 remaining and an 11-yard run with 1:06 to play.
Kicker Matthew Kane's extra point provided the winning margin, and Isiac Catmull made an interception to end Cheyenne's final possession.
The Bulldogs will play at Desert Oasis in the first round of the playoffs on Nov. 4.
Cheyenne had taken a 20-14 lead with 2:51 to play on Mike Haigle's 5-yard fumble return. The Desert Shields also scored on a 1-yard run by Tyler Spight, a safety and a 5-yard run by Kenneth Counts.
Cheyenne will play at No. 1 ranked Bishop Gorman on Nov. 4.
— Brennan Karle
Basic 29, Del Sol 25 — At Del Sol, Antraye Johnson scored on a 1-yard run with 43.2 seconds left to help the Wolves (5-4, 3-3) beat the Dragons (4-5, 2-4) and clinch the Southeast League's final spot in the Sunrise Region playoffs.
Johnson's dive over the pile capped a nine-play, 80-yard drive that gave Basic its first win over Del Sol. Jalen Rose hit Devonte Boyd for the 2-point conversion.
Basic will visit Canyon Springs in the first round of the playoffs.
Johnson, who rushed for 198 yards and two touchdowns on 26 carries, had a pair of 13-yard runs on the final drive. He also passed for 45 yards.
Del Sol senior Chris Marshall rushed for 302 yards, including TD runs of 63 and 65 yards in the fourth quarter to help the Dragons rally from a 21-13 hole and take a 25-21 lead with 4:53 left.
Basic's Lee Hardy rushed for 43 yards, including a 30-yard TD in the second quarter, and Mike Roberts added a 1-yard TD run in the third.
Del Sol's Nathan Kirschbaum passed for 183 yards. He hooked up with Lael Perkins five times for 111 yards, including a 57-yard TD in the first quarter.
Dylan Lindemann made field goals of 37 and 49 yards for Del Sol, and Raheem Jones made two interceptions to lead the Dragons' defense.
— Tristan Aird
Eldorado 35, Rancho 22 — At Rancho, the Sundevils (4-5, 3-4 Northeast) rallied from a 16-0 deficit and scored twice with less than four minutes left to knock the Rams (3-6, 3-4) out of a playoff spot.
Eldorado took its first lead, 28-22, with 3:43 left when Ty Nihipali broke several tackles and scored on a 2-yard run. Quarterback Nicholas Blackmon hit O'Darius Mitchell for the two-point conversion.
The Sundevils then put it away when junior Justin Brown returned an interception 56 yards for a touchdown with 41.2 seconds left. Brown also had an 8-yard scoring run.
Blackmon threw for 328 yards and had TD passes of 62 yards to junior Javen Nihipali and 26 yards to Mitchell. Javen Nihipali had six receptions for 192 yards.
Rancho's Will Gosse-Gardett passed for 123 yards, including touchdown passes of 16 yards to junior Tommy Perkins and 19 yards to Alvaro Vasquez.
Jason Ferrell ran for 139 yards, including a 67-yard TD run, for the Rams.
— Alan Abair

Silverado 27, Green Valley 20 — At Silverado, Izaiah Thurmon rushed for 241 yards and three touchdowns on 38 carries, sparking the Skyhawks (3-6, 2-4 Southeast) with scoring runs of 22 and 27 yards in the fourth quarter.
Jordan McDonald's sack on Green Valley's final possession clinched the victory.
Deandre Gause rushed for 111 yards on 18 carries,with an 8-yard touchdown.
For Green Valley (5-4, 3-3), Aaron Love rushed for 75 yards on 13 carries, scoring on runs of 3 and 37 yards. Jacob Olim was 14 of 28 passing for 80 yards, with a 5-yard TD to Elijah Spann.
The Gators gained the Southeast's No. 3 playoff seed and visit Las Vegas in the first round.
— Zac Alexander

Arbor View 66, Faith Lutheran 6 — At Arbor View, Roderick Eason rushed for touchdowns of 42, 7 and 20 yards in the first quarter, and the No. 5 Aggies (8-2, 7-1 Northwest) cruised past the Crusaders (2-7, 2-6).
Denzel Daniels rushed for touchdowns of 38 and 8 yards, and Donnie Gaskin rushed for 100 yards on seven carries, including a 67-yard touchdown.
Arbor View, the Northwest's No. 2 seed, opens the Sunset Region playoffs by hosting Bonanza on Nov. 4.
Faith Lutheran quarterback Gino DeGeorge had 123 yards passing and running, scoring on a 33-yard run.
— Brian Danise
Palo Verde 56, Legacy 7 — At Legacy, the second-ranked Panthers (9-0, 8-0 Northwest) rushed for 303 yards and six touchdowns, and forced the Longhorns (4-5, 3-5) into six turnovers.
Palo Verde owns the Northwest League's top seed for the Sunset Region playoffs and will host Durango on Nov. 4.
Lee Griggs scored three touchdowns in the second quarter, catching passes of 17 and 30 yards from Parker Rost and running 11 yards. Griggs had 90 yards rushing.
Eric South scored on runs of 2 and 5 yards in the first quarter, and Patrick Gutierrez added TD runs of 3 and 15 yards. Jacob Witham ran 19 yards for a TD.
D'Andre Hughes scored for Legacy on a 95-yard kickoff return and rushed for 79 yards.
— Adam Berchin
Valley 42, Sunrise Mountain 13 — At Sunrise Mountain, Anthony Sanders accounted for 191 yards and four touchdowns to carry the Vikings (4-5, 4-3 Northeast) past the Miners (0-9, 0-7).
Sanders ran for TDs of 6, 4 and 51 yards and threw a 20-yard scoring pass to Erik Edmonds. Bryon Peeples ran for TDs of 1 and 52 yards.
Sunrise Mountain, which had eight turnovers, was led by Chris Moore, who threw for 95 yards and a touchdown.
— Mick Akers
Desert Pines 48, Chaparral 8 — At Chaparral, Eric Wilkes and Leon Hayes combined for 270 yards and four touchdowns in the first half, and the Jaguars (4-5, 4-3) locked up the Northeast's No. 3 seed.
Desert Pines opens the playoffs against Foothill.
Hayes got the Jaguars off and running, by scoring on a 14-yard run just 45 seconds into the game. On the next Desert Pines possession, Hayes caught a swing pass from quarterback Travis Nofoa and raced 57 yards for a 12-0 lead.
Davion Toney pushed the Desert Pines lead to 19 with a seven-yard run late in the first period, a quarter in which the Jaguars outgained the Cowboys, 184-43.
The second quarter belonged to Wilkes, who had touchdown runs of 72, 2 and 95 yards. In that period, Wilkes had a game-high 180 yards on just five carries.
For the half, Desert Pines gained 436 yards, including 90 by Hayes. Nofoa completed five-of-six passes for 132 yards by halftime.
Hayes finished with 160 yards on 13 trips and a pair of scores.
Chaparral's lone spark was the play of Tyquan Anderson, who gained 177 yards on 29 carries and scored the lone Cowboy touchdown. The Cowboys (1-8, 1-6 Northeast) finished with 205 total yards, while the Jaguars had 563 yards, 431 of those on the ground.
— Sam Leeper
Desert Oasis 51, Clark 8 — At Desert Oasis, Herman Smith completed 10 of 15 passes for 179 yards and three TDs to help No. 9 Desert Oasis (7-2, 7-1 Southwest) upend Clark (3-6, 3-5) and secure the Southwest's No. 2 seed.
Desert Oasis will host Centennial in the first round.
Smith's touchdown strikes went to Richie Peterson (3 yards), Tyler Vazquez (49) and Marvin Duty (60). Trevon Barnes rushed for 102 yards, with TDs of 6 and 18.
Devin Fortenberry ran for a 2-yard TD and Andre Munyan had a 19-yarder. Matt Howard kicked six conversions and a 29-yard field goal.
Marquise McKinney ran 5 yards for Clark's touchdown and Miguel Alejandro ran for the conversion.
— Nolan Lister
Mojave 24, Shadow Ridge 9 — At Mojave, senior Bryant Lewis rushed for 337 yards and two touchdowns to propel the Rattlers (2-7, 1-7 Northwest) past the Mustangs (0-9, 0-8).
D'adrian Green scored on an 8-yard run and Dylan Walsh returned an interception 70 yards for a touchdown.
Shadow Ridge scored on J Henderson's 50-yard pass to Deshawn Thompson and a safety.
— Kevin Porter
Sping Valley 16, Pahrump Valley 6 — At Spring Valley, Casey Taravella intercepted three passes and ran for a touchdwon run to lead the Grizzlies (3-6, 3-5 Southwest) over the Trojans (1-8, 1-7).
Taravella's TD came on a botched 32-yard field-goal attempt and helped the Grizzlies take a 13-0 halftime lead.
Landon LeBlue kicked field goals of 36, 32, and 31 yards for Spring Valley, which also recovered two Pahrump fumbles.

Cimarron-Memorial 54, Sierra Vista 26 — At Sierra Vista, DeMaryae Williams rushed for 276 on 17 carries, scoring on runs of 5, 35, 30, 12, and 87 yards, to lead the Spartans (6-4) past the Mountain Lions (3-7).
Williams opened the third quarter with his final two TDs to put the game out of reach.
Marques Price scored on an 85-yard kickoff return for Cimarron in the first quarter.
For Sierra Vista, Matt Murphy scored three times: on passes of 39 and 14 yards by Taz Wilson and a 79-yard kickoff return. Mike Dominique also returned a kickoff 85 yards for a score.
— Neil Grepke
Coronado 36, Virgin Valley 16 — At Coronado, Chris Johnson rushed for 155 yards and three second-half touchdowns on 20 carries to help the Class 4A Cougars (4-5) pull away from the Class 3A Bulldogs (5-4).
Johnson had TD runs of 30, 24 and 18 yards for the Cougars, who led 14-8 at halftime. Devin Riley rushed for 74 yards, including a 64-yard TD run on Coronado's first play from scrimmage.
Kevin Lucero was 7-for-7 passing for 70 yards, with a 47-yard TD to Tyler Proctor.
Humberto Urias led Virgin Valley with 67 yards rushing and two TDs on 20 carries. Junior Toscano had 52 yards on seven attempts.
— Sean Walker
Moapa Valley 41, Boulder City 19 — At Boulder City, Conner Mortensen ran for 132 yards and scored five touchdowns as the Pirates (7-2, 2-0) beat the Eagles (3-6, 0-2) to clinch the 3A Southern League championship.
Mortensen had TD runs of 4, 7 and 18 yards in the second quarter as Moapa Valley erased a Boulder City's 13-7 lead. Sean McConnell gained 91 yards on nine carries, including a 13-yard run.
Boulder City scored on Xavier Steel's 83-yard run and touchdown passes from Joe Miller to Michael Kelso (34 yards) and Thomas Shelley (12). Miller passed for 105 yards.
— Pedro Fonteboa
The Meadows 26, Lincoln County 6 — At The Meadows, Garrett Gosse completed 21 of 31 passes for 321 yards and three touchdowns to lead the Mustangs (7-2, 6-1 2A Southern) past the Lynx (4-5, 4-3).
Gosse threw TD passes of 23 and 27 yards to Max Newman and 8 yards to Taylor Beck. Newman had 138 yards on eight catches and Beck made four for 62. Chase Marrs rushed for 58 yards and a TD.
Derek Cheeney ran for a 7-yard touchdown for Lincoln County, and Preston Avery rushed for 85 yards on 15 carries.

Mountain View 54, Laughlin 12 — At Mountain View, senior quarterback Trevor Van Kempen rushed for 118 yards and four TDs to carry the Saints (6-4, 5-2 2A Southern) past the Cougars (5-4, 3-4) and clinch a postseason berth.
Van Kempen scored on runs of 3, 38, 1 and 14 yards. He also passed for 184, helping the Saints compiled 513 yards of offense, including 329 on the ground.
Jacob Duldulao gained 103 yards on six carries, including TDs of 65 and 25 in the first half. Elijah Armstrong added scoring runs of 9 and 15.
Laughlin's Corey Beggs threw a 13-yard touchdown pass to Jake Hodges and scored on a 28-yard run.
— Damon Seiters
Pahranagat Valley 78, Spring Mountain 14 — At Alamo, Austin Poulsen completed 11 of 16 passes for 141 yards and four touchdowns, and rushed for 51 yards and three TDs on six carries as the Panthers (9-0, 6-0) routed the Eagles (7-1, 5-1) for the Class 1A Southern League regular-season title.
Poulsen scored on runs of 1, 27 and 19 yards. He hooked up with Chase Hansen three times for 86 yards and two TDs.
Meiyako Williams led Spring Mountain with a 6-yard TD run and a 66-yard scoring pass to Michael Caruso.
Round Mountain 33, Tonopah 26 — At Round Mountain, Mitchell Doheney scored on a 5-yard run with 4:43 to play as the Knights (6-3, 4-2 1A Southern) clinched the South's No. 3 seed in the state playoffs by beating the Muckers (4-5, 3-3).
Doheney ran for three TDs for Round Mountain, and Serjio Chavez added a 1-yard TD run and a 37-yard field goal.
Tonopah has the No. 4 seed in the playoffs.
Indian Springs 46, Sandy Valley 12 — At Indian Springs, the Thunderbirds (3-5, 1-5 1A Southern) charged past the Sidewinders (1-7, 0-6).
Lane Eastham connected with Garrett Sellers for a Sandy Valley touchdown, and Brandon Hughes recovered a fumble in the end zone for a score.