August 28, 2015 - 11:30 pm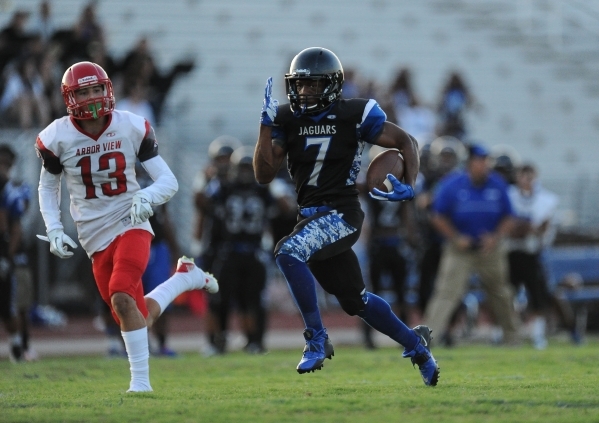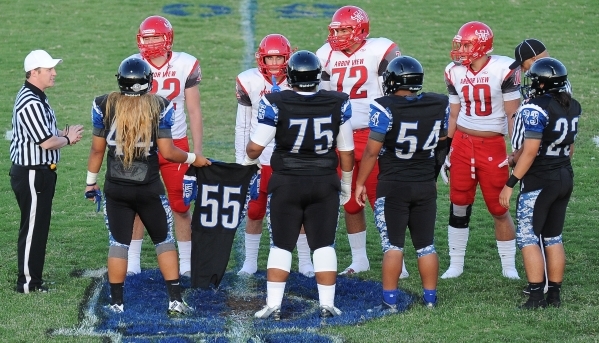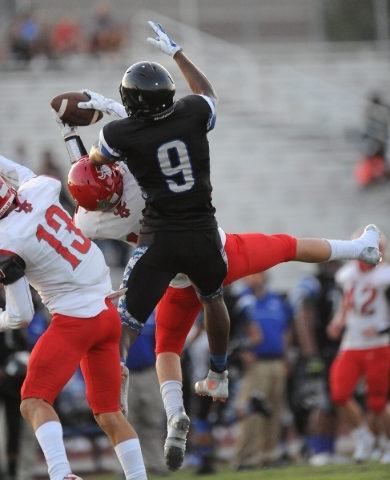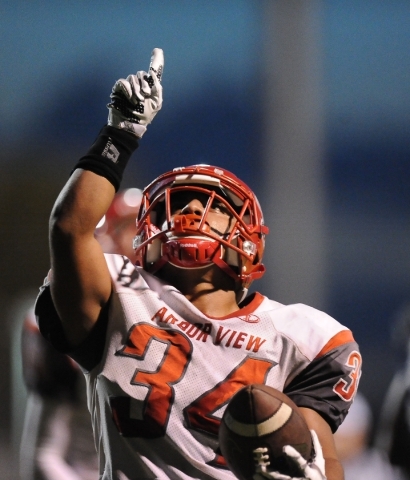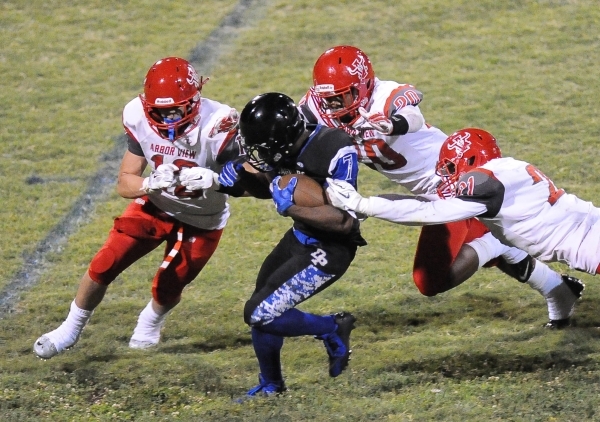 Isaiah Morris isn't the biggest running back in the area, and his team doesn't play in the state's top division.
That didn't stop Morris and his Desert Pines teammates from coming out and making a statement Friday night in the high school season opener.
Morris rushed for 239 yards and two touchdowns, and the ninth-ranked Jaguars routed No. 3 Arbor View 50-14 at Desert Pines.
"We just shocked the city," a Desert Pines player exclaimed late in the fourth quarter.
Indeed they did. Even without two highly recruited linemen, the Jaguars were in control throughout. Desert Pines (1-0) played without standout offensive lineman Samuel Poutasi and star defensive end Anthony Smith, who both are out with torn anterior cruciate ligaments in their left knee. Both are among the state's top college prospects.
"I knew before the game that there was going to be something special," Desert Pines coach Tico Rodriguez said. "They had a look in their eyes like a 1,000-yard stare. I saw that, and they were so focused. They did it for Anthony and Sam. Those kids love each other, and they play for each other."
After a late interception by Desert Pines' Dominique Washington, Rodriguez walked over and embraced Smith, who watched from a wheelchair on the sideline.
The team surrounded Smith and Poutasi after their postgame team meeting to tell them they would be in the middle of things all season.
"Every down of football I've played in high school has been with those two," said senior linebacker Vasaifanua Hansell, who keyed the defense with three tackles for loss. "Seeing them and seeing them not being able to come out and play with us … I love them. Those are my brothers."
The 5-foot-8-inch, 155-pound Morris showed his speed and shiftiness, scoring on a 42-yard touchdown run to put Desert Pines on the board, and adding an 82-yard TD run with nine seconds left in the third quarter to push the lead to 34-14.
"He's a special, special, special talent," Rodriguez said. "Speedy Morris, he's just a phenomenal playmaker."
After Arbor View had cut the Desert Pines lead to 22-14 on a 30-yard run by Morris Jackson with 3:44 left in the third, Morris broke off a 49-yard run to retake the momentum. One play later, Marckell Grayson scored on a 9-yard keeper for his second rushing TD, and Arbor View wouldn't threaten again.
Sierra Vista transfer Randal Grimes caught two touchdown passes, one on a short pass over the middle that he turned into an 85-yard score. He also rushed for 70 yards, most coming on two fake punts.
"He's 6-4, 205 and just an amazing athlete," Rodriguez said. "It's like a man playing with boys out there."
Desert Pines finished second in the state in Division I-A last season, but Rodriguez said the perception is the team isn't as talented as the top Division I programs such as Arbor View.
"Our size and our speed is as big as anybody in the state, including (Bishop) Gorman," Rodriguez said. "We have a lot of talent. We have a mentality of next man up. The kids really believe in that. Everybody picked it up for those two all-state players."
Rodriguez said his seniors requested a matchup with Arbor View to try to make a statement.
"Arbor View is a powerhouse, a great program," Rodriguez said. "And our kids wanted to show that just because we're in a smaller division, that we can play with the big boys."
Hansell said: "Everybody's been putting that against us just because we're in a lower division that we can't compete with everybody else. But I think we just woke them up a little bit."
Jackson finished with 111 yards and two TDs on 21 carries to lead the Aggies (0-1).
Contact prep sports editor Damon Seiters at 702-380-4587 or dseiters@reviewjournal.com. Follow him: @DamonSeiters
Box score:
Desert Pines 50, Arbor View 14