Sunrise superiority clear in all-star rout of Sunset
December 13, 2014 - 10:52 pm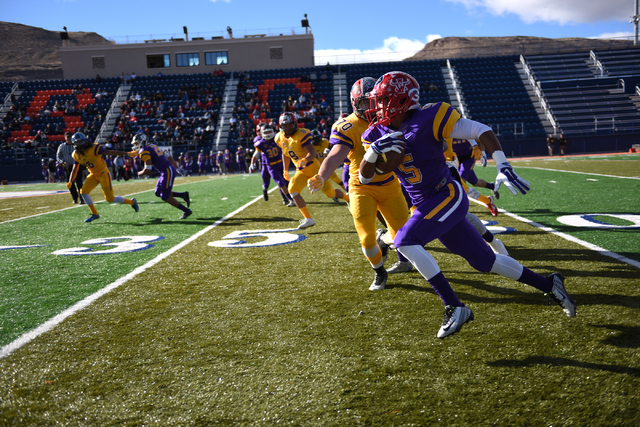 The old saying that football games are won in the trenches holds true in all-star games, too.
The Sunrise Region dominated on both sides of the line of scrimmage and forced five turnovers Saturday en route to a 41-0 victory over the Sunset Region in the 44th edition of the West Charleston Lions Club Charity All-Star Football Game at Bishop Gorman.
It was the fourth straight victory for the Sunrise Region in the all-star game.
"From top to bottom, we're the better (region), I believe," said Foothill's Bobby Merritt, who rushed for two touchdowns and was named the game's Offensive Most Valuable Player.
Deyon McKinney of Silverado finished with 89 yards and a touchdown on 10 carries and added one reception for eight yards to win the MVP award. He had an 80-yard touchdown run in the fourth quarter to cap the scoring.
Centennial's Samuel Liaga was named the game's Defensive MVP.
Wade Jacobs of Coronado made two interceptions for the Sunrise, and Liberty's Preston Pavlica also had one.
The Sunset Region struggled to move the ball throughout the day and finished with minus-9 yards rushing and 24 yards of total offense. The Sunset didn't gain a first down until Ty Flanagan of Mojave had a 12-yard reception on the final play of the second quarter.
The Sunset's struggles were epitomized by one second-half sequence. Graeson Vereen of Palo Verde intercepted a pass late in the third quarter and the Sunset took over at the Sunrise 9-yard line after a penalty on the return. But the Sunset lost 9 yards on three plays, and Austin Hutchins' 35-yard field-goal try skimmed the outside of the left upright.
"I thought the difference for us was our defensive line," said Sunrise Region coach Rich Muraco of Liberty. "They're just absolute beasts. It was fun being able to coach those guys this week. I knew they were going to give us a chance to win the game just because they were going to make it so hard, especially in an all-star setting when you only have a few days to prepare for it. They really dominated for us."
Quarterback Christian Lopez of Green Valley was 4-for-9 for 81 yards, including a perfectly thrown deep ball to Eldorado's Joshua Brown for a 59-yard gain midway through the first quarter. That set up the Sunrise's first score, a 1-yard run by 5-foot-10-inch, 315-pound lineman Tafa Vete of Green Valley, who lined up at fullback.
Merritt went in from 2 yards out to put the Sunrise up 21-0 at halftime and added a 28-yard touchdown run one play after Jacobs' second interception to give the Sunrise a 31-0 lead. Merritt finished with 39 yards on six carries.
Brenan Adams of Green Valley also scored on a 1-yard run, and Elio Rodriguez of Canyon Springs had field goals of 23 and 27 yards for the Sunrise. Las Vegas' Trevor Swenson went 8-for-14 for 84 yards and led one scoring drive.
"We came out in practice and worked hard," McKinney said. "We played as a team, and we had a strong defense."
Contact reporter David Schoen at dschoen@reviewjournal.com or 702-387-5203. Follow him on Twitter: @DavidSchoenLVRJ.