SUNSET FOOTBALL: Hayden Bollinger hoping to let it fly in Arbor View's double wing
August 24, 2016 - 10:14 pm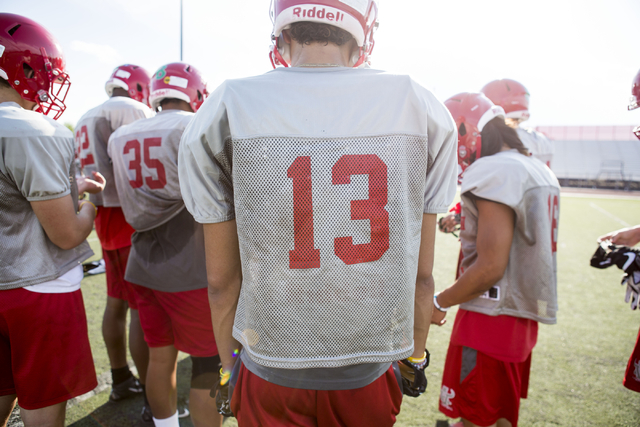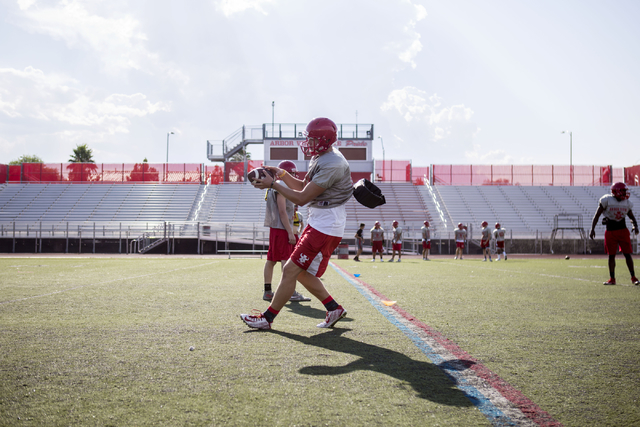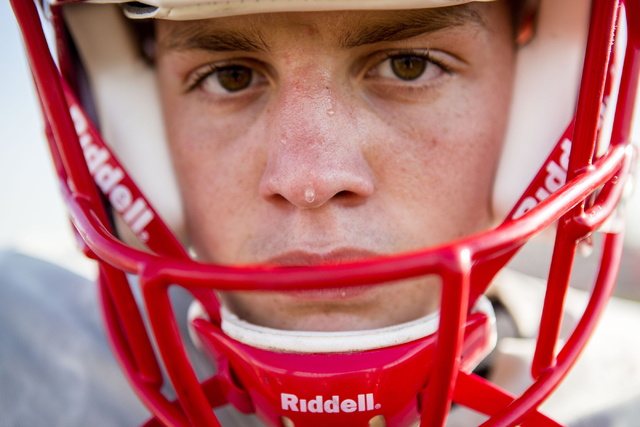 Arbor View quarterback Hayden Bollinger has the look of a prototypical pocket passer.
But with the Aggies running an offense where the quarterback generally throws more blocks than passes, most area fans aren't sure what kind of arm the 6-foot-3-inch, 220-pound Bollinger actually has.
Senior defensive back Mike Sims knows the answer.
"Hayden definitely has a great arm," Sims said. "I think not many people recognize it just because of our type of formation. But he definitely has a great arm, and I feel like he'll definitely play really good this season."
Arbor View isn't about to abandon the double-wing offense that has served it so well, helping the Aggies win three league titles in the past four seasons. But Bollinger definitely gives Arbor View the ability to pass the ball. Just how much he gets to air it out remains to be seen.
"He can throw it," Arbor View coach Dan Barnson said. "I'm the one, and we are the ones that have to then allow him to do that. He can throw the ball, and we threw the ball in the scrimmage the other night and had some success. But we are still double wing, and that's what we do. And he's really good at running that system for us, and he comes around the edge blocking and he's a big kid."
Bollinger attempted just 88 passes in 12 games last season. But he was efficient, passing for 853 yards and 12 TDs in helping the Aggies to a 10-2 record and their second consecutive Sunset Region runner-up finish.
"It's tough," Bollinger said of playing quarterback in the double wing. "But I'm the leader of the offense. And we've just got to put our mindset to the game and just play football."
Bollinger averaged 9.7 yards per pass attempt last season, compared with a team average of 7.4 yards per rush. But opening up the offense would mean a complete change in ideology for the ground-and-pound Aggies.
"There's that philosophy, though, when you throw and it hits the ground, the clock stops," Barnson said. "And we like that clock to keep moving. It lessens their chances of touching the ball. So we'll see. We'll throw the ball a little bit. We will."
Bollinger would love to get the chance to show off his arm more often. But he doesn't want to do it at the expense of his teammates.
"Yes and no," Bollinger said when asked if he would prefer to run another offense. "No, because I love this school, and I love my teammates. They're my brothers. But sometimes we can throw the ball a little bit. It works. We're OK."
With the focus expected to remain on the running game, expect junior Deago Stubbs to lead the offense. Stubbs was second on the team in rushing with 779 yards and five TDs last season, and also led the squad with 11 catches for 262 yards and five scores. Fullback Andrew Wagner is back after rushing for 342 yards and two TDs last season. DeKarri Gunn, who played fullback last season, has moved to the other wingback spot.
"We've got some experience in the backfield, we really do," Barnson said. "And we've got some young kids chomping at the bit."
Arbor View will be challenged right off the bat, as the Aggies travel to Liberty on Friday to open the season. The Patriots have won the past six Sunrise Region titles.
"The lights are on Friday night, you show up and you play, and it happens to be Liberty," Barnson said. "And for Liberty, it happens to be us. And it's a game that a lot of people wanted to see throughout the last couple years, so that makes it fun."
Contact prep sports editor Damon Seiters at 702-380-4587 or dseiters@reviewjournal.com. Follow him on Twitter: @DamonSeiters