'There's a buzz': Local football talent buying UNLV's recruiting pitch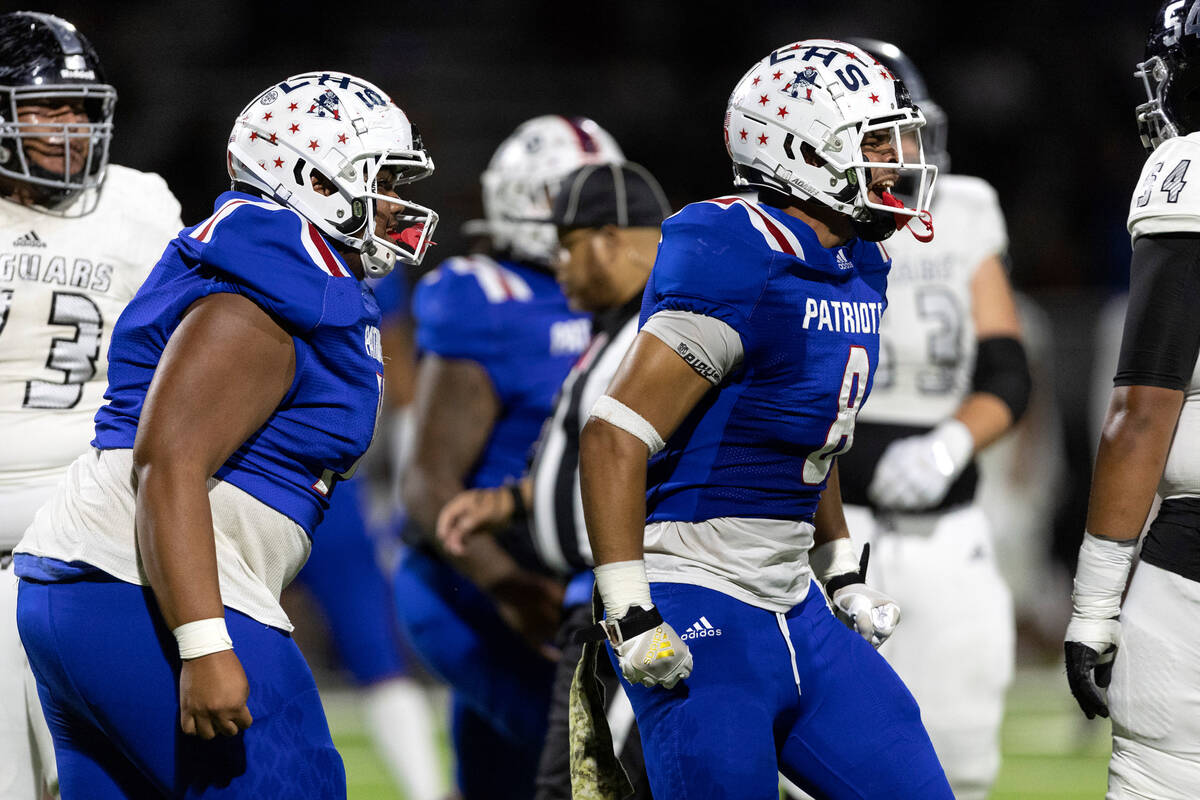 When UNLV takes the field Saturday for its season opener against Bryant, coach Barry Odom will have plenty of local high school football players in attendance.
Since taking over the Rebels in December, Odom made it clear that he would emphasize recruiting local talent and build a stronger relationship with high schools.
His efforts have impressed local football coaches and have led to local players deciding to stay home, with five class of 2024 recruits choosing the Rebels in the past few months.
"For a lot of guys in the city, there's a buzz around with the new coaching staff in town," said Liberty linebacker Kahekili Paaoao, who was the first local player to commit to Odom in April. "It was very exciting. It made it easy for me to be one of the first ones to commit."
Along with Paaoao, Liberty tight end Jae Beasley, Bishop Gorman linebacker Charles Correa and Desert Pines running back Greg Burrell and defensive back Jaylen Allen have committed to the Rebels. All are three-star prospects, according to 247Sports.
"We have great talent in Vegas. … Coach Odom (made it clear) they want to get the best guys that are in Las Vegas to go to their program," Beasley said. "I feel like they're doing that with the players that have committed so far."
Odom made stops at high schools around the city during his first week on the job, as did his assistants after Odom finalized his staff in early January. During UNLV's spring practices, players and coaches were invited to the Fertitta Football Complex to watch practice and tour the facility.
"Growing up in Vegas and not seeing anything like it, it was really cool," Burrell said. "That's when I knew (UNLV) was probably going to be my new home."
Odom's Southeastern Conference roots left an impression on the recruits. Paaoao said Odom and defensive coordinator Mike Scherer's knowledge of the linebacker position, with both playing linebacker in college at Missouri and coaching the position in the SEC, played a "big factor" in his decision to choose UNLV.
Burrell said Odom made it clear during the recruiting process that he's "bringing that SEC culture to UNLV." Commits have noticed Odom's implementation of that culture while watching the Rebels practice.
"It made me realize how I need to up my game and up my level of play to where all those players are," Beasley said. "It showed me what I need to do to be able to compete with these guys at this level. I know I can. I just have to put in the work."
Burrell said it means a lot to see the commitment to recruit local talent. He said the five commits talk regularly about taking pride in playing for the city and being a part of Odom's vision to turn around UNLV.
"With the whole culture change, the five of us feel like we're going to be the difference-makers," Burrell said. "Like we're going to be the ones that help create that Vegas pipeline where kids are going to come to UNLV."
With Las Vegas continuing to grow as a sports city, Paaoao said he's hopeful the group can help turn UNLV into a winner.
"The city is going up in a bunch of different ways," Paaoao said. "I would love to have UNLV be as important as the Aces and other teams. We're trying to do that."
Gorman LB adds SEC offer
Bishop Gorman junior linebacker Landon McComber has received an offer from Auburn, he announced on his social media accounts.
After a great talk with @CoachA_AU, I am extremely grateful and blessed to say that I have received a(n) offer to Auburn University! #WarEagles (@AuburnFootball @AuburnMade )@BishopGormanFB @VaBranch @GusMcNair009 @LarryGrant95 @LBUTraining @GregBiggins @BlairAngulo pic.twitter.com/hCgs4LLENl

— Landon Mccomber (@LandonMccomber) August 30, 2023
McComber is a three-star class of 2025 recruit, according to 247Sports. McComber played at Desert Pines last season and was second on the team with 65 tackles and third with seven sacks.
Listed at 6 feet, 3 inches, and 205 pounds, McComber holds other notable Division I offers from Georgia, Michigan, Notre Dame Oklahoma, Southern California, Tennessee and Texas A&M.
Contact Alex Wright at awright@reviewjournal.com with any recruiting information. Follow @AlexWright1028 on X.
UNLV football class of 2024
Local high school commits
— Jaylen Allen, Desert Pines cornerback
— Jae Beasley, Liberty tight end
— Greg Burrell, Desert Pines running back
— Charles Correa, Bishop Gorman linebacker
— Kahekili Paaoao, Liberty linebacker