Top 5 Week 4 games: No. 2 Gorman hosts ranked California school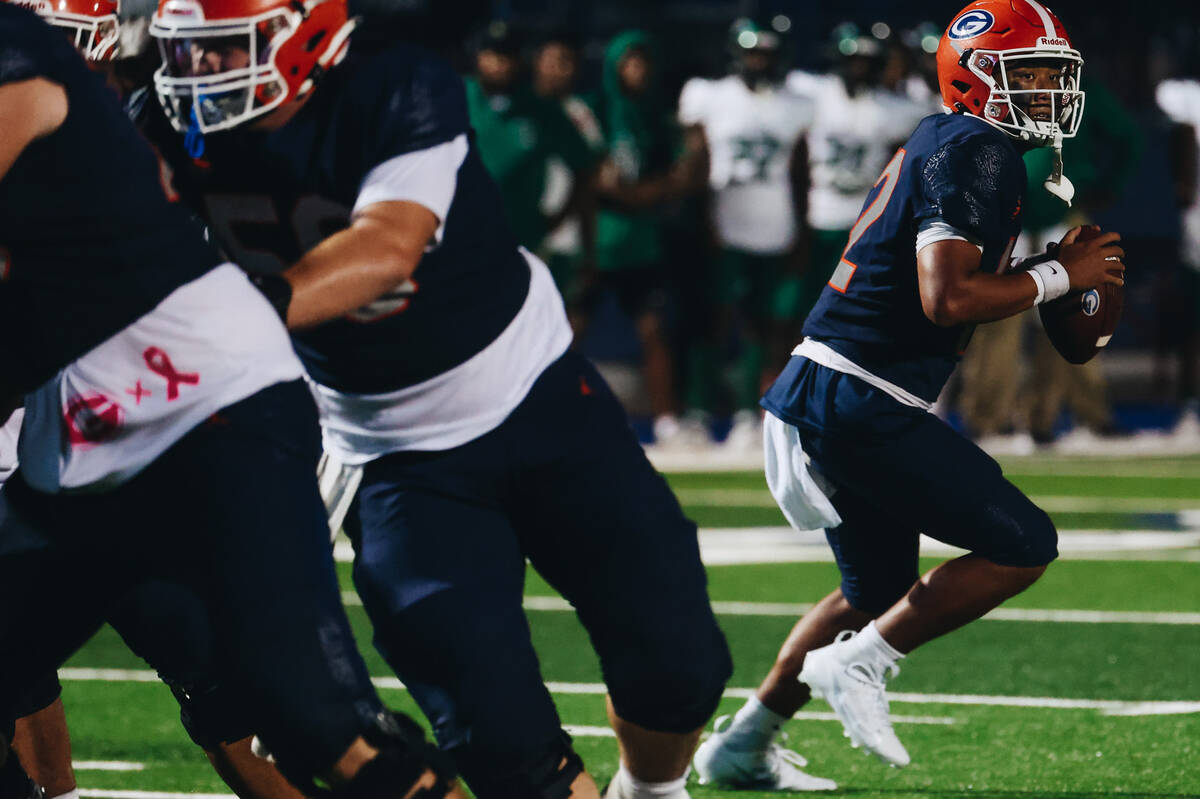 Bishop Gorman needed to be perfect on its final offensive drive trailing with no timeouts against Miami Central last Friday.
The Gaels did just that, going 80 yards on just six plays in a little ore than a minute to rally for a 39-35 win over Miami Central, ranked No. 6 nationally by MaxPreps, to keep its hopes for a fourth national championship alive.
Gorman, ranked No. 2 by MaxPreps and USA Today, faces another ranked opponent Friday when it hosts No. 13 Centennial (Corona, California) at 7 p.m. The game will be nationally televised on ESPNU.
The marquee matchup with national championship implications is Gorman's last chance for an impressive win against an out-of-state opponent before it begins Class 5A Division I league play.
It's one of several games to watch this week, with many teams around the city having wrapped up the nonleague portion of their schedule and beginning league play this week.
Here's a look at the top five high school football games this week:
All games at 6 p.m. Friday unless otherwise noted
Centennial (California) at Bishop Gorman, 7 p.m.
The Gaels' dynamic offense carried them late, as senior quarterback Micah Alejado completed 20 of 29 passes with 390 passing yards and three touchdowns, and senior tight end Elija Lofton added three rushing scores. Their defense stood tall late, coming up with an interception to seal the win.
Gorman's defense will get another test this week facing Centennial (2-1). The Huskies won a shootout last week 50-43 over Punahou (Hawaii). Huskies senior running back Cornell Hatcher Jr. averages 175 rushing yards per game.
Arbor View at Shadow Ridge
It hasn't been the smoothest start for Arbor View, which is 0-2 and scored just 12 points against two out-of-state opponents and had its game against Apple Valley (California) canceled last Friday. But a new season starts Friday as the Aggies play at Shadow Ridge in both teams' Class 5A Division I league opener.
Shadow Ridge's ground attack is among the best in the state. The Mustangs are averaging 378.3 rushing yards per game during their 3-0 start. Arbor View rolled to a 38-6 home win over Shadow Ridge last season.
Durango at Foothill
Foothill (2-1) snapped Silverado's 26-game winning streak last week in a 24-16 win. The Falcons open 5A Division II play hosting Durango. Foothill's aerial attack has been tough to stop, led by senior quarterback Mason Dew who's thrown 12 touchdown passes in three games.
Durango is 1-1 under new coach Robert Cutts. The Trailblazers fell 28-6 last week to 5A Division I opponent Coronado. Durango will look to find success running the ball behind senior running back Keimarion Taylor, who is averaging 95 rushing yards per game.
Somerset-Losee at Centennial
It's the 4A Desert League opener for both schools in their new leagues. Somerset-Losee, under coach Dan Barnson who built Arbor View into a power, is 2-1 and coming off a 47-6 win at Flagstaff (Arizona) while racking up 539 yards on the ground and scoring seven rushing touchdowns.
Centennial is 2-1 and coming off a 38-14 loss at Snow Canyon (Utah). The Bulldogs have shown improvements under Cheyenne grad and former NFL safety DJ Campbell in his first year as head coach. Centennial senior quarterback Vic Plotnikov is averaging 226 passing yards per game and has eight total touchdowns.
Green Valley at Faith Lutheran, 7 p.m.
Both teams are looking to start 5A Division II play on the right foot. Green Valley is 0-3 and has scored just 33 points, but the Gators have faced a challenging nonleague slate with out-of-state teams, including a 56-0 loss last week at Sierra Canyon (California).
Faith Lutheran fell on the road 38-24 at Reed in Reno. The Crusaders split snaps with junior quarterbacks Alex Rogers and Garyt Odom, who combined to throw for 236 yards and completed 48 percent of their passes last week.
Alex Wright, Las Vegas Review-Journal
Week 4 football schedule
All games at 6 p.m. unless otherwise noted
Thursday
Basic at Sierra Vista, 7 p.m.
Friday
Laughlin at Tonopah, 5 p.m.
Coronado at Liberty
Arbor View at Shadow Ridge
Silverado at Desert Pines
Durango at Foothill
Spring Valley at Desert Oasis
Legacy at Cimarron-Memorial
Somerset-Losee at Centennial
Canyon Springs at Cadence
Valley at Sunrise Mountain
Chaparral at Del Sol
Cheyenne at Bonanza
Rancho at Lincoln County
Pahrump Valley at SLAM Academy
Eureka at Pahranagat Valley
Centennial (California) at Bishop Gorman, 7 p.m.
Green Valley at Faith Lutheran, 7 p.m.
Cactus Shadows (Arizona) at Las Vegas, 7 p.m.
Moapa Valley at The Meadows, 7 p.m.
Democracy Prep at Virgin Valley, 7 p.m.
Boulder City at Mater East, 7 p.m.
Lake Mead Academy at Kingman Academy (Arizona), 7 p.m.
GV Christian at Sloan Canyon, 7 p.m.
Sandy Valley at Beatty, 7 p.m.