Turnovers key Las Vegas' victory over Canyon Springs
October 16, 2015 - 11:50 pm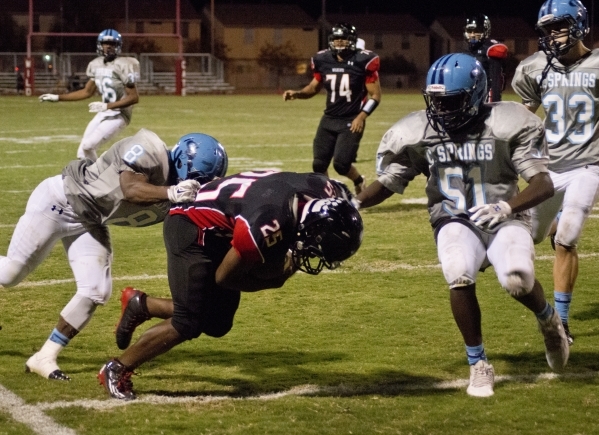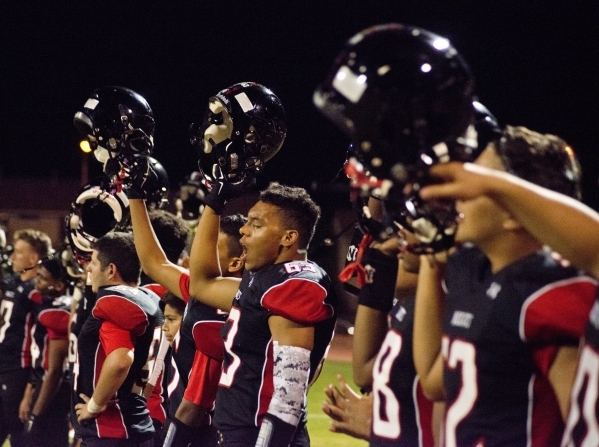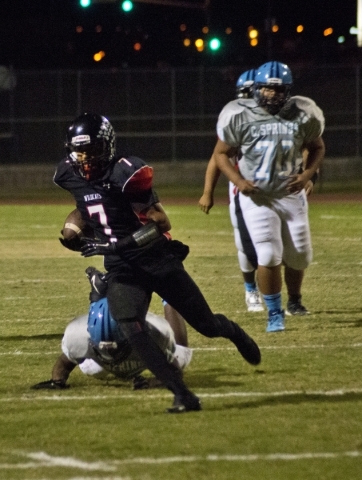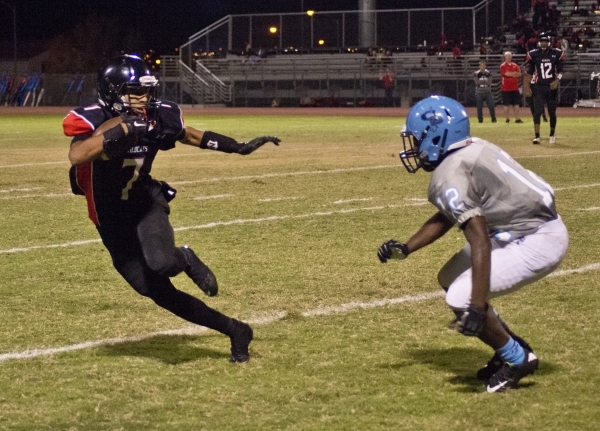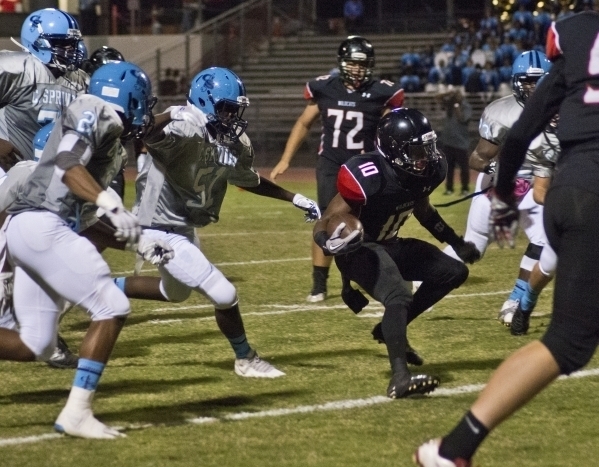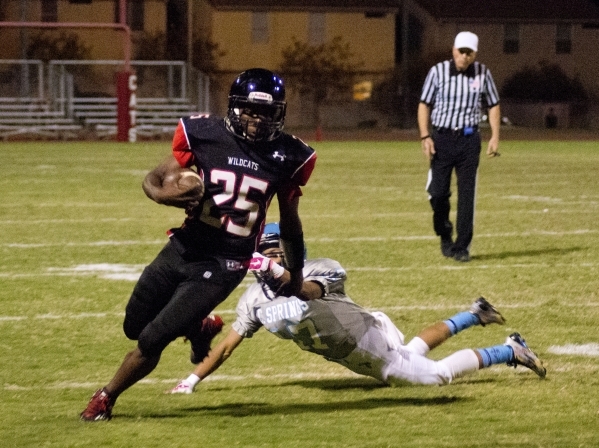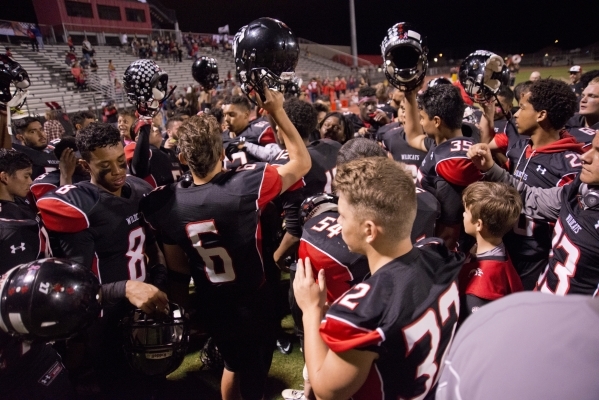 Las Vegas High's football team didn't really have a sustained drive in the first half Friday night.
The Wildcats didn't need one.
Las Vegas forced four first-half turnovers, turning two of them into one-play scoring drives on the way to a 34-22 home victory over Canyon Springs.
"We talk about off the sideline if we get a turnover, we're going to go for the throat," Las Vegas coach James Thurman said. "We talk about stepping on them when they're down. It's something we practice."
The seventh-ranked Wildcats (5-1, 1-0 Northeast League) recovered four fumbles in the first half and turned three of them into touchdowns. The biggest may have come after Zacharry Loveland scooped up a fumble and returned it to the Las Vegas 46.
On the first play of the ensuing drive, Zach Matlock hit Nicholas Sablan for a 54-yard catch and run for a score that put Las Vegas up 14-7, and they wouldn't trail again.
Sablan caught the ball in stride near the 30, sidestepped a defender and sprinted into the end zone to retake the momentum.
"We've been pretty opportunistic, and we kind of preach that and the offense goes and jumps on it and takes advantage," Thurman said.
Las Vegas extended its lead to 20-6 after Josh Perez pounced on a loose ball after a bad snap on a Canyon Springs punt.
Matlock kept the ball on a read option on the next play, scoring on a 14-yard run.
The Wildcats' first touchdown, a 7-yard run by Elijah Hicks, also came after Las Vegas recovered a Canyon Springs fumble.
"That helped us out a lot because our offense was struggling in the beginning," Las Vegas senior receiver Raul Perez said of the first-half turnovers. "Then we started to pick it up."
Las Vegas came out and scored on its first drive of the second half when Matlock tossed a screen pass to Hicks, who bolted up the field for a 43-yard touchdown and a 27-10 lead with 10:44 to go in the third quarter.
The Wildcats extended that lead to 34-10 when Matlock hit Perez with a 15-yard scoring strike with 2:08 left in the third quarter. The ball was thrown a tad behind Perez, but he was able to snag the ball with his left hand for the touchdown.
Though the Wildcats appeared to be on the verge of blowing Canyon Springs out, the Pioneers had other ideas. Canyon Springs quarterback Sylo Stanton fumbled forward on second-and-goal from the 1, but Marcell Selmon pounced on the ball in the end zone with 8:39 left to cut the lead to 34-16.
Jerrod Blackwell added a 3-yard TD run with 4:31 to play for the Pioneers.
"That's a good program," Thurman said of Canyon Springs. "That's a proud group. The last 10 years this game has been a 12-point game on average, and it hit 12 points tonight."
Matlock, a sophomore, completed 12 of 18 passes for 218 yards to go with his TD run.
"He's a talented young kid," Thurman said. "He's won the job and kind of taken hold of it right now. He's taking care of the football. He's athletic, he runs around, and he's got a stinking cannon attached to his right shoulder."
Hicks rushed for 53 yards on 11 carries, and fellow sophomore DiQuan Brown had 60 yards on seven carries, as the Wildcats were able to pound the ball on the ground late to eat up clock.
"If you spread the field, we can run the ball," Thurman said. "We've got two pretty good running backs, and we've got a pretty good offensive line. You think spread, you think throw it, but we can run the ball if we have to."
Jaleel Rogers rushed for 91 yards on eight carries to lead Canyon Springs (2-5, 0-2). His 67-yard run set up Stanton's 2-yard scoring pass to Devin Allen-Tucker in the first quarter.
Contact prep sports editor Damon Seiters at 702-380-4587 or dseiters@reviewjournal.com. Follow him on Twitter: @DamonSeiters
Box score:
Las Vegas 34, Canyon Springs 22