'Whoever's hot at the end': Besides Gorman, 5A races up for grabs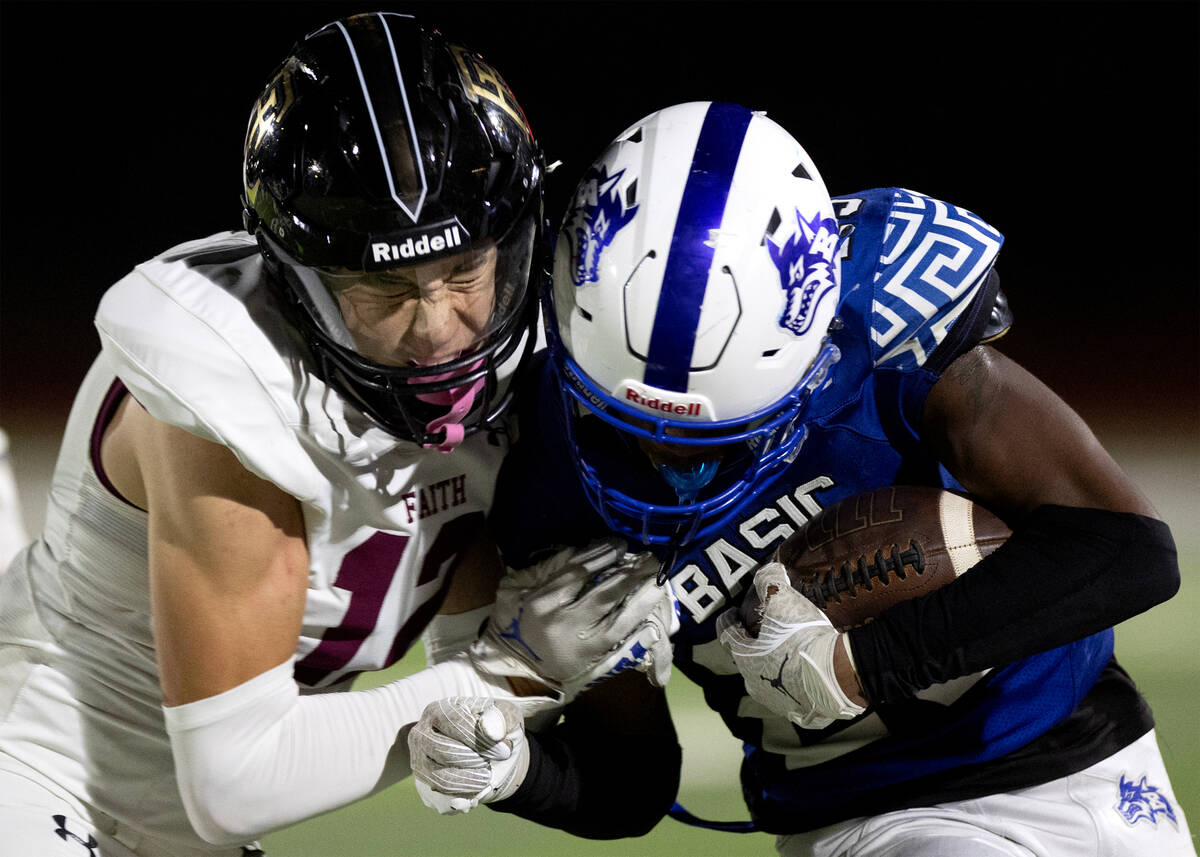 Two weeks into league play for high school football teams in Southern Nevada has left one certainty: Bishop Gorman is the team to beat in Class 5A Division I after its 49-6 win against Liberty.
As for who will emerge as the winners of the 5A Division II Southern League and others, your magic crystal ball will struggle to come up with an answer.
Results from the last two weeks suggest a lot of teams have shots at league titles.
After an eventful realignment process, two new leagues and state title games were added by splitting 5A into three divisions. The second division, 5A Division II, might be the most wide-open.
"Everybody is going to get everybody's best shot," Green Valley coach Clay Mauro said. "… (5A Division II is) going to be a fun division to watch. The most fun division in (Nevada high school) football."
Faith Lutheran leads the league at 2-0 but needed to rally from a 17-point deficit to win 24-23 in overtime at Basic on Thursday night. Foothill is 1-0 with a 47-7 rout of Durango, but on Thursday survived a 41-39 shootout in a nonleague game with 5A Division III opponent Legacy.
Basic, Sierra Vista and Green Valley are each 1-1 in league. Both of Basic's games were decided by a single point, including a 14-13 win over Sierra Vista on Sept. 7.
Green Valley suffered a 30-14 loss to Faith Lutheran but picked up a 21-14 win over Las Vegas on Thursday.
"It's tough to win games, and our kids showed against Vegas — who I have a ton of respect for — they saw what it takes (to win)," Mauro said. "You've got to be on your toes the whole time."
Green Valley started 0-4 before getting its first win Thursday, with three losses coming to out-of-state opponents, including California power Sierra Canyon. Mauro said he wanted his "young team" to learn from playing "established programs" to get better by the end of the year and be in a spot to make a run in the playoffs.
"It's honestly just going to come down to whoever's hot at the end will find success," Mauro said. "You can win good games in conference, but what do you look like come playoff time?"
The same could be said in 5A Division III, with Palo Verde, Legacy and Desert Oasis each 1-0 in league.
Palo Verde won its first game in a 49-0 road win at Clark in its league opener. Each of the Panthers' first two losses was decided by six points or fewer. They host Desert Oasis at 6 p.m. Thursday.
SLAM makes statement
Winning in Overton against Moapa Valley is never easy, especially for 3A Southern League opponents. But SLAM Academy made it look easy Thursday.
The Bulls picked off Moapa Valley twice and recovered three fumbles on their way to a 34-7 road win in a crucial league game. The two teams each won their leagues last season and reached the state semifinals, with SLAM Academy falling to Truckee in the state title game.
In the new combined, eight-team 3A Southern League, SLAM Academy has an early advantage to claim the No. 1 seed. The highest remaining Southern seeded team after the region semifinals will host a state semifinal against a Northern opponent.
SLAM Academy, Boulder City and Virgin Valley are each 2-0 in the league.
Centennial, Canyon Springs lead 4A
The race in 4A is almost as clear-cut as 5A Division I with Centennial and Canyon Springs starting to run away with their respective leagues.
Centennial is off to a 2-0 start in Desert League play and defeated Western 63-0 on Thursday. Somerset-Losee gave Centennial a scare in the teams' league opener in a 38-28 Bulldogs win on Sept. 7.
Canyon Springs is 2-0 in the Mountain League and has outscored opponents 68-9.
Up next
Arbor View plays at Desert Pines at 6 p.m. Friday in the top Week 6 game. Shadow Ridge, which pulled off a 21-20 upset win against the Jaguars on Thursday, plays at Coronado at 6 p.m.
Gorman plays at Silverado at 6 p.m., and Liberty hosts Cathedral Catholic (California) at 7 p.m.
Faith Lutheran hosts Sierra Vista in the top 5A Division II game at 7 p.m., and Foothill hosts Las Vegas at 6 p.m. in another key league matchup. In 4A, Chaparral hosts Eldorado in "The Cleat Game," in which the two teams play for a bronze cleat donated by former NFL defensive tackle Merlin Olsen.
Contact Alex Wright at awright@reviewjournal.com. Follow @AlexWright1028 on X.
Week 5 football scores
Arbor View 38, Coronado 0
Bishop Gorman 49, Liberty 6
Boulder City 43, The Meadows 13
Canyon Springs 27, Eldorado 0
Centennial 63, Western 0
Cimarron-Memorial 16, Spring Valley 14
Del Sol 44, Valley 0
Desert Oasis 22, Cheyenne 0
Faith Lutheran 24, Basic 23 (OT)
Foothill 41, Legacy 39
Green Valley 21, Las Vegas 14
Mojave 14, Rancho 3
Palo Verde 49, Clark 0
Shadow Ridge 21, Desert Pines 20
Sierra Vista 14, Durango 6
SLAM Academy 34, Moapa Valley 7
Somerset-Losee 42, Bonanza 14
Sunrise Mountain 41, Cadence 6
Virgin Valley 56, Pahrump Valley 38
Week 6 football schedule
All games at 6 p.m. unless otherwise noted
Thursday
Desert Oasis at Palo Verde, 7 p.m.
Pahranagat Valley at Spring Mountain, 7 p.m.
Friday
Bonanza at Centennial
Eldorado at Chaparral
Arbor View at Desert Pines
Bishop Gorman at Silverado
Cheyenne at Rancho
Sunrise Mountain at Del Sol
Legacy at Clark
Shadow Ridge at Coronado
Las Vegas at Foothill
Valley at Cadence
Western at Somerset-Losee
Durango at Basic
Cimarron-Memorial at Mojave
Round Mountain at Beaver Dam
Cathedral Catholic (California) at Liberty, 7 p.m.
Sierra Vista at Faith Lutheran, 7 p.m.
The Meadows at Virgin Valley, 7 p.m.
Moapa Valley at Boulder City, 7 p.m.
Democracy Prep at SLAM Academy, 7 p.m.
Mater East at Pahrump Valley, 7 p.m.
Laughlin at Indian Springs, 7 p.m.
Word of Life at Beatty, 7 p.m.