DIVISION I GOLF HONORS: Panthers' Trent a quick study on Southern Nevada courses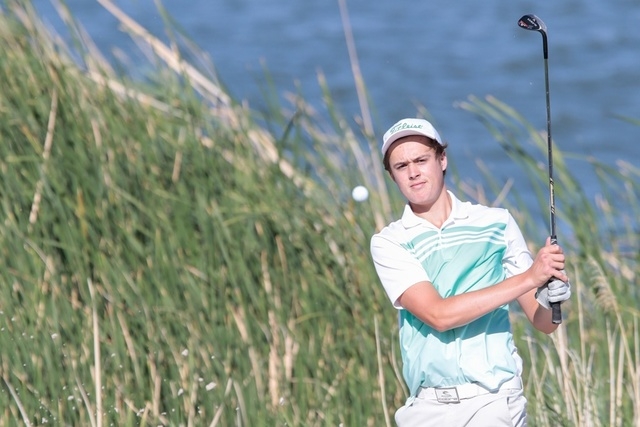 Palo Verde boys golf coach Todd Steffenhagen knew sophomore Jack Trent was a special player from the moment the two met and played 18 holes last summer at TPC Las Vegas.
Trent, a native of Australia, was considering a move to the states at the time so he could adjust to the culture and play in a more competitive junior golf system.
His eventual move turned out to be rewarding.
Trent won the Division I individual state championship at Montreux Golf and Country Club on May 12, and recently was named the Sunset Region's Player of the Year by league coaches.
Foothill's Andrew Chu took the top honor for the Sunrise Region.
"He might've shot 2-under the day (we met) and it was no big deal," Steffenhagen said of Trent. "He thought he played terrible. I thought, 'You look a little different than everyone else, Jack.' You could just see the skill set. He was probably a little nervous meeting me, but he didn't have to do anything to impress me. He already was one of the top junior golfers in the world."
Trent, who has a plus-4 handicap, had not played on many Southern Nevada courses prior to the start of this season. But he quickly adjusted and became the Panthers' top golfer.
"He played all these courses blind," Steffenhagen said. "He never played Painted Desert or Spanish Trail, and he might have played Bear's Best two years ago. He's just got a higher golf IQ. He doesn't think he has every shot, and he's always trying to get better. He's wise beyond his years.
"Guys like this don't come around very often."
Trent and Chu also were named to the All-Southern Nevada first team, along with Arbor View's Sam Dickey, Bishop Gorman's Christian James, Desert Oasis' Syouta Wakisaka and Las Vegas High's Trey Jensen.
Coronado teammates Grant McKay and Jalen Hodges led the second team. They were joined by Arbor View's Cameron Gambini, Green Valley's Mason Comastro, Liberty's Jayrick Cadelina and Shadow Ridge's Tanner Johnson.
Arbor View's David Fish was named the Sunset's Coach of the Year, and Coronado's Joe Sawaia took home the Sunrise Coach of the Year.
The Cougars were the top Southern Nevada team at state, finishing 18 strokes behind champion Bishop Manogue (813).
Palo Verde was third at 838, followed by Arbor View at 851.