Foothill senior puts team first
March 13, 2013 - 11:04 pm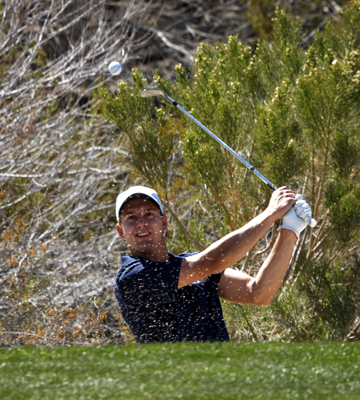 It takes a lot to knock down Taylor Montgomery.
After falling to former Coronado standout and current UNLV golfer AJ McInerney in last season's Class 4A state tournament, the Foothill star didn't sulk in defeat.
Instead, Montgomery spent the offseason hitting the links twice a week with the goal of capping his final season with a second state title.
"It would mean a lot," said Montgomery, a senior who also was a forward on the Falcons' basketball team. "That's what I'm trying to do. I've worked pretty hard. It would suck not to be in the final group. It was a disappointing basketball season, but I'm really excited to start playing golf again."
Montgomery has spent the better part of the winter trying to improve his accuracy off the tee.
"It's getting a lot better," said Montgomery, who won the 2011 Class 4A individual state title. "I'm hitting my driver a lot straighter than I have been, and my wedge play has been a lot better."
Montgomery, who signed with UNLV in November, will follow in the footsteps of his father, Monte, a former All-America golfer for the Rebels. But before he tests his skills at the next level, Montgomery wants to help his Foothill teammates accomplish something the program never has done.
"I'm really excited for our team, even more than individually," said Montgomery, the 2012 Class 4A Sunrise Region Golfer of the Year. "I feel like if I help the team out a little more this season, we have a chance to win our first state title."
Coach Paul DeSantis said he believes with Montgomery's leadership and golf intellect, his Falcons can go far.
"He knows as much as the coach," DeSantis said. "His IQ is the brightest I've ever been around. I've learned a lot from Taylor. But the other thing about him is that he is an unbelievably humble kid. He's always asking how the team is doing."
The Falcons placed third in last season's Class 4A state tournament — 56 strokes behind champion Coronado — and will rely heavily on a core group that includes sophomores Andrew Chu, a transfer from Coronado, and Mason Reid and senior Nick Rae.
"Nothing is guaranteed for us," said DeSantis, who lost two golfers at the start of the season to ineligibility. "My kids know it's not going to be easy to go back to state. We've been in an underdog role the last couple of years. Not a lot of people thought we were going to do anything. Now I feel like this year there's more of a target on us."
Foothill will have to battle perennial contender Coronado for the region and state titles. The Cougars have won three consecutive team state championships but lost McInerney and Kenden Slattery, who also plays at UNLV.