I-A GOLF: Demanding ninth hole helps swing Logan to take third straight title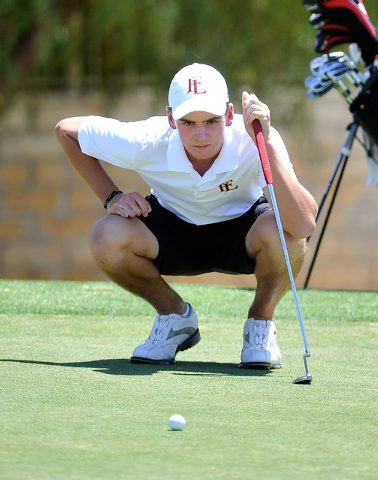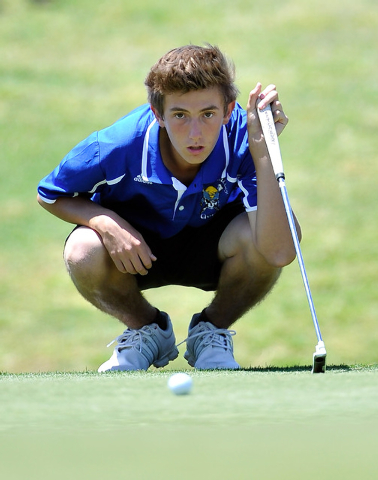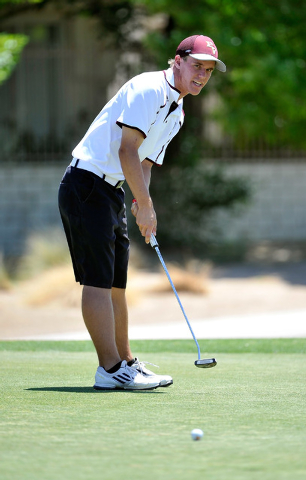 Luke Logan entered the final round of the Division I-A Southern Region boys golf tournament hoping he could climb back into contention.
The ninth hole at Wildhorse Golf Club changed the Boulder City junior's entire thought process.
Logan took advantage of a four-shot swing on the demanding par 4 and finished with an even-par 70 on Tuesday to win his third consecutive region title.
Logan, who trailed Faith Lutheran's Charlie Magruder by four strokes after the first round, finished the tournament at 8-over 149 and won by three shots over Magruder and Dallas Haun of Faith Lutheran.
"It was really important to me, actually, coming in," Logan said. "It's cool to be able to say you won it three years in a row. Going into my senior year, I can win regionals all four years. Not many kids throughout the nation can even say that."
Logan made up one shot on Magruder through the first eight holes, but the tournament was blown wide open on No. 9, which is annually ranked as one of the toughest holes in the Las Vegas Valley.
Logan mashed an 8-iron over the water that guards the front of the green to within 20 feet of the pin and then drained the putt for a birdie that put him at 8-over for the tournament.
Magruder, meanwhile, hit two balls into the water and made a triple-bogey 7 that dropped him one shot behind Logan.
"I figured it was big. That was definitely the hardest hole of the tournament, there was no doubt," Logan said. "It kind of changed the tides. After that, it kind of changed the back nine where my whole mindset was 'OK, it's match play now. I just need to beat him each hole.' I took advantage of it on the back nine."
Haun, who was one group ahead of the foursome that included Logan and Magruder, had a share of the lead at 8-over through his first 12 holes. But he was unable to keep pace as he bogeyed three of his final six holes and finished with his second straight 76.
Logan and Magruder were each at 9-over for the tournament after Logan bogeyed the par-3 14th. But a three-shot swing on No. 15 proved to be crucial as Logan made birdie and Magruder had a double-bogey 6 to drop out of contention.
Magruder finished with a 77.
Logan nearly opened the door for Haun and Magruder on the par-5 17th as his tee shot stopped under a tree. Logan thought about hitting a 3-wood, but opted to punch an iron back into the fairway and went on to make par.
"It was big to make par there, just to know that I could go into 18 and knock it on the green and make par," Logan said. "It took the pressure off that tee shot."
Faith Lutheran finished at 810 to win the team title over Boulder City (826) and Pahrump Valley (889). All three teams qualify for the Division I-A state tournament along with the top five individuals from nonqualifying teams.
"To win two consecutive region titles is not only a moral boost, but hopefully it gives us some momentum that we can carry into state," Haun said.
Summary: