SUNSET GOLF: Shadow Ridge's Davis storms back, wins on playoff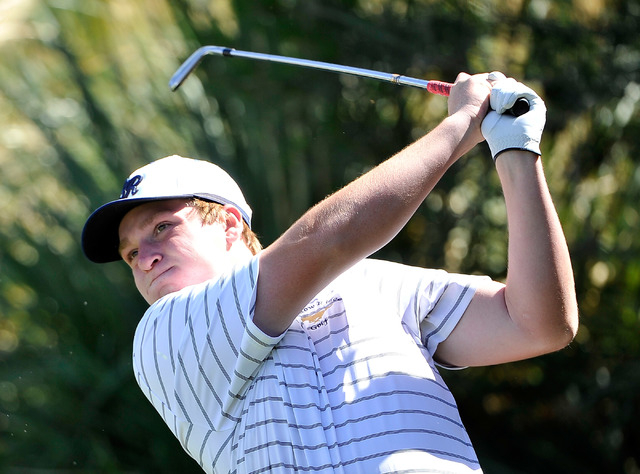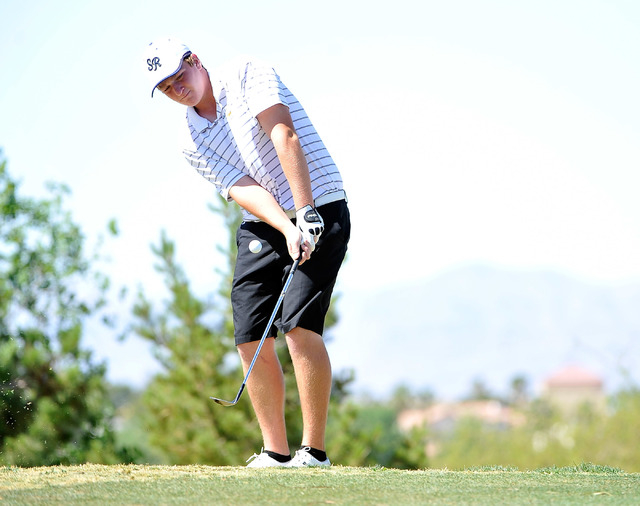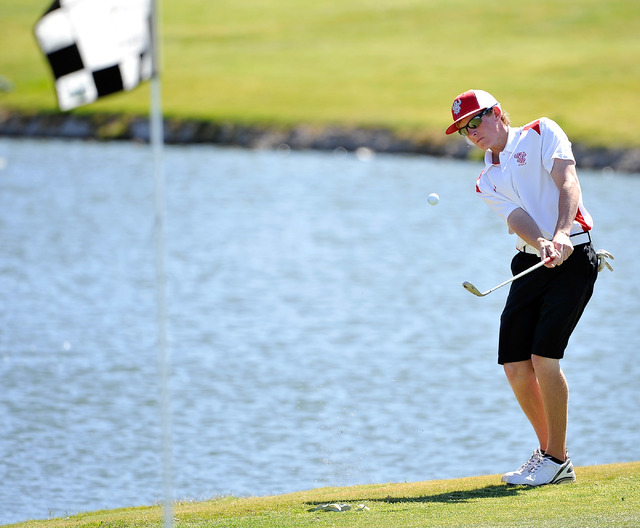 Shadow Ridge boys golfer Ben Davis thought he had no chance to win after a double bogey on the 11th hole at Wildhorse Golf Club.
But with the difficult conditions Tuesday, it turned out that no lead was safe.
Davis made up a six-shot deficit over the final seven holes and then birdied the second playoff hole to defeat Palo Verde senior Brandon Bauman and win the Division I Sunset Region tournament.
The top two teams and the top five individuals from nonqualifying teams advance to the Division I state tournament on May 21 and 22 at Mountain Falls Golf Club in Pahrump.
"I just stayed focused, took deep breaths and tried not to get too nervous," Davis said. "I'm happy I pulled out the win. It was tough, but I want state. That's the important one."
Davis, a UNLV recruit, shot a 4-over-par 74 in the final round and finished at 1-over 142 to earn his third region title. He struggled to a 5-over 39 on the front side, making a double-bogey 5 on the fourth hole after his tee shot hit the cart path and a double bogey on the demanding par-4 ninth.
Davis was 4-over for the tournament and six shots behind Bauman through 11 holes, but birdied Nos. 12 and 13 and made an 8-foot putt for par on No. 18 to send it to a playoff after he pushed his tee shot into the rocks to the right of the fairway.
On the first playoff hole, Bauman smashed his tee shot down the middle of the fairway and had about 75 yards to the green, while Davis' drive landed in a bush and he was forced to take a drop due to an unplayable lie. Bauman's approach shot stopped just short of the green and he eventually tapped in for par before Davis drained a clutch 20-footer to stay alive.
"I felt like I had an upper hand. I felt like it was definitely an opening," Bauman said. "I wish I took a more aggressive approach shot and stuck it instead of trying to be safe. But he made one of the best putts I've seen all tournament, and I have to hand it to him."
On the second playoff hole, the par-3 11th, Davis knocked his tee shot 8 feet from the pin, while Bauman missed the green to the left. Bauman, the defending region champion and a UC Santa Barbara recruit, then left his chip well short of the hole and missed a long par putt that would have put the pressure back on Davis.
"I still can't believe I made that putt on (the first playoff hole), especially after my round today," Davis said. "I couldn't make any putts, and then I finally show up."
Bauman, who led by one shot after the opening round, shot 75 on Tuesday. He was 2-under for the tournament through 12 holes but made four consecutive bogeys to open the door for Davis before both players birdied the par-5 17th.
"If I had to lose to one person, I prefer to lose to Ben," Bauman said. "I'm happy for him, but I'm disappointed I couldn't close."
Sam Dickey of Arbor View shot 74 and finished third, three strokes behind Davis and Bauman. Arbor View's Van Thomas was fourth after a 72, which tied Bishop Gorman's Bryce McEachern for the region's best round of the day.
Palo Verde and Bishop Gorman each finished at 747, but the Panthers won the team title on a scorecard playoff. Palo Verde's sixth golfer, Jun Oshimoto, shot a second-round 74 and finished the tournament at 156, one stroke ahead of Gorman's No. 6, Owen Rosebeck.
Summary: