4A BOYS SOCCER: Coronado wins semifinal, loses star forward
November 11, 2016 - 10:35 pm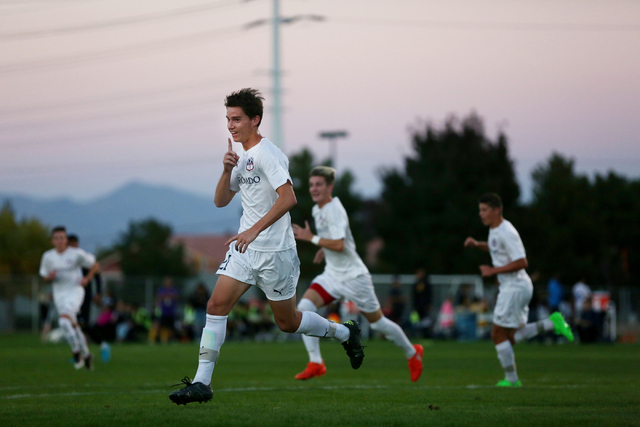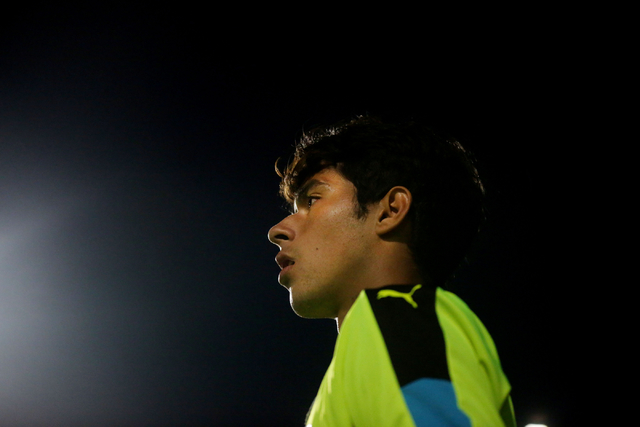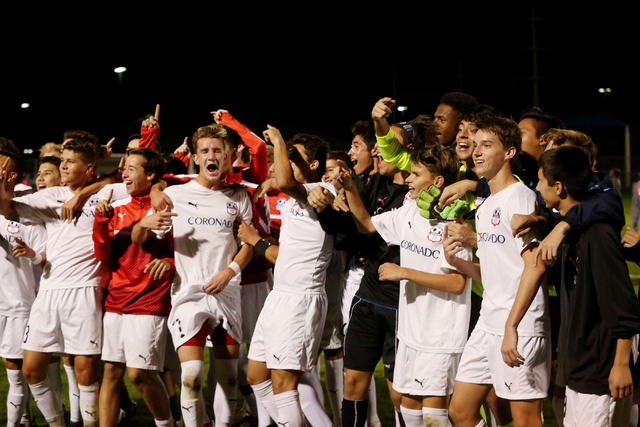 Preston Judd usually plays the role of co-star for Coronado's boys soccer team.
The senior forward was center stage Friday.
Judd scored two goals and assisted on another in the first half, but it was his red card in the second half that was the major talking point in Coronado's 3-2 win over Durango in the semifinals of the Class 4A state tournament at Bettye Wilson Park.
Mat Laudenslager headed in a corner kick from Judd in the 38th minute for what proved to be the winning goal for the Cougars (18-3-1), who advanced to the state final for the first time in school history.
Coronado will be without Judd, the area's third-leading goal scorer, when it takes on Galena (20-2-1) in the championship game at 10 a.m. Saturday at Bettye Wilson Park.
"It was a blow to us, but again, you're not going to get to a state championship easy," Cougars coach Dustin Barton said. "There's going to be adversity. There's going to be things that happen. There's going to be things that test your character, test your composure. And the team that can withstand that is the team that wins."
Coronado led 3-2 in the 65th minute when Judd made a diagonal run behind the Trailblazers' defense and was spotted by teammate John Lynam. Durango goalkeeper Paolo Sarnataro raced out to the top of the penalty area and arrived at the ball at the same time as Judd.
Judd went to the ground, but rather than being awarded a penalty kick, Judd was carded for simulation and sent off for his second yellow card of the match.
"That's a big moment for us," Barton said. "Big credit to our defense to withstand that pressure, because they threw everything at us."
Durango (20-5-2) pushed forward in the final 15 minutes but couldn't find the breakthrough. Marcos Delangel-Parra's long-range shot that sailed over the goal at the whistle was the Trailblazers' best chance late.
"That's kind of the lessons that we've learned all season long, is that no matter what, we've just got to keep playing our game, keep going with our game plan and doing what we do," Barton said. "That's what a season is all about is learning as you go. Hopefully you learn your lessons enough by the time the best test comes and you can get the win."
Judd scored in the opening minute and added a second goal in the eighth minute after Lynam dribbled past a defender to create a 2-on-0.
Delangel-Parra scored in the 20th minute to cut Durango's deficit in half, and Marcos Delgado pounced on a loose ball in the 39th minute to make the score 3-2 at halftime.
"My team is a well-conditioned team, and as the game progressed, it started showing," Durango coach Richard Cuellar said. "We went back to possessing the ball. They never got their heads down, but towards the end there … it just wasn't working."
Galena 1, Spring Valley 0 — Jorge Medina scored on an assist from Francisco Serrano in the eighth minute of overtime to lift Galena by Spring Valley in the other Class 4A semifinal.
Galena used a pressure-heavy offense from the onset and finished with 27 shot attempts, including 14 on goal, and finally broke through on its fourth shot of overtime.
After receiving the cross from Serrano, Medina had a 1-on-1 with Spring Valley goalkeeper Ethan Harper on the left side of the field and found an open area to the far post for the winning goal.
"Nothing much you can really do about that," Harper said. "It's just heartbreaking. To go out like that — we had such a road here. It was just a great trip with everybody. We really wanted to get it for the seniors."
Spring Valley, which was playing in its first state tournament in program history, had two opportunities late in regulation but couldn't capitalize. Senior midfielder David Van Hoose had two free kicks in the final minutes, but one sailed over the crossbar and the other wide right.
Spring Valley coach James Tippett told his players after the game they had nothing to be ashamed of after their impressive playoff run.
"Their names are going to be bouncing around the halls at Spring Valley because of what they did here," Tippett said. "This is not something that should be taken lightly. It's a huge deal for these kids. It's a huge deal for me because I love these kids like they're my own. It could not have happened to a better group of kids."
Harper, who played with a fractured finger in his left hand, made 12 saves in goal for Spring Valley (10-8-4). The junior made three saves in the final five minutes of regulation, including two with his cleats, and was a key reason Spring Valley remained in the match.
"He couldn't even close his hand, so for him to play the way that he did today, speaks volumes about how important he was for our team," Tippett said. "That performance was impressive."
Francisco Cazares recorded the shutout with three saves for Galena.
Box score: