4A Sunrise boys: Freshman plays hero for Coronado in region title game
November 4, 2017 - 6:44 pm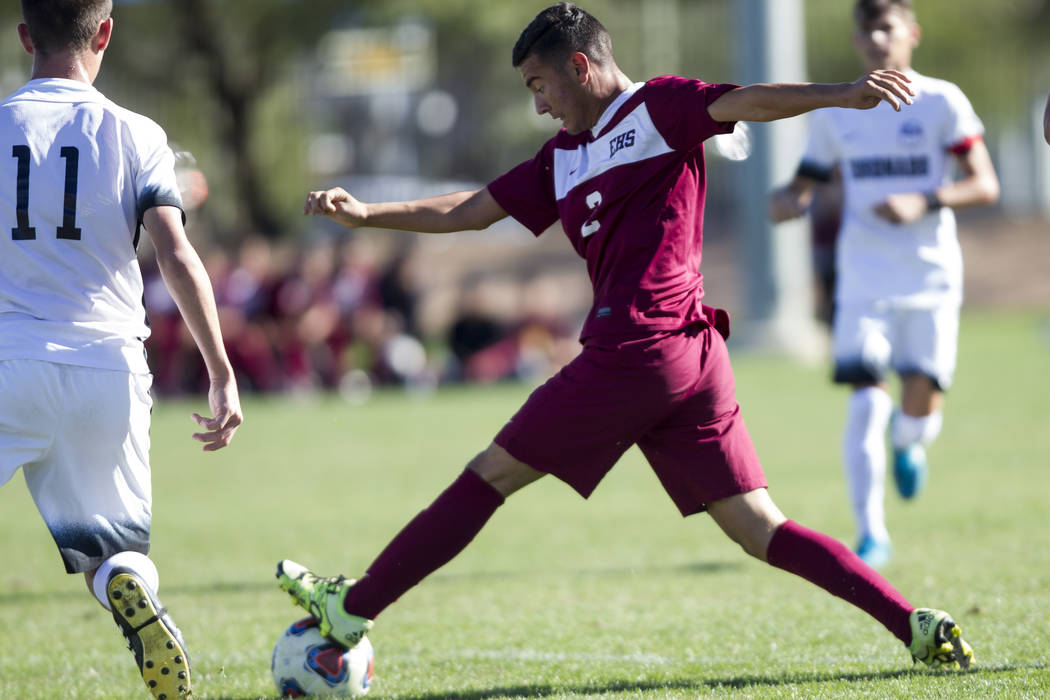 Javier Vasquez went from benchwarmer to hero on Saturday afternoon.
All in a matter of two minutes.
Coronado coach Dustin Barton summoned Vasquez from the bench at the beginning of overtime in the Class 4A Sunrise Region championship game against Eldorado at Bettye Wilson Park, and the freshman promptly responded by firing a missile into the top right corner of the net to lift the Cougars to a 2-1 victory over the Sundevils.
Vasquez struggled to find the words to explain the meaning of the moment, so he settled on one: "Crazy."
Coronado's entire roster sprinted toward Vasquez and formed a dogpile near the center of the pitch. The players were awarded their trophy moments later and burst into "Ole" chants as a satisfied Barton watched a few feet away, knowing they're back in the state tournament.
"I wanted (Vasquez) to play more defensively," Barton said. "He just went in, struck it, goal. Brilliant goal."
The Cougars (24-2-3) had several chances to put Eldorado away in regulation after John Lynam staked them to a 1-0 lead in the 49th minute, but they couldn't crack Eldorado freshman keeper Hector Lopez, who made several spellbinding saves and stopped Lynam's penalty kick in the 61st minute.
The Sundevils (14-3-3) finally broke through in the 76th minute with Sebastian Ramirez's equalizer, and had a couple more changes at the end of regulation.
But their euphoria was short lived.
Vasquez checked into the game, sprinted toward the top of the goalie's box and put the the ball in the one place Lopez couldn't reach to clinch the region championship Coronado had eyed all season.
"We've tried to schedule a lot of games so we see a lot of different kinds of teams and a lot of different kinds of styles," Barton said. "(All) to prepare for this moment."
Contact reporter Sam Gordon at sgordon@reviewjournal.com. Follow @BySamGordon on Twitter.
Box Score: