Rivas, Las Vegas edge Eldorado for Sunrise Region boys soccer title
November 8, 2008 - 7:30 pm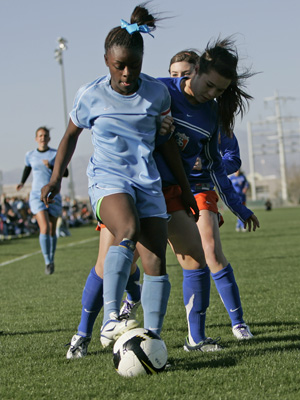 Saturday's Sunrise Region boys soccer championship game was less than a minute from going to sudden-death overtime when the ball ended up under the control of Las Vegas playmaker Joaquin Rivas.
Game over.
Rivas buried a shot from near the top of the penalty area with about 30 seconds to play to give the Wildcats a 3-2 win over Eldorado at Bettye Wilson Park for the Sunrise title.
"It feels great," Rivas said. "The moment I hit it, I knew it was going in."
The win clinched a berth in next week's state tournament.
Las Vegas had a throw-in with about a minute to play in regulation. The ball ended up in Rivas' control near the top of the penalty area. He turned left and ripped a shot just under the crossbar to win it.
"Nothing really came of the throw-in, and then all of a sudden Joaquin has the ball, which is always kind of nice for us," Las Vegas coach Vince Hart said.
Rivas having the ball has been bad news for Eldorado all season. The teams played to a pair of 1-1 ties in the regular season, and Rivas scored both Las Vegas goals.
"What a tough way to lose," Eldorado coach Gerald Pentsil said. "But their money player came through for them. We knew what a dangerous player he was. He's hurt us all season.
"I was hoping that we could stop him, but he was determined."
The game-winning score was Rivas' second goal of the game. His first came in the 34th minute off a pass from Jaime Toscano to give the Wildcats a 2-0 lead.
"He's the guy that we look at and the guy that we go to and the guy that everybody knows that we're going to," Hart said. "He gets kicked to death, and he still keeps going. I felt today was one of his better games.
"He just motored. He was a leader from the front; he defended from the front. Just a great performance."
Las Vegas had controlled the ball for much of the first half, but a hand ball in the penalty area helped Eldorado regain momentum.
Josh Cormier scored on the penalty kick in the 36th minute to cut the Wildcats' lead to 2-1.
"The penalty kick really kind of deflated us," Hart said. "It was a silly penalty to give, but Eldorado won't go away. We've played them now 240 minutes, and everything almost ends up in a tie. We're very close."
The Sundevils took advantage of another Las Vegas foul to tie the score when Cormier scored on a 25-yard free kick in the 72nd minute.
"It was kind of scary," Rivas said. "We should have finished it off early."
Eldorado plays Sunset runner-up Clark at 4 p.m. Wednesday at Bettye Wilson Park for Southern Nevada's final berth in next week's Class 4A state tournament.
"If there's any consolation, that's what it is, that we still have a chance," Pentsil said. "We have to bounce back from this."