Roundup: Bryan Martinez's two goals lift Sunrise Mountain over Western
September 27, 2017 - 7:33 pm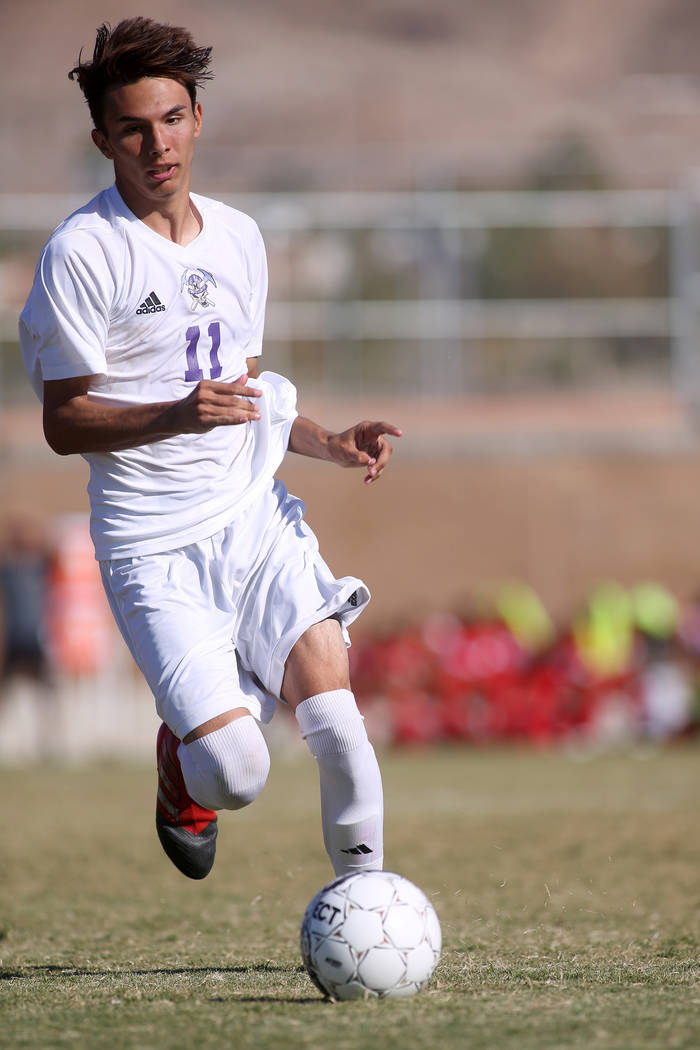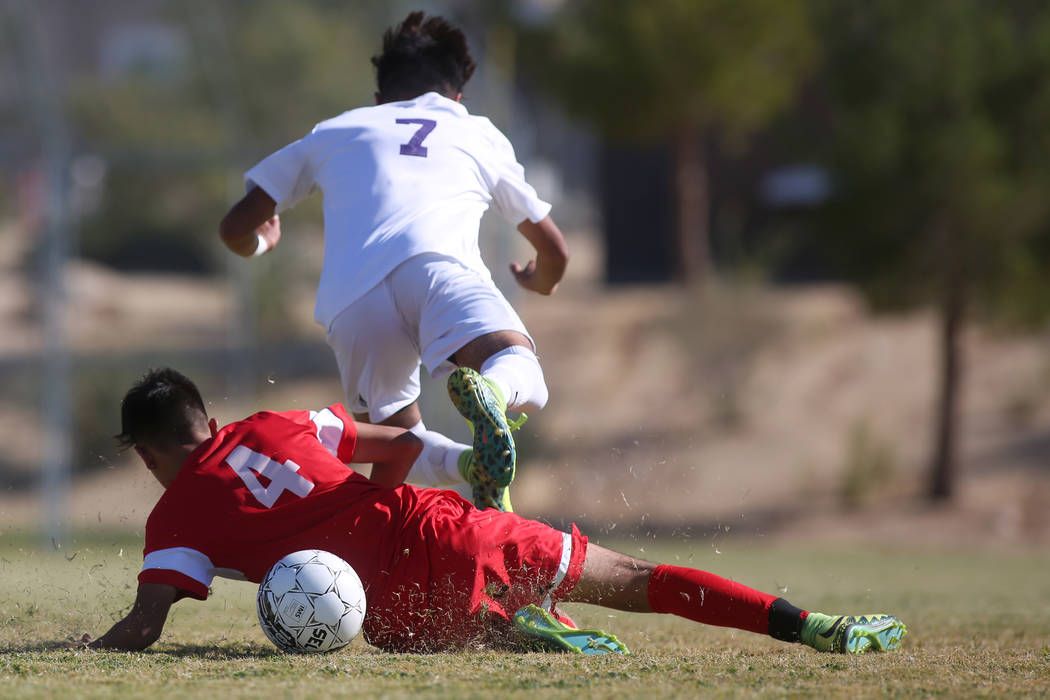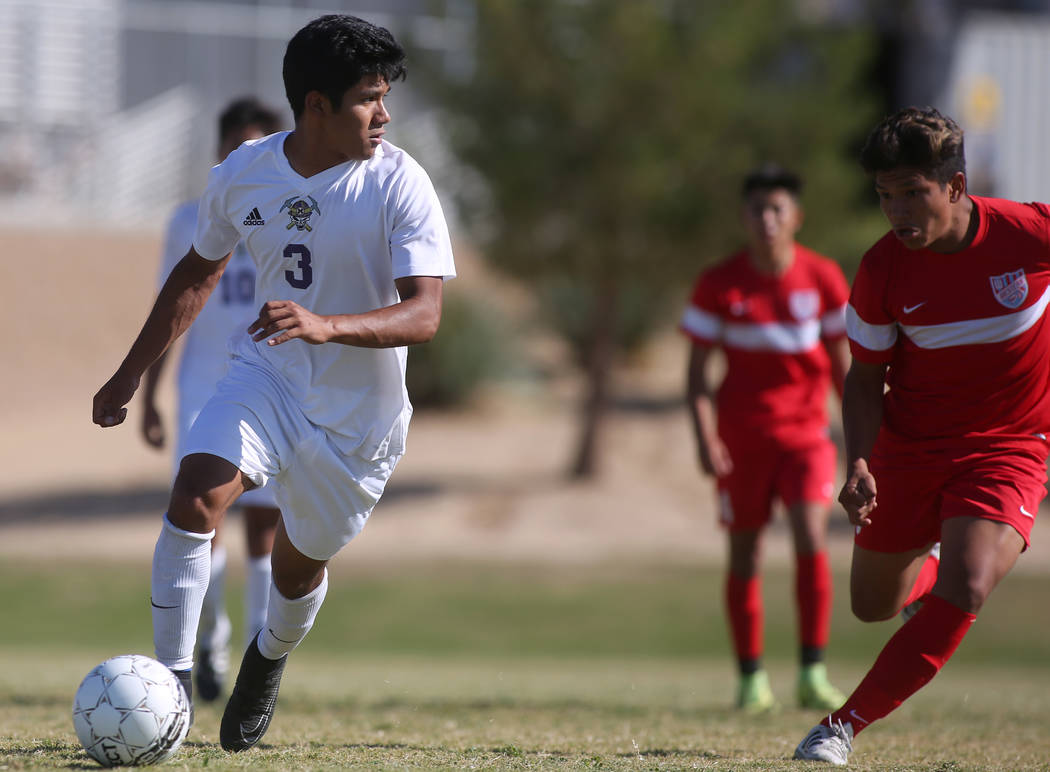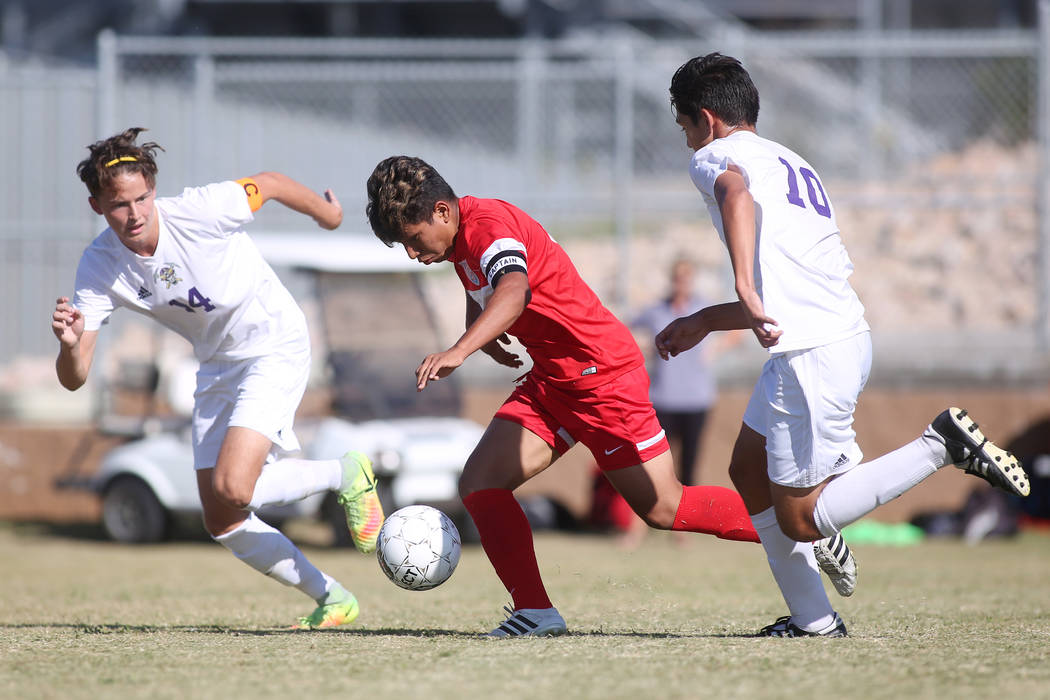 Bryan Martinez scored twice on Wednesday to lead Sunrise Mountain's boys soccer team to a 3-0 home win over Western.
Felipe Lucero added a goal, and Johnny Pedraza had an assist for the Miners, who led 1-0 at the half.
Goalkeper Marcos Plata made seven saves to earn the shutout for fifth-ranked Sunrise Mountain (8-0), which moved into first place in the Class 3A Sunset League at 5-0.
It was the first loss of the season for fourth-ranked Western (10-1-2, 5-1 Sunset).
Shadow Ridge 2, Cimarron-Memorial 1 — At Cimarron, Bryan Rodriguez scored the winning goal with 10 minutes left in the game as the Mustangs nipped the Spartans.
Miguel Trujillo scored the other goal for Shadow Ridge.
Erick Cuevas scored on an assist from Diego Zacarias for Cimarron.
Palo Verde 2, Faith Lutheran 0 — At Palo Verde, Antonio Gomez and Henry Robledo-Matadamas each scored a second-half goal to break a scoreless halftime tie and give the Panthers the win over the Crusaders.
Michael Vogel and Tanner Stevenson each supplied an assist, and goalkeeper Hudson Huckfeldt got the shutout for Palo Verde.
Canyon Springs 1, Eldorado 1 — At Eldorado, Ramon Urias-Medina scored on an assist from Miguel Duenas in the final minute to allow the Pioneers to tie the Sundevils.
Sebastian Ramirez scored on an assist from Roberto Soto in the first half for Eldorado.
Las Vegas 3, Valley 0 — At Valley, Daniel Rangel had a goal and two assists to lead the Wildcats to victory over the Vikings.
Alejandro Rivera and Nathan Zamora each added a goal for Las Vegas.
Freshman goalkeeper Gerardo Trejo made two saves to get the shutout.
Legacy 3, Arbor View 1 — At Legacy, Randolph Anderson scored twice as the Longhorns topped the Aggies.
Manny Sanchez added a goal for Legacy, and teammate Diego Gonzalez-Ruiz had two assists.
Nicklaus Dongmann scored for Arbor View.
Adelson School 4, Pahrump Valley 2 — At Adelson School, Dylan Soresman scored two goals, and Alex Sefia had a goal and an assist to help the Lions beat the Trojans.
Ben Elharrar added a goal, and Liddor Bega supplied an assist for Adelson School, which led 2-0 at halftime.
Alvaro Garcia scored two second half goals for Pahrump.
Mojave 4, Cheyenne 0 — At Cheyenne, Jesus Ubario-Ocha scored two goals as the Rattlers blanked the Desert Shields.
Olsen Bonilla and Juan Carbajal each added a goal for Mojave, which led 2-0 at halftime.
Felipe Duran and Brian Torres each notched an assist, and goalkeeper Daniel Rosales got the shutout for Mojave.
Box scores:
Shadow Ridge 2, Cimarron-Memorial 1
Palo Verde 2, Faith Lutheran 0
Adelson School 4, Pahrump Valley 2