Roundup: Faith Lutheran edges Legacy
September 12, 2018 - 9:53 pm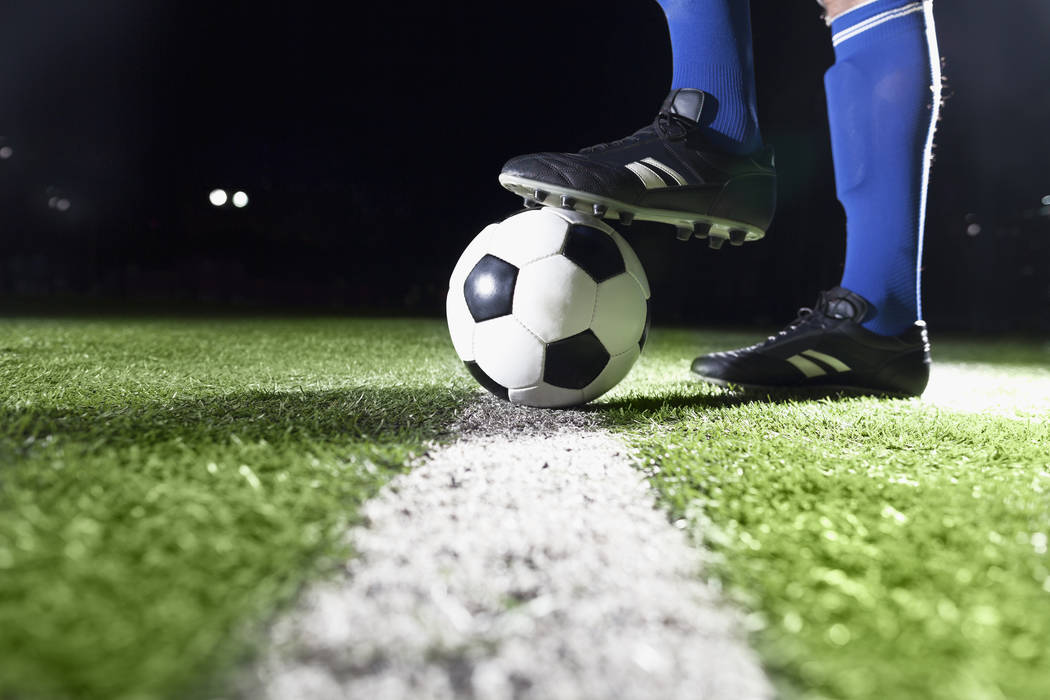 Hayden Hillegass scored an unassisted goal with 15 minutes to play to give host Faith Lutheran a 1-0 boys soccer win over Legacy on Wednesday.
Goalkeeper Landon Amick made five saves to get the shutout.
Palo Verde 3, Centennial 1 — At Palo Verde, Michael Vogel had a goal and an assist to help the Panthers hold off the Bulldogs.
Cole Wener and Tyler Olenak each added a goal for Palo Verde.
Armando Gutierrez scored Centennial's goal.
Las Vegas 5, Desert Pines 1 — At Desert Pines, Sergio Aguayo scored four goals to power the Wildcats past the Jaguars.
Luis Hernandez added a goal, and Nathan Zamora and Manuel Alfaro each notched two assists for Las Vegas, which led 2-0 at halftime.
Joel Sanchez scored on an assist from Benjamin Diaz-Ramirez for Desert Pines.
Foothill 4, Equipo Academy 0 — At Foothill. William Potter made five saves in the Falcons' shutout of the Yeti.
Devan Henriott, Ryder Cook, Zachary Sines and Ludvig Hansen each scored for the Falcons.
Foothill's Colton Cook added two assists.
Cimarron-Memorial 6, Rancho 1 — At Cimarron, Fernando Arevalo notched three goals and an assist, and Jimi Villasenor chipped in with two goals and an assist as the Spartans routed the Rams.
Diego Zacarias supplied a goal and an assist, and George Balcazar, Diego Juarez, and Shayr Garcia-Reyes each added an assist for Cimarron, which led 2-0 at halftime.
Jesus Leon scored on an assist from Alexis Bravo for Rancho.
Bonanza 7, Shadow Ridge 1 — At Bonanza, Efrain Mayorga supplied three goals and two assists to lead the Bengals to a rout of the Mustangs.
Jonas Bryant and Luis Antonio each had two goals for Bonanza, which got an assist from call-up Guillermo Mungia.
Isaac Arcila scored Shadow Ridge's lone goal.
Eldorado 8, Cheyenne 0 — At Eldorado, Vicor Moran had three goals and an assist to help the Sundevils defeat the Desert Shields.
Roberton Gonzalez added two goals and three assists, and Francisco Ulloa-Tapia, Luis Gutierrez and Erk Llamas each scored once for Eldorado.
Leonel Sedano had two assists, and Emiliano Garcia made two saves to get the shutout for the Sundevils.
Pahrump Valley 9, Adelson School 1 — At Pahrump, Fernando Martinez-Fontana scored twice to lead the Trojans over the Lions.
Christian Gonzalez, Alvaro Garcia and Abraham Alvarez each added a goal and an assist, and Vincent DiBlasi, Christopher Vega, Rafael Nunez and Christian Mott each scored once for Pahrump.
Jose chavez added two assists for the Trojans.
Micah DeLeon had Adelson School's goal.
Boulder City 3, SLAM Academy 1 — At SLAM Academy, the Eagles scored twice in the first half and defeated the Bulls.
Box scores:
Boulder City 3, SLAM Academy 1
Pahrump Valley 9, Adelson School 1