Roundup: Hayden Prasad's goals give Liberty win over Gorman
October 15, 2018 - 8:50 pm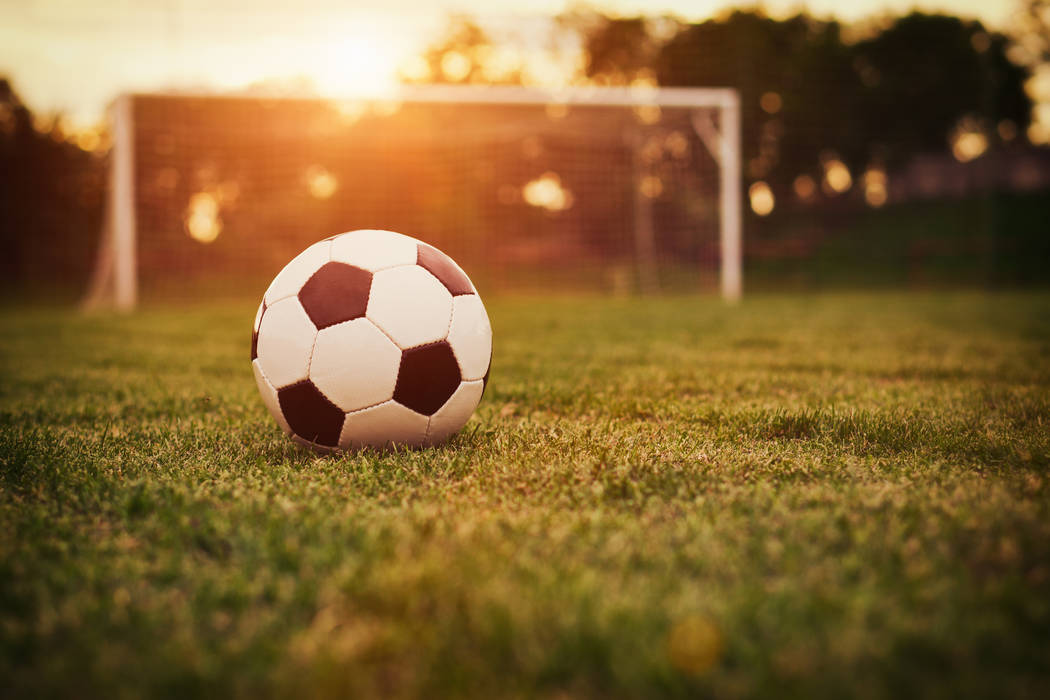 Liberty's Hayden Prasad scored his second goal of the game with 15 minutes remaining Monday, and the visiting Patriots knocked off Bishop Gorman 2-1 in boys soccer.
Liberty goalkeeper Ivan Rodriguez had two saves in the final 10 minutes to preserve the Patriots' lead.
Marco Amezquita had an assist for Liberty, which trailed 1-0 at halftime.
Nikolas Oseland scored on an assist from James Brooks for the Gaels.
Tech 2, Clark 2 — At Clark, Leonardo Puente had a goal and an assist as the Chargers drew with the Roadrunners.
Juan Beltran-Diaz scored Clark's other goal.
Alexander Calderon and Yobani Garcia-Benitez each scored for the Roadrunners, who trailed 2-1 at the half.
Spring Valley 2, Sierra Vista 1 — At Spring Valley, Cesar Estrada had a goal and an assist as the Grizzlies defeated the Mountain Lions.
Jose Urrutia-Lopez scored Spring Valley's other goal.
Eduardo Perez scored Sierra Vista's goal.
Durango 4, Green Valley 1 — At Green Valley, Marcos Delgado and Christopher Bramasco each had a goal and an assist as the Trailblazers took down the Gators.
Adonis Rodriguez and Carlos Juarez-Cornelius each scored once for Durango, which led 1-0 at the half.
Elyjah DeLeon scored for Green Valley.
Valley 3, Mojave 1 — At Valley, Samuel Milenge and Andy Gonzalez each had a goal and an assist as the Vikings defeated the Rattlers.
Axel Leon added a goal for Valley.
Adam Trejo-Montes scored Mojave's goal.
Canyon Springs 4, Arbor View 1 — At Canyon Springs, Jose Gonzalez had goal and an assist as the Pioneers defeated the Aggies.
Isaias Lopez, Jovanny Salvadar, and Josue Figeuroa each scored one goal for Canyon Springs.
Arthur Medina scored one goal for Arbor View.
Coronado 5, Desert Oasis 0 — At Desert Oasis, Alfredo Diaz had a goal and an assist as the Cougars defeated the Diamondbacks.
Kealan O'Toole, Paul Graham, Moctezuma Maldonado and Matthew Kale each added a goal for Coronado.
Josue Ruiz made two saves to get the shutout.
Foothill 4, Basic 0 — At Basic, Ivan Castillo scored twice to lead the Falcons over the Wolves.
Colin O'Reilly scored for Foothill, which benefited from a Basic own goal.
William Potter made seven saves to record the shutout for the Falcons.
Basic goalkeeper Danny Sebastian made nine saves.
Western 3, Pahrump Valley 0 — At Pahrump, Juan Estrada had two goals as the Warriors defeated the Trojans.
Mauricio Muniz had one goal for Western.
Francisco Corona recorded the shutout for the Warriors.
Del Sol 5, Adelson School 0 — At Del Sol, Diego Montes had two goals and an assist as the Dragons defeated the Lions.
Del Sol's Luis Martinez-Fernando and Adrian Zuniga each added one goal and one assist, and teammate Richard Magallon-Escalera also scored a goal.
Goalkeepers Jesus Gallardo and Angel De La Paz combined on the shutout.
Equipo Academy 2, Silverado 2 — At Silverado, the Yeti and Skyhawks played to a draw.
Silverado's Connor Barlow and Sean Borla each scored one goal.
Equipo Academy's Edward Diaz and Alexander Cruz each had one goal.
Somerset-Losee 7, The Meadows 2 — At Somerset-Losee, Mekhi Alexander had three goals as the Lions beat the Mustangs.
Box scores:
Canyon Springs 4, Arbor View 1
Somerset-Losee 7, The Meadows 2
Spring Valley 2, Sierra Vista 1