Roundup: Martin Ortiz, Legacy top Valley
August 28, 2018 - 9:35 pm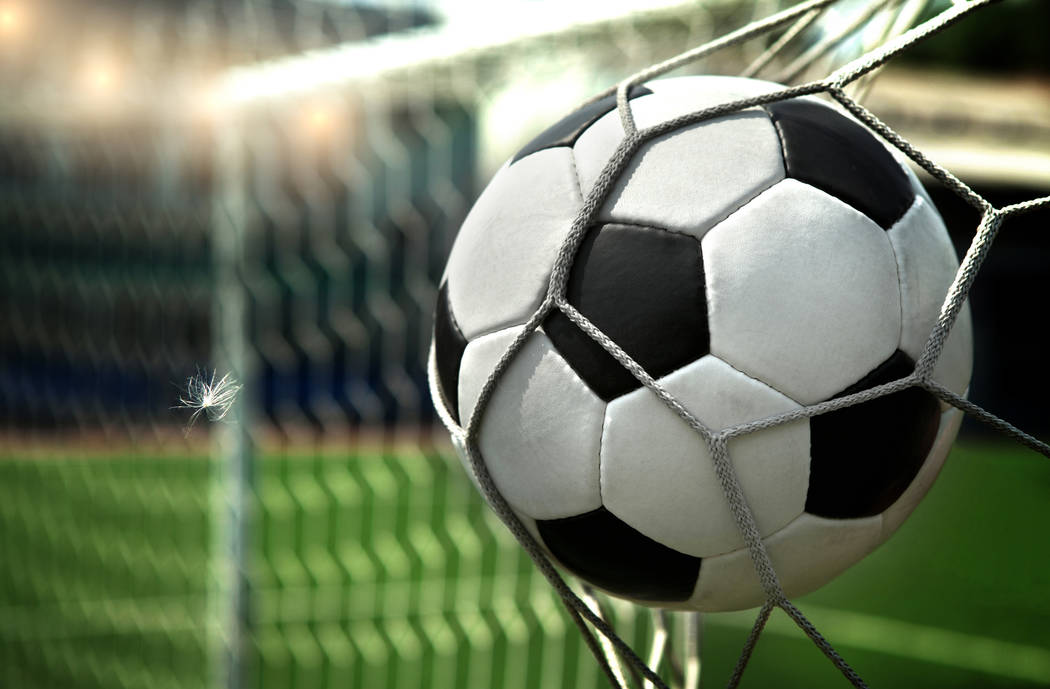 Martin Ortiz scored twice on Monday to lead Legacy's boys soccer team to a 5-3 road victory over Valley.
Nicholas Garrett, Jesus Cruz and Aalan Rosales each added a goal for the Longhorns, who led led 2-0 at the half.
Shadrack Milenge, Samuel Milenge and Jorge Rodriguez each scored a goal for the Vikings.
Desert Pines 3, Spring Valley 1 — At Spring Valley, Joel Sanchez had two goals and one assist as the Jaguars knocked off the Grizzlies.
Erick Santillan had a goal and an assist for Desert Pines.
Bum Cho's scored for Spring Valley.
Las Vegas 5, Foothill 1 — At Las Vegas High, Daniel Rangel had two goals and two assists as the Wildcats rolled by the Falcons.
Sergio Aguayo had a goal and two assists for Las Vegas, and teammate Luis Hernandez had a goal and an assist.
Anthony Burton also scored for the Wildcats.
Colin O'Reilly scored Foothill's goal.
Arbor View 4, Sierra Vista 1 — At Arbor View, Ricardo Mogollon scored two goals, and Cameron Kornock added a goal and two assists as the Aggies beat the Mountain Lions.
Josiah Gallardo notched a goal, and Ethan Boone and Christopher Ross each had an assist for Arbor View, which led 2-1 at halftime.
Eduardo Perez scored on an assist from Leo Hwang for Sierra Vista.
Coronado 5, Shadow Ridge 0 — At Coronado, the Cougars took a two-goal lead at the half and rolled over the Mustangs.
Alfredo Diaza, Ryan Wilkinson, Kealan O'Toole, Paul Graham and Moctezuma Maldonado each had a goal for Coronado.
Lincoln Aquino had two assists for the Cougars.
Luca Capriosi made two saves to earn the shutout.
Liberty 10, Somerset-Losee 0 — At Somerset-Losee, Marcos Gonzalez had three goals and two assists to lead the Patriots in a rout of the Lions.
Hayden Prasad had two goals and two assists and Dylan Jones had two goals and an assist for Liberty.
Jason Angel Gilliland and Max Patton each had a goal and two assists for the Patriots, and teammate Quinn Rankin had a goal.
Liberty's Ivan Rodriguez made one save in the shutout, and also had an assist.
Pahrump Valley 5, Virgin Valley 0 — At Pahrump, Fernando Martinez had two goals and two assists as the Trojans beat the Bulldogs.
Jose Chavez added a goal and an assist, and Christopher Vega and Alvaro Garcia each scored once for Pahrump.
Ian Kingsley had the shutout.
Boulder City 10, Adelson School 0 — At Adelson School, Benson Deml scored three goals as the Eagles rolled past the Lions.
Box scores:
Boulder City 10, Adelson School 0
Desert Pines 3, Spring Valley 1
Pahrump Valley 5, Virgin Valley 0