Roundup: Skyhawks edge Foothill
October 3, 2018 - 8:50 pm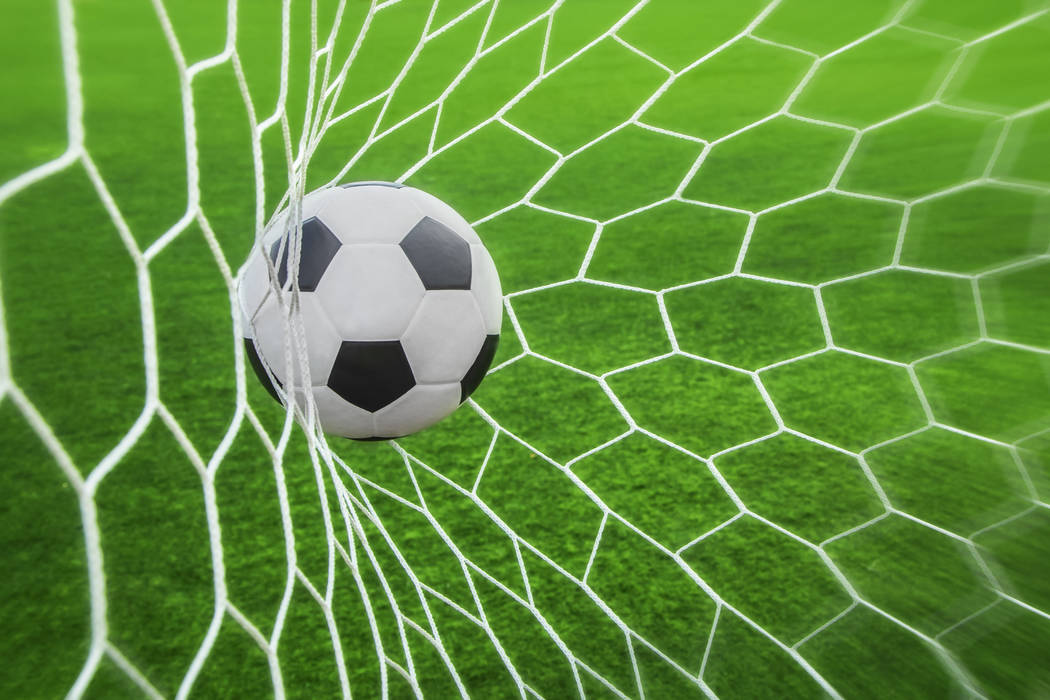 David Matias-Flores and Conner Barlow each had a goal as Silverado's boys soccer team edged visiting Foothill 2-1 on Wednesday.
Colton Cook scored for Foothill.
Coronado 4, Liberty 1 — At Liberty, Lincoln Aquino had two goals and an assist to lead the Cougars over the Patriots.
Alfredo Diaz scored twice for Coronado, which scored three second-half goals to pull away.
Dylan Jones scored in the first half for Liberty.
Bishop Gorman 2, Green Valley 0 — At Green Valley, Hayden Madsen scored twice as the Gaels beat the Gators.
Diesel Fiore and Kauila Hoapili combined on the shutout.
Desert Oasis 4, Spring Valley 1 — At Spring Valley, Ethan Kovach scored twice and the Diamondbacks had four second-half goals to beat the Grizzlies.
Alonzo Lara and Zackey Baria scored for Desert Oasis, and teammate Erik Ramos had two assists.
Cesar Estrada scored Spring Valley's goal.
Durango 4, Sierra Vista 1 — At Sierra Vista, Tyson Tesfamariam had a goal and an assist in the Trailblazers' win against the Mountain Lions.
Gael Delangel-Parra, Carlos Juarez-Cornelius and Christopher Bramasco each added a goal for Durango.
Eduardo Garcia scored Sierra Vista's goal.
Mojave 3, Del Sol 1 — At Del Sol, Cesar Gonzalez scored twice as the Rattlers defeated the Dragons.
Francisco Rebolledo added a goal, and Jesus Ubario-Ochoa assisted on all three goals for Mojave.
Luis Martinez-Fernando scored for Del Sol.
Clark 9, Basic 2 — At Clark, Juan Beltran-Diaz had six goals and two assists, powering the Chargers to a win over the Wolves.
Abraham Dolley had a goal and two assists, and Tesfu Mebretom added a goal and an assist for Clark, which scored seven second-half goals.
Edwin Rodriguez added a goal for the Chargers.
Christopher Vesper and Elijah Buchanan each scored once for Basic.
Western 7, Valley 0 — At Valley, Juan Estrada had three goals as the Warriors routed the Vikings.
Andy Rodriguez scored twice, and Jose Arias and Brayan Gonzalez each had a goal for Western.
Bryan Jimenez added five assists for the Warriors, and goalkeeper Francisco Corona had the shutout.
Tech 8, SLAM Academy 0 — At Tech, Alex Meija tallied four goals and an assist, and Alan Lopez added a goal and an assist as the Roadrunners charged to a shutout win over the Bulls.
Cruz Velasquez, Ricardo Felipe, and Aaron Ulloa-Tapia each scored a goal, and Gabriel Aguilar supplied two assists for Tech.
Aaron Castro and Velasquez combined on the shutout for Tech.
Somerset-Losee 3, Adelson School 2 — At Adelson School, Mekhi Alexander scored two of Somerset-Losee's three second-half goals to help erase a 1-0 halftime deficit and beat the Lions.
Nehemiah Moore also scored once for Somerset-Losee.
Noah Stanigar scored twice to lead Adelson School.
Pahrump Valley 10, The Meadows 0 — At Pahrump, Jose Chavez scored five goals as the Trojans rolled past the Mustangs.
Abraham Alvarez added two goals, and Fernando Martinez-Fontana had a goal and an assist for Pahrump.
Ian Kingsley and Sergio Sanchez each scored once, and Alvaro Garcia had three assists for the Trojans, who scored on three penalty kicks.
Kingsly had the shutout.
Box scores:
Bishop Gorman 2, Green Valley 0
Desert Oasis 4, Spring Valley 1
Pahrump Valley 10, The Meadows 0
Somerset-Losee 3, Adelson School 2