4A GIRLS SOCCER: Palo Verde dominates Reno to advance to state title game
November 11, 2016 - 10:32 pm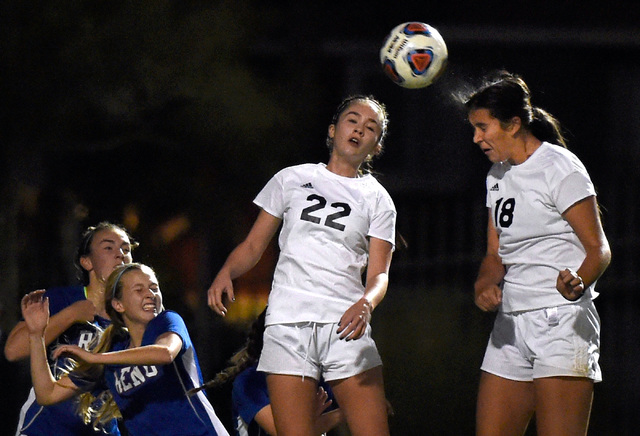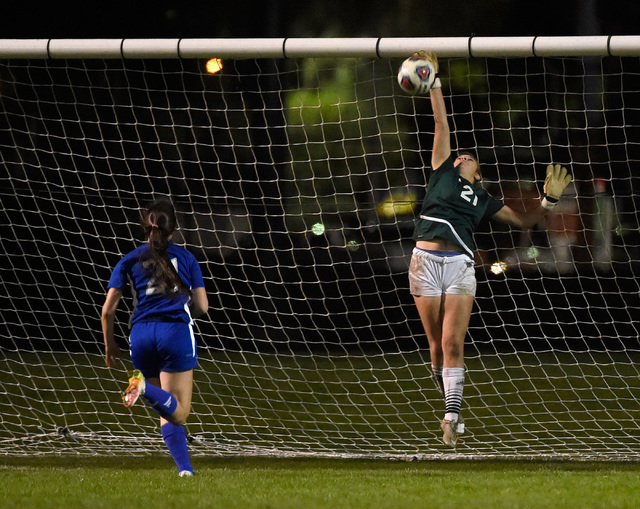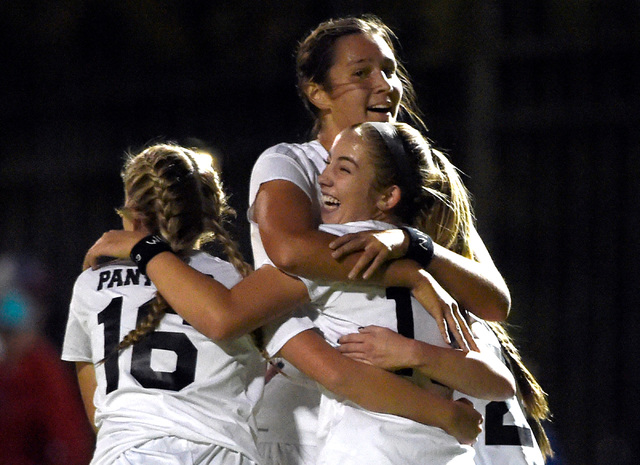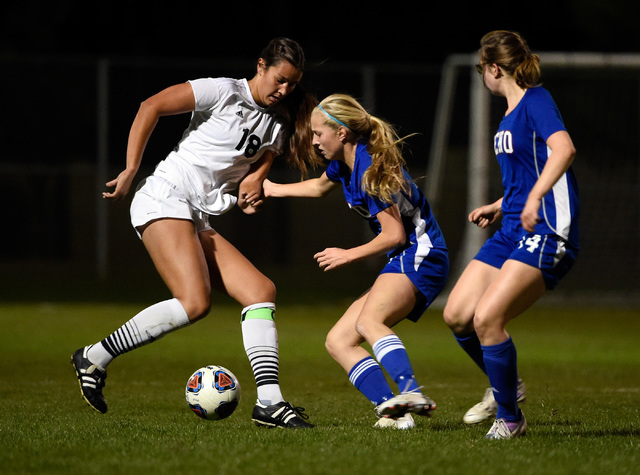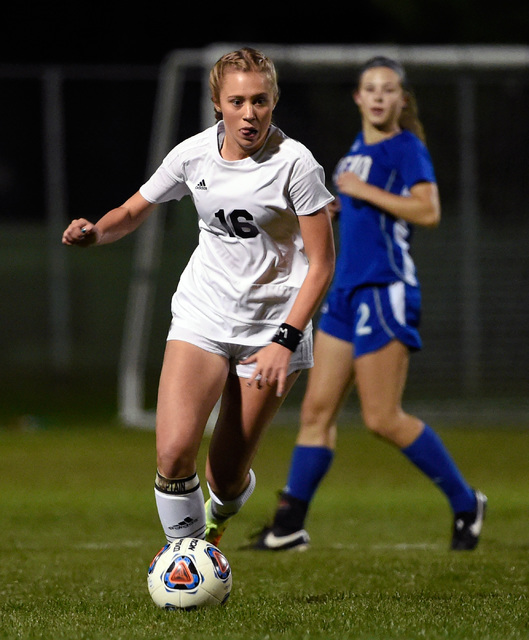 For much of the regular season, Palo Verde's girls soccer team had to rely on the scoring contributions from Macee Barlow and Jadyn Nogues to win matches.
Senior midfielder Gia Barone made it known Friday she still poses just as big a threat as her standout teammates.
Barone scored the game's first two goals and had an assist in the second half as the Panthers dominated wire-to-wire in a 5-1 win over Reno in a Class 4A state semifinal at Bettye Wilson Park.
"I told her before, 'You've got to come out strong tonight,'" Palo Verde coach Frank Messina said. "You can't ask for anything more than that. She's a great player."
Palo Verde (18-2-4) will meet Arbor View (19-1-2) for the fourth time this season for the state title at noon Saturday at Bettye Wilson Park. The teams tied once in the regular season and split the other meetings — the last being a 3-2 overtime win for the Panthers in the Sunset Region final on Nov. 5.
Messina made sure his players weren't looking ahead to that, though, before Friday's match.
"I told the girls not to over think or look past tonight," Messina said. "It's a state semifinal, so you have to deal with what's in front of you first."
Barone got the Panthers off to a strong start in the team's warm-up match. She took a pass from Nogues in the ninth minute and fired it just inside the left post for a 1-0 lead, then scored on a 15-yard kick to put the Panthers up 2-0 in the 16th minute.
"I've been playing here for four years, so it was great to get out and score those goals early," Barone said. "I feel like opening up the field like that against Arbor (on Saturday) is going to be a big advantage for us. I'm feeling good. Very confident. I know our girls have worked so hard this year and I know we can pull through."
Reno's Natalie Colfer scored on a deflected shot in the 21st minute, but the Huskies had little to show offensively afterwards. They took only four shot attempts in the match and had limited opportunities, largely because of Palo Verde defenders Noah Johnson and Avery Jacobsen.
"Playing with Avery back there has been great," Johnson said. "She's been my mentor since I'm only a junior and she's a senior. She's taught me a lot, and as each game goes on, it's been easier to play because I kind of play off her."
Jacobsen also assisted on a free kick to Nogues in the 33rd minute as Palo Verde took a 3-1 halftime lead. The Panthers took 17 shots, including 11 on goal.
In the second half, Barlow scored on an assist from Madison Hernandez, and Barone assisted on Gianni Terrana's goal with one minute remaining for the Panthers.
Goalkeeper Gabrielle Nickel made five saves in the first half for Reno (16-5-1).
Arbor View 5, Coronado 0 — Hannah Ferrara had two goals, and the four-time defending state champion Aggies scored four times in the second half to pull away from the Cougars in the Class 4A state semifinals.
Deja Erickson, Allyssa Larkin and Preshus McCraney also scored in a rematch of the past two state title games.
Haylee Niemann had six of her eight saves in the first half as Coronado (19-3-4) was determined to test the Aggies goalkeeper from distance.
"I thought they really took it to us in the first half," Arbor View coach Jay Howard said. "I thought Haylee, our goalie, was player of the match. She was awesome. It's wet, so it's not good conditions for a goalkeeper, and her hands were so good in the first half. She really kept us in it. I'm really proud of her."
Melanie Ara added two assists for the Aggies, who led 1-0 at halftime thanks to a 29th-minute goal from Ferrara and then dominated the second half following a pep talk from assistant coach Erica Peeples.
Erickson made it 2-0 in the 63rd minute as she cut in from the right wing and blasted home a left-footed shot from the top of the 18-yard box.
Ferrara made it 3-0 in the 67th minute after a sensational individual effort, as she beat a defender along the goal line and slipped a shot past Coronado goalkeeper Rachel Morris.
"I thought toward the end of the first half it started to go our direction, and I thought we really played well in the second half," Howard said. "We went forward, we went at them, where in the first half I thought we were kind of laid back and they won the 50-50 balls. We did much better challenging, and when we had the ball, attacking."
Morris finished with six saves for Coronado, the Sunrise Region champion.
The Cougars' best chance in the first half came midway through when Jensen Boman found Leili Rosenberg, but her point-blank shot went wide.
Boman's dangerous free kick from about 25 yards out in the 50th minute was smothered by Niemann.
"The girls played outstanding. The score does not show how they played in the heart of the game," Coronado coach Dana Neel said. "If we get one of those in the first half, the game is a different game. This is a team that has grown more than any team that I've coached. I'm proud of their performance."
Box scores: