4A GIRLS SOCCER: Second-half surge helps Arbor View capture fifth straight state title
November 12, 2016 - 5:21 pm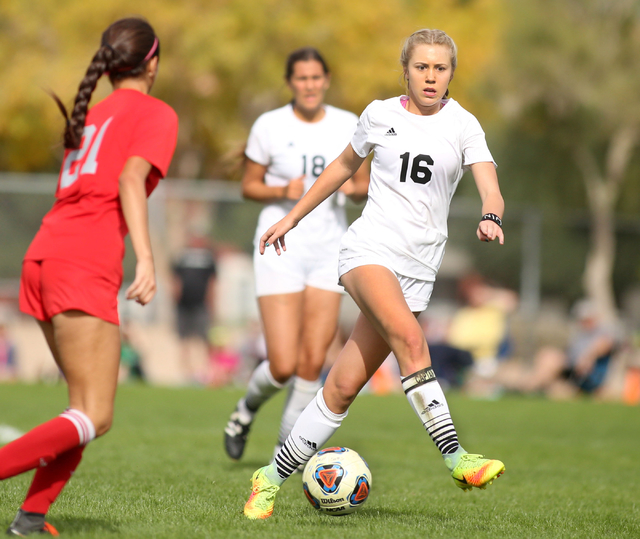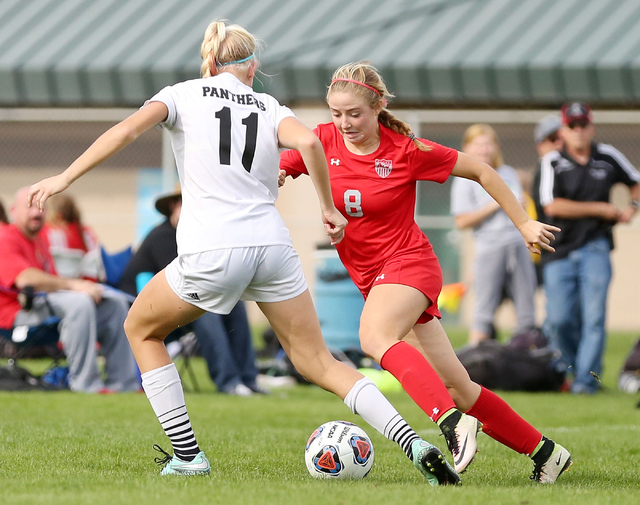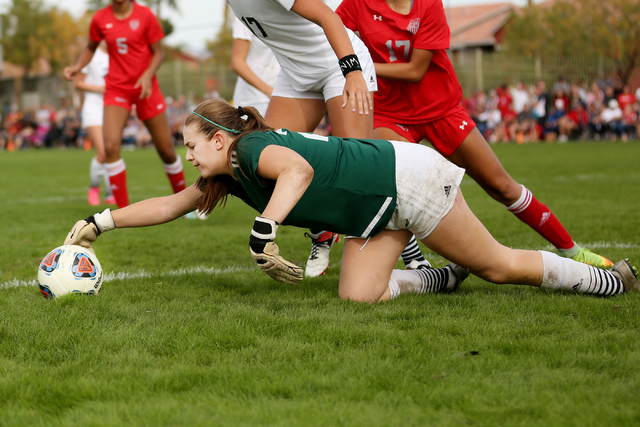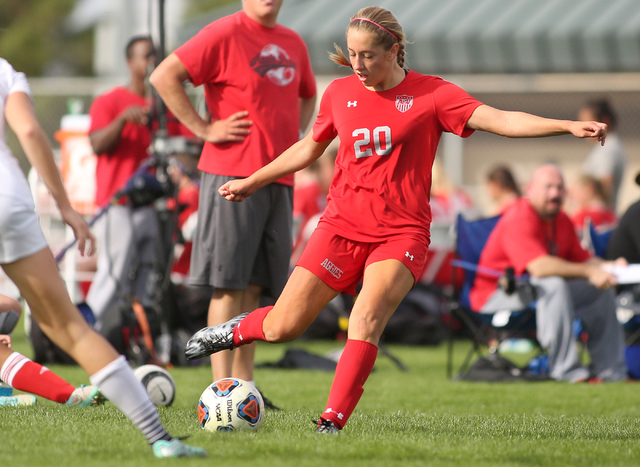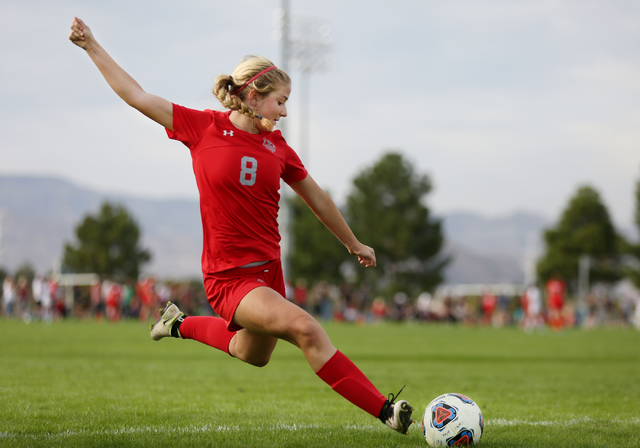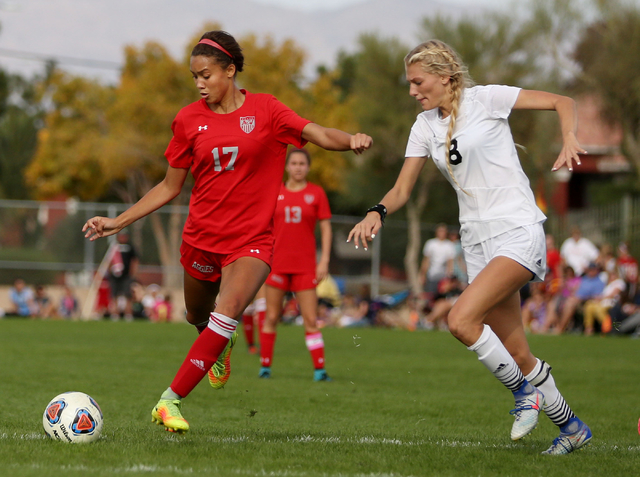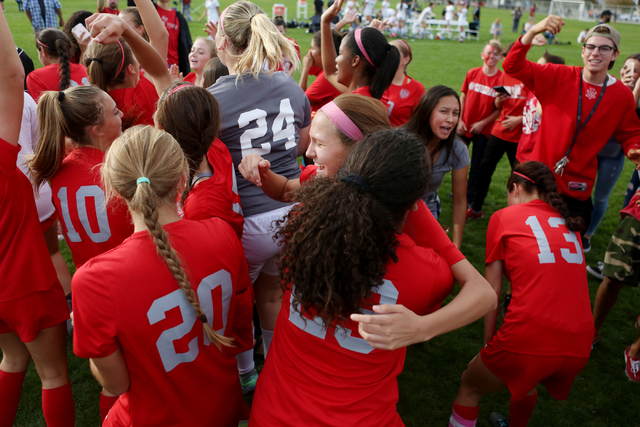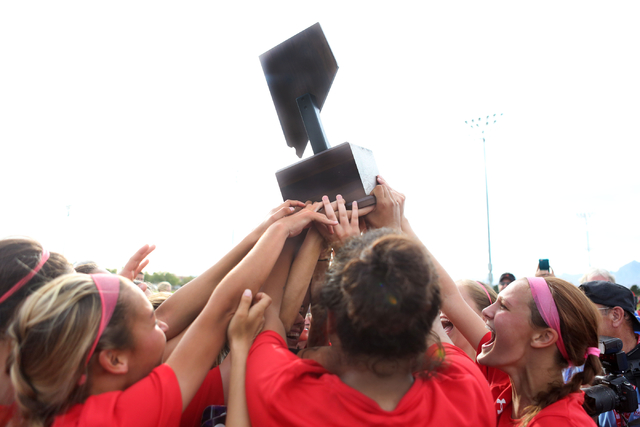 The "five-peat" chants began pouring in from the hundreds of Arbor View fans and faculty with about three minutes to play Saturday afternoon.
Seconds later, the Aggies bench got involved, with players starting to flash five fingers to the crowd.
With how physically and mentally grueling this season has been — opening the season as a nationally ranked program and playing each and every game with a target — longtime Arbor View girls soccer coach Jay Howard couldn't help but smile.
"That was awesome," he said.
The Aggies scored four unanswered goals in the second half to keep their state-title streak intact and rally past Palo Verde 4-1 in the Class 4A state final at Bettye Wilson Park.
"After we lost the region championship (to Palo Verde), those kids had a rough two days," Howard said. "Social media was brutal to them. School was rough to them. The way they responded — really special. Really proud of them."
For a while Saturday, Arbor View's streak of four straight state titles appeared to be in jeopardy.
Despite dominating possession and having a 2-to-1 shot advantage at the half, the Aggies (20-1-2) trailed as Palo Verde's Macee Barlow converted on a penalty kick in the 34th minute after Arbor View was called for a handball.
"We told them at halftime, 'We're fine. We're playing really good,' " Howard said. "I'm not sure we (adjusted) anything tactical, probably for the first time all season, at half because we knew we were in control of the game. We knew we were as coaches."
Junior Hannah Ferrara re-asserted that dominance and dished out the game-changing assist only 15 seconds after the referee's second-half whistle. Ferrara dribbled past a defender on the right wing and sent a cross into the box for teammate Deja Erickson, who headed in the ball to the left post.
"I knew I could beat that (defender) the whole game," Ferrara said. "I just had to get it through my head that I could. When I crossed that ball, I felt really confident about it. Deja and I work together really well. … It definitely pushed the momentum up. Once we got that one, I knew the momentum was going to start picking up and we were going to get more and more after that."
Howard said: "The great thing about that is, if we have a team weakness, it's heading the ball. We don't like to head the ball. We keep the ball on the ground. So the fact that we scored a beautiful head ball, an aggressive head ball, I thought that set the tone. It felt like it was coming anyway in the first half, but that kind of did it."
Allysa Larkin scored the go-ahead goal — a 25-yard kick to the upper left post — in the 54th minute, and Sierra Vicente added a goal off an assist from Melanie Ara just two minutes later to give Arbor View a 3-1 lead.
The third goal sucked the wind out of Palo Verde, and forced a normally-calm Howard to sprint toward his bench and fist pump in excitement.
Ferrara tacked on an insurance goal in the 67th minute for the Aggies, who avenged a 3-2 overtime loss to the Panthers on Nov. 5.
Arbor View defender Madison Boyd, the only player in program history to start on four state-title winning teams, was the anchor on defense against Palo Verde. She said the final championship definitely means the most to her.
"This one means so much because it's my senior year and I get to do it with all my friends and family," Boyd said. "It just feels so much better than the others because I get to go out with a bang. … I feel blessed and honored to be a part of this team and family."
Kailee Barnhard made seven saves for Palo Verde (18-3-4).
"I'm extremely proud of them," Palo Verde coach Frank Messina said. "And I've told them many times. I couldn't be more proud. They pulled it together once we hit playoffs and kept just grinding away and pulling 'W' after 'W.' "
Box score: