Cheyenne, Western play to draw in girls soccer
October 17, 2016 - 10:18 pm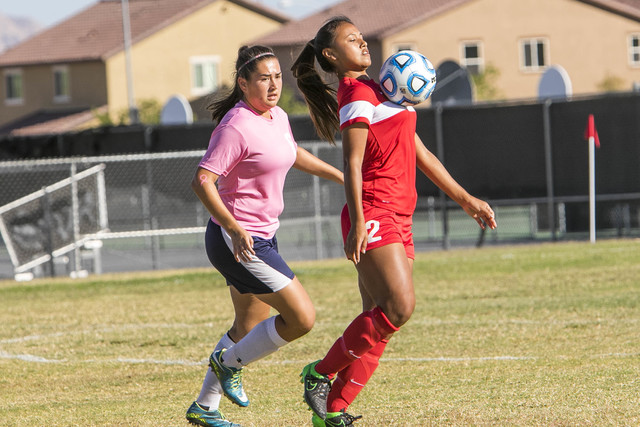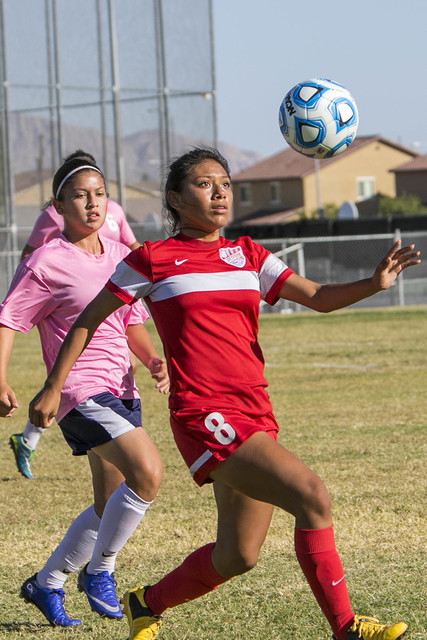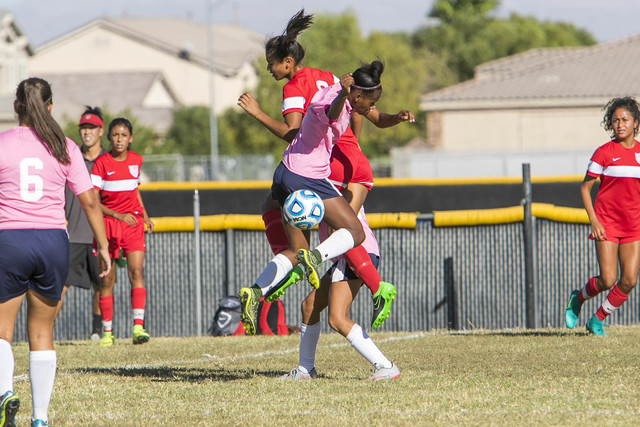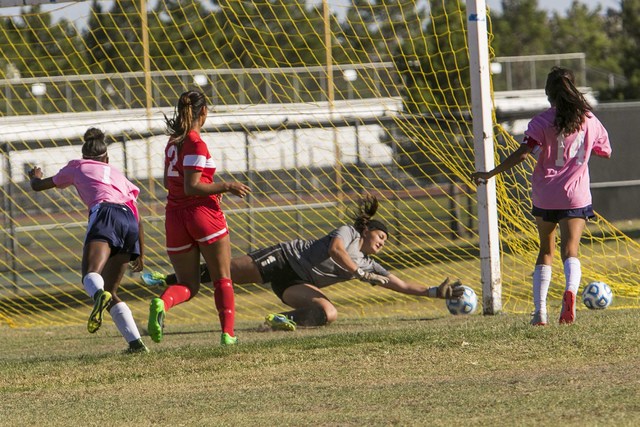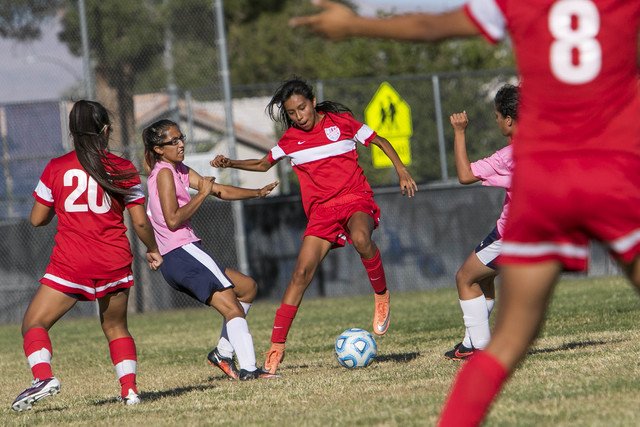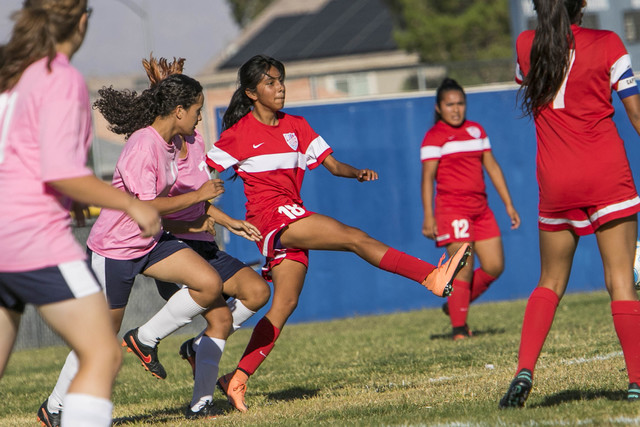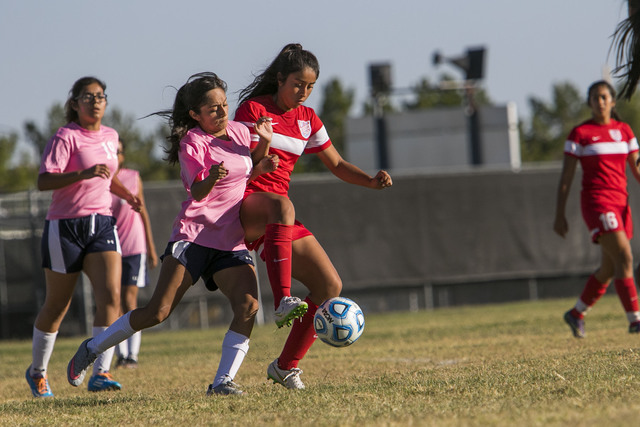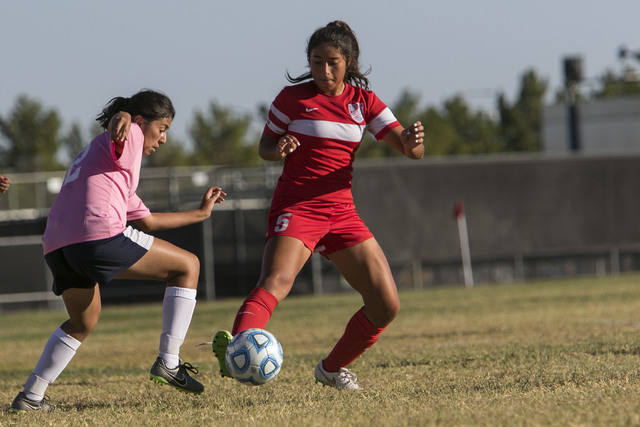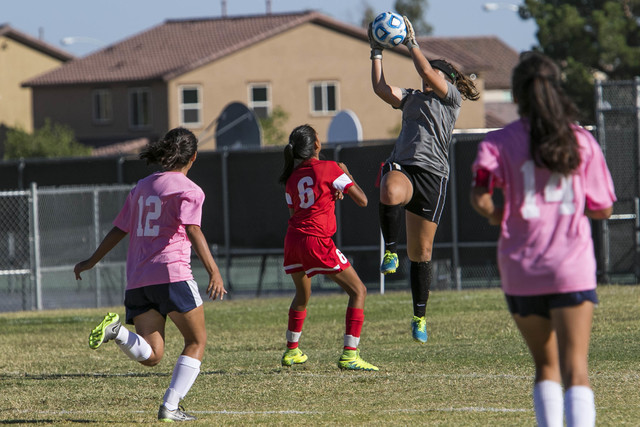 A win Monday would have given Cheyenne's girls soccer team an inside track on its first league title in school history.
The Desert Shields now will need some help after settling for a tie against first-place Western.
Cheyenne's Jessica Mercado scored a goal with two minutes remaining as the Desert Shields earned a 2-2 draw with the visiting Warriors in a battle of top Class 3A Sunset League teams.
"We had three starters who didn't play today, so that was a big fight," Cheyenne coach Jeff Dameworth said. "I'm really proud of them. Obviously, everybody wants to win. But the way these girls fought, that's what I'm proud of. A win would have put us in first (place), but a tie still helps us. It doesn't kill us."
Western (9-4-3, 5-0-2), which hasn't made the playoffs since the 2009-10 season, now controls its own destiny in capturing the Sunset title. Both teams have three league matches remaining, including one against third-place Pahrump Valley.
"I thought we played really well," Western coach Shoichi Sato said. "Probably should have come away with the win, but we'll take a tie. I told them to keep their heads straight and not worry about points. I can worry about that, so just play soccer. If we play our game, we'll win. The minute you start thinking about other things, that's when distractions come in."
For most of the match Monday, it appeared the Warriors didn't have any distractions and a win seemed imminent.
But Mercado opted to play spoiler, scoring the equalizer on several defenders. Mya Heard's free kick from 30 yards out caromed off the crossbar, allowing the recently promoted junior varsity player to pick the ball up and send it just inside the left post.
"It's unfortunate that happened," said Sato, whose team also suffered from several offsides penalties. "We just have to play the ball. That's what it comes down to. It's about communicating and clearing the ball out."
Western's Devany Marroquin scored the match's first goal after following up a strong effort from teammate Ellyson Reynada.
Reynada put two consecutive shots on goal — one dinging the right post and the other hitting the left post — before Marroquin charged in and scored. Marroquin picked up Reynada's second miss and found the back of the net to give the Warriors a 1-0 lead in the 17th minute.
Heard, though, answered three minutes later by converting a 35-yard free kick for the Desert Shields (8-5-4, 5-1-1).
Reynada then scored a goal of her own in the 38th minute to help the Warriors take a 2-1 halftime lead.
But a scoreless second half proved to be too costly for Western, which dominated possession in both halves and shut out Cheyenne standout Yadira Erives (19 goals, four assists).
"I thought we played well," Sato said. "It was the best game our midfield has played all season, in terms of playing together. The thing that killed us was offsides (penalties). Sometimes, we were just blatantly offsides. That can be fixed in practice, but overall, I thought we played pretty well."
Cheyenne was down a few starters because of "eligibility" and "personal problems," according to Dameworth.
Goalkeeper Shayna Thompson made five saves for Cheyenne.
Box score: