DIVISION I GIRLS: Fife, Aggies stay calm in shootout
November 10, 2012 - 9:03 pm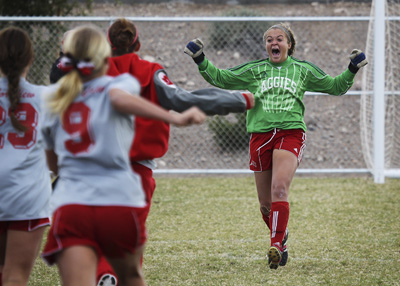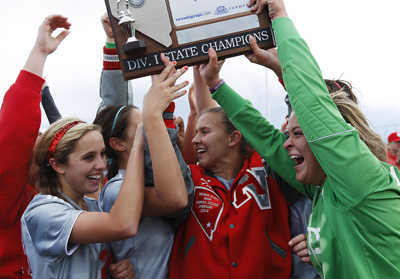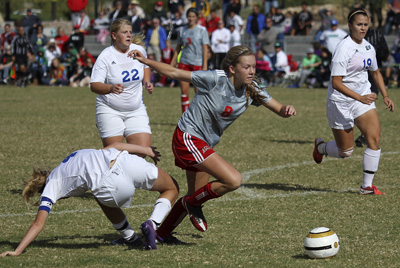 As a goalkeeper, Arbor View's Hayley Fife understands the pressure that comes with a penalty shootout.
But when a keeper's ability to stop shots is tested with a state championship hanging in the balance, it's a different story.
"You feel like the weight of the world is on your shoulders," Fife said. "Whenever the ball goes in, you automatically think it's your fault."
When it mattered most on Saturday at Heritage Park in the Division I girls state title match, the senior simply wouldn't allow the ball to cross the goal line.
Fife blocked Green Valley senior Paulina Buskas' attempt to give the Aggies a 4-3 victory in penalty kicks after the match finished 1-1 following two scoreless overtime periods.
Arbor View (14-4-1) won its first title since claiming the Southern Nevada championship in 2010.
"This doesn't feel real right now," Fife said. "I'm on a high. I never thought I could block two PKs. It's crazy."
Sasha Escamilla, Chandler Yoder, Amberly Halstead and Jessica Longhurst all converted penalty kicks for the Aggies. Fife stopped the Gators' third and fifth shots, the final block ending the match.
"It's probably the scariest thing I've ever done," said Longhurst, who knocked in the decisive kick. "I was shaking. All I thought was, 'Don't miss it.' "
Arbor View coach Jay Howard said the sophomore's addition to the penalty kick lineup was offered to her just before the start of the match. Longhurst jumped at the opportunity.
"I really had confidence in this group, and I just felt good about the way we were as a team," Howard said. "As a player, I'm sure they were feeling pressure, but I really had confidence in just the entire group. Our first shooter didn't play at all during the match and she steps up and shoots the ball in."
Sophomore Breanna Larkin gave the Aggies a lead in the 22nd minute when she recovered her own shot off a Gators defender and sliced the ball into the left side of the net.
Arbor View's defense limited Green Valley's scoring opportunities in the first half with heavy on-the-ball pressure.
"These kids have all played long enough on both sides that they adapt to the game and the way the referee calls the game," Howard said.
The Gators (17-0-3) adjusted offensively in the opening minutes of the second half, as freshman Miranda Bradley connected with Kayla Anderson on a perfectly placed cross. Anderson poked a shot past the diving Fife.
"This is the way you want to win," Fife said. "Not all the time you want to go to PKs, but being able to say we won in PKs after double overtime, it's crazy."