Gators follow their leader: She's a real keeper
August 26, 2014 - 10:01 pm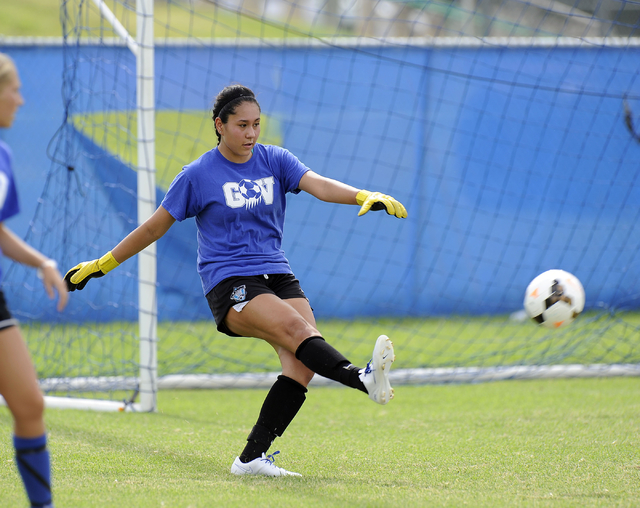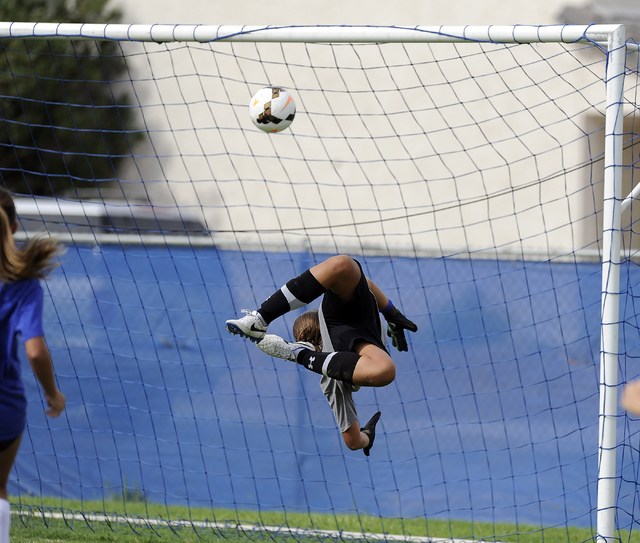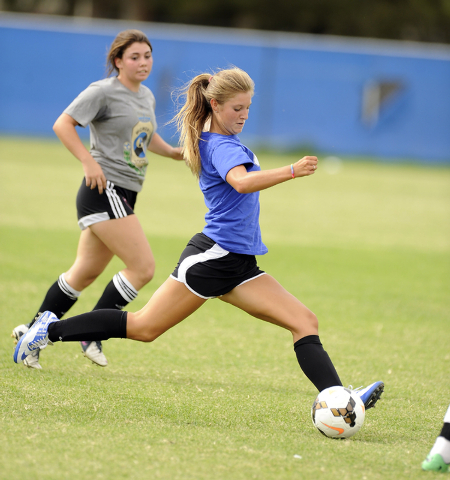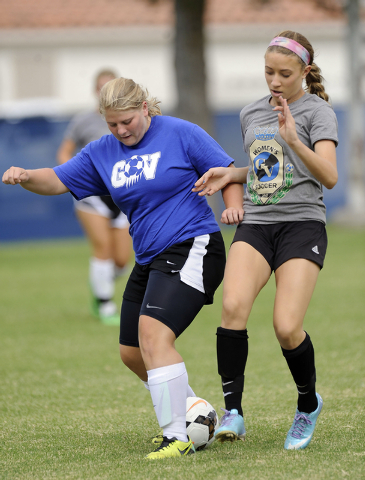 Two years ago, Green Valley goalkeeper Kiyana Lopez was a freshman and had to watch senior goalie Nicole Dunn face Arbor View in the Division I state championship match, which was decided by penalty kicks.
The problem for Lopez was she was the Northeast League goalie of the year. Because of seniority and despite the fact she had started most of the season, Lopez painfully watched the Aggies celebrate a state title victory.
Last season, the Gators were left out of the state tournament after losing to Coronado in the Sunrise Region final. This time, Lopez was the goalkeeper.
This year, the 5-foot-8-inch junior says she's on a mission to not only retain her individual title but also lead the Gators back to the state tournament and hopefully a state title.
Lopez, who recorded 12 shutouts last season, will be joined by freshman goalie Ryan Sabol, who Green Valley coach Catherine Davis said could see playing time and has been a welcome addition to a young but talented squad.
"Kiyana is really a dream player," said Davis, a second-year coach. "She's wonderful to lean on, because she will rise to the challenge every time. It's so nice to have that solid rock back there. We have a good problem; we have too many keepers. It's a good problem to have. They will sit there and push each other, and I love there's that competitive edge there."
Nevertheless, the 20-player roster that includes 11 underclassmen knew where to look for leadership when practices started.
"We have a class of about 20 to 25 freshmen (in the entire program) who just walked on our field and they just instantly knew who to respect. There's a vibe about (Kiyana), there's an aura," Davis said. "I could absolutely see her being a two-year captain, that's how much these girls look up to her and respect her."
Lopez said she often reminds herself of her freshman year and thinks how she could have played the hero's role had she been in net for the Gators in the title match.
She also stays haunted by the memory of last year's regional championship loss, a match she did play in.
After a rigorous schedule during club season playing with older girls, Lopez said she's matured enough to not just focus on stopping shots on goal but also being a leader.
"I just want to try to keep them humble; we need to maintain our attitudes both on and off the field," Lopez said. "On the field, I feel like we need to play as a team, talk, communicate. I want our team to be as close as possible."
Davis will lean on sophomore Alexis Kirson's prowess and senior Madison Holborow's experience to spark the offense, filling the void of graduated Kayla Anderson, who led the team last season with 35 points. On defense, the Gators will be led by Stephanie Chiasson and Carli Perkins.
Kirson had 10 goals and three assists last season, and Holborow added six goals and three assists.
"I think we're really confident; we have a lot of new girls, and they all want that, too," Holborow said. "I think we have a lot of determination this year to get there.
"We know that we're young, but everyone wants that more, because everyone wants to show even though we lost some good seniors, we're going to be good."