GIRLS SOCCER: Coronado locks up Southeast League title in win over Foothill
October 27, 2016 - 8:31 pm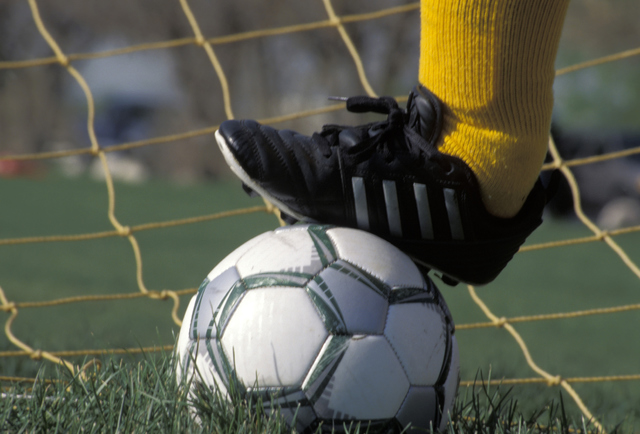 Coronado's Jensen Boman had a goal and an assist Thursday to help the Cougars girls soccer team capture the Southeast League title with a 2-0 home win over Foothill.
Olivia Meza also scored for Coronado.
Rachel Morris made six saves in the shutout.
Moapa Valley 2, Boulder City 1 — At Overton, the Pirates scored two second-half goals to rally by the Eagles.
Bailey Bunker and Lainey Cornwall each had a goal, and Kylee Batty finished with an assist for Moapa Valley, which trailed 1-0 at halftime.
Jordyn Trobiani scored for Boulder City.
Tech 1, Virgin Valley 1 — At Mesquite, Yudi Alavez scored in the 68th minute to help the Roadrunners tie the Bulldogs and clinch the top seed in the Class 3A Sunrise League.
Kennedi Ludvigson scored on an assist from Abbie Barnum for Virgin Valley, which will be the No. 2 seed.
Valerie Webb assisted on Alavez's goal for Tech.
Shadow Ridge 0, Palo Verde 0 — At Palo Verde, the teams played to a scoreless draw.
Palo Verde goalkeeper Kailee Barnhard recorded three saves.
Desert Pines 3, Mojave 3 — At Mojave, the Rattlers scored three goals in the second half to force a draw with the Jaguars.
Cynthia Carbajal-Marquez had two goals, and Diana Loza also scored for Mojave, which trailed 3-0 at halftime.
Iris Chavez had two assists, and Mikey Ontiveros had one assist for the Rattlers.
Brenda Andrade, Lizuly Mireles and Rosa Delgadillo all scored for Desert Pines.
Clark 3, Cimarron-Memorial 1 — At Cimarron, Samantha Malley had a goal and an assist to lead the Chargers past the Spartans.
Dona Acierto and Emily Russell each scored a goal for Clark, and teammate Jackie Gonzalez had two assists.
Jhoana Martin Del Campo-Garcia scored Cimarron's goal.
Rancho 3, Eldorado 1 — At Rancho, Saiipress Jones, Faith White and Mitzi Reyes each scored a goal to lift the Rams over the Sundevils.
Elizabeth Amezquita had two assists, and Marlene Godoy had one assist for Rancho, which led 2-0 at halftime.
Brenda Ramirez scored for Eldorado.
Las Vegas 4, Canyon Springs 1 — At Las Vegas, the Wildcats scored three times in the second half to beat the Pioneers.
Deisy Lopez had a goal and an assist for the Wildcats, and Maria Hernandez, Leslie Garcia-Pedraza and Brinkley McCoy all had a goal. Tabitha Maldonado had two assists for Las Vegas.
De'lmani Davis scored for Canyon Springs.
Arbor View 4, Centennial 0 — At Centennial, Jolie Meyers' two goals led the Aggies to victory over the Bulldogs.
Madison Boyd and Preshus McCraney also scored a goal for the Aggies, and Sierra Vicente, Samantha Blanchard and Melanie Ara each added an assist for the Aggies.
Goalkeeper Haylee Niemann recorded the shutout with four saves.
Cheyenne 3, Sunrise Mountain 0 — At Cheyenne, Yadira Erives scored two goals to lead the Desert Shields by the Miners.
Laura Garcia also scored for Cheyenne, which got goals from Mya Heard and Isel Acosta.
Shayna Thompson made six saves in the shutout.
Western 4, Pahrump Valley 0 — At Western, Ellyson Reynada scored four goals in the Warriors' victory over the Trojans.
Katherine Realegeno had two assists for the Warriors, and Adelina Jasso and Kirsten Molina each had one.
Alejandra Alvarez-Torres recorded the shutout.
Faith Lutheran 7, Legacy 1 — At Legacy, Isabella Gutierrez had three goals and an assist to lead the Crusaders over the Longhorns.
Megan Donnelly had two goals and two assists, and Cameron Bracey and Maggie Shuirman each had a goal and an assist for Faith Lutheran, which also got an assist from Kadyn Lane.
Gabriella Lancaster scored Legacy's goal.
Green Valley 6, Basic 0 — At Basic, Alexis Kirson and Maggie Bender each had two goals and an assist as the Gators shut out the Wolves.
Grace Panik and Mariah Neshkoff also scored for Green Valley, which led 2-0 at halftime. Hailey Thomas, Alexa Eastep and Savannah Newman had assists for the Gators.
Eastep and Ryan Sabol combined on the shutout.
Box scores:
Moapa Valley 2, Boulder City 1
Cheyenne 3, Sunrise Mountain 0