Roundup: Coronado holds off Arbor View in 2-1 win
August 29, 2018 - 8:59 pm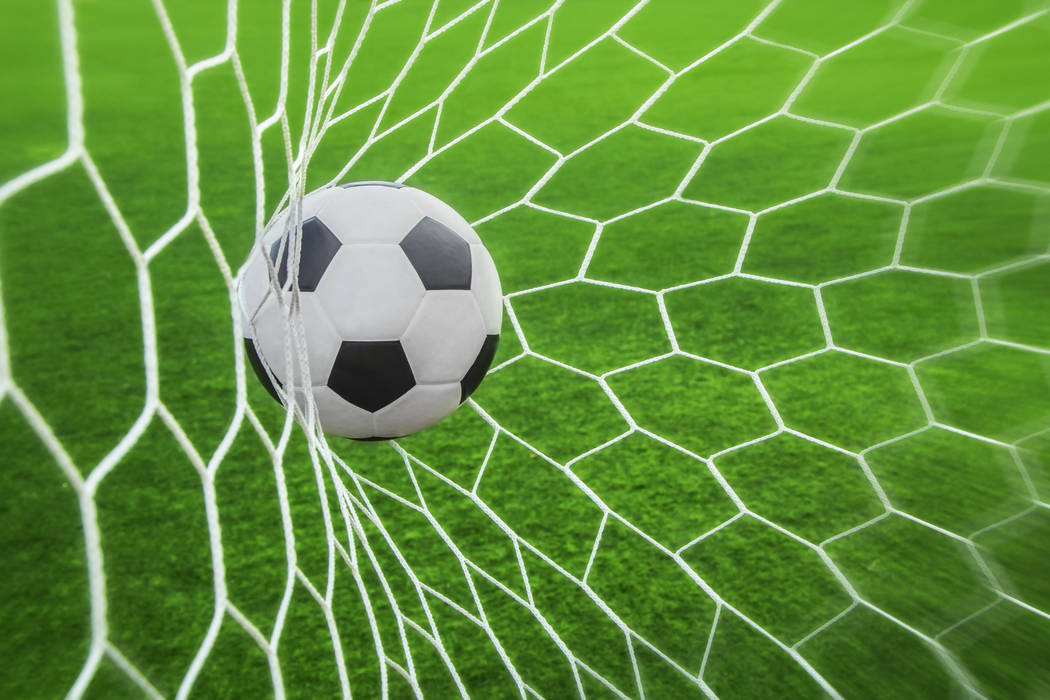 Coronado's girls soccer team scored a pair of first-half goals to hold off Arbor View on Wednesday and win 2-1 in the Las Vegas Kick-Off at Green Valley.
Emily Wickens and Haley Meusy had the goals for Coronado.
Alexis Pashales and Leili Rosenberg had the assists.
Bishop Gorman 2, Shadow Ridge 1 — At Gorman, Ashtyn Fink and Jaden Terrana each had a goal an assist as the Gaels beat the Mustangs.
Taylore Simmons scored for the Mustangs.
Spring Valley 2, Basic 1 — At Desert Oasis, Mackenzie Carcelli and Haley Pierce each scored in the first half as the Grizzlies beat the Wolves in the Las Vegas Kick-Off.
Spring Valley took a 2-0 lead before Basic's Jennifer Castro scored on a penalty kick later in the half.
Clark 1, Desert Pines 1 — At Palo Verde, Sofia Bermudez scored for the Chargers and Jacqueline Chamale scored the Desert Pines en route to a 1-all tie.
Dabani Rayo had the assist for Clark.
Maleah Reyes had the assist for Desert Pines.
Silverado 1, Bonanza 0 — At Bonanza, Ashley Nekoba scored with about 25 minutes to play as the Skyhawks edged the Bengals.
Heather Jacquart posted the shutout for Silverado.
Tech 2, Eldorado 0 — At Tech, Chloe Dody had three saves to help the Roadrunners shut out the Sundevils.
Alysia Mestas and Magaly Villa scored for Tech, and Adrian Carrillo had both assists.
Centennial 4, Green Valley 1 — At Green Valley, Kayla Barto scored twice to lead the Bulldogs over the Gators in the Las Vegas Kick-Off.
Viviana Cera and Nora Nouhaili also scored for the Bulldogs.
Kylie Camp scored for Green Valley.
Foothill 5, Western 0 — At Green Valley, the Falcons scored three first-half goals to defeat the Warriors.
Reagann Larsen, Brooke Vokoun, Aqui Williams, Haley Huff and Ariana Vigil scored for the Falcons.
Keepers Darrien Sclafani and Felicity Reimann combined to post the shutout.
Cimaron-Memorial 7, Sky Pointe 0 — At Cimarron, Ashlee Hackett recorded two goals and two assists, and Katherine Caldwell and Jasmine Rojas each notched a goal and two assists as the Spartans shut out the Eagles.
Jazalynn Skougard, Irely Garcia, and Leanne Sawyer each supplied a goal for Cimarron. Anay Garcia-Reyes and Marrissa Galvez each worked a half in goal and shared the shutout, with Garcia-Reyes getting two saves.
Sierra Vista 1, Palo Verde JV 0 — At Palo Verde, Adrienne Hallock scored the only goal for the Mountain Lions and they held on to edge the Palo Verde JV team.
Jamie Kalaau-Sunia had two saves and got the shutout for Sierra Vista.
SLAM Academy 2, Valley 0 — At Valley, Megan Larocque scored twice as the Bulls defeated the Vikings.
Pahrump Valley 1, Arbor View JV 1 — At Desert Oasis, Madelyn Souza scored a second-half goal for the Trojans to preserve a draw with the JV Aggies.
Box scores:
Bishop Gorman 2, Shadow Ridge 1
Cimaron-Memorial 7, Sky Pointe 0
Pahrump Valley 1, Arbor View JV 1
Sierra Vista 1, Palo Verde JV 0