Roundup: Kelly Lemus notches game's only goal to lift Del Sol
September 12, 2017 - 9:06 pm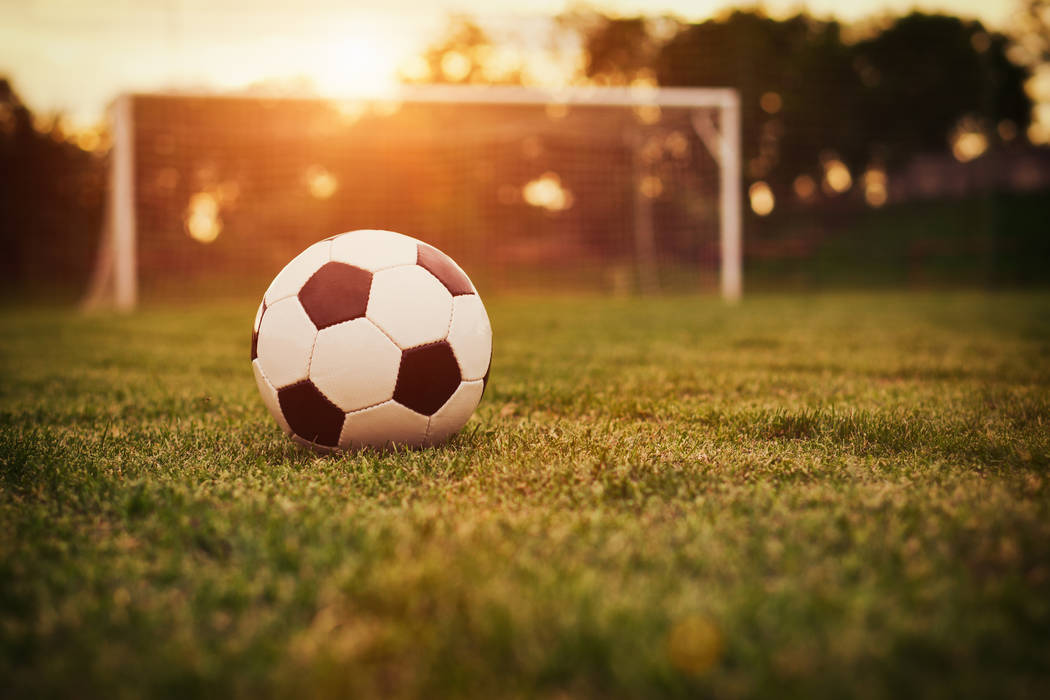 Kelly Lemus scored the game-winning goal midway through the second half on Tuesday, giving host Del Sol the 1-0 victory win over visiting Chaparral.
Goalkeeper Jackie Magallon notched the shutout for Del Sol.
Virgin Valley 2, Moapa Valley 2 — At Overton, Kilee Fisher scored on a free kick with about 10 minutes left to allow the Pirates to earn a tie with the Bulldogs.
Alexis Schraft also scored for Moapa Valley.
Madison Cheney and Rainee Brito each scored for Virgin Valley, which got assists from Kallie Graves and Nathalie Lagamayo.
Sierra Vista 5, Bonanza 3 — At Sierra Vista, Michaela Budnick scored twice as the Mountain Lions held off the Bengals.
Makayla Gunderson added a goal and two assists for Sierra Vista, which led 4-0 at the half. Cassidy Kouba had a goal and an assist, and Courtney O'Neal scored once for the Mountain Lions.
Celina Gomez and Charlene Beck each had a goal and an assist for Bonanza, and teammate Abby Martinez added a goal.
Desert Oasis 3, Clark 1 — At Clark, Endya Scott, Kaitlynn Mallett and Jade Ogden each had a goal to lead the Diamondbacks over the Chargers.
Luz Juarez-Mera scored for Clark, which trailed 2-0 at the half.
Basic 3, Durango 0 — At Durango, Sydnie Hopkins, Sabrina Moreira and Allyson Lieber each scored a goal as the Wolves blanked the Trailblazers.
Lieber and teammates Darby Parise and Sofia Diaz each supplied an assist for Basic.
Jocelyn Romero earned the shoutout with three saves for the Wolves.
Silverado 5, Canyon Springs 3 — At Canyon Springs, Sydni Bishop scored two goals to lead the Skyhawks to a victory over the Pioneers.
Ashley Nekoba, Jessica Guzman, and Kristyn Lommason also scored for Silverado, which got an assist from Margie Farnsworth.
Green Valley 5, Las Vegas 0 — At Las Vegas High, Hailey Thomas and Nadia Campbell each scored twice to power the Gators past the Wildcats.
Sydney Thomas also scored for Green Valley, which got assists from Grace Panik, Mariah Neshkoff, Isabel Madrid and Faith Sampley. Goalkeeper Ryan Sabol made 11 saves to earn the shutout.
Liberty 6, Valley 0 — At Liberty, Mia Edwards had a goal and an assist as the Patriots blanked the Vikings.
Josephine Camacho, London Pavlica, Alexa Bailey, Makenna Ciska, and Alyssa Mills each scored once for Liberty. Arianna Gonzalez supplied two assists for the Patriots.
Goalkeepers Leila McLean and Ashley Bongiovanni combined on the shutout.
Foothill 7, Eldorado 0 — At Foothill, Arianna Vigil had two goals and an assist as the Falcons routed the Sundevils.
Reagann Larson and Gabby Anderson each added a goal and an assist for Foothill, and Elise Bush, Sydney Babakitis and Paige Overbo also scored.
Goalkeepers Felicity Reimann and Gianna Perry combined on the shutout for the Falcons.
Coronado 9, Rancho 1 — At Coronado, Simone Hottentot had four goals and two assists as the Cougars rolled over the Rams.
Reagan Raimer scored twice for the Cougars, and Brenna Heenan had a goal and an assist.
Coronado's Leili Rosenberg had a goal and an assist, and Jensen Boman scored for the Cougars.
Bishop Gorman 9, Spring Valley 0 — At Spring Valley, Gianna Gourley scored three goals as the Gaels routed the Grizzlies.
Taylor Cox scored twice for the Gaels, and Olivia Stabile, Alexandra Canarelli, Jacqueline Hillegas and Alexa Fehlman each scored once.
Kevyn Hillegas had three assists for Gorman, and Caitlyn Rueca had two.
Boulder City 9, Somerset-Sky Pointe 3 — At Boulder City, Makenna Arboreen had four goals and an assist to lead Boulder City to the win over Somerset-Sky Pointe.
Madison Manns added two goals and an assist, and Jaydin Darling had a goal and an assist for Boulder City. Kamryn Dolph and Maggie Clary each added a goal, and Rebecca Smith had three assists for Boulder City.
Isabella Robins scored twice for Somerset-Sky-Pointe, and teammate Madison Walters added a goal.
Box scores:
Bishop Gorman 9, Spring Valley 0
Boulder City 9, Somerset-Sky Pointe 3
Virgin Valley 2, Moapa Valley 2