Recruiting notebook: Gorman WR has Notre Dame's attention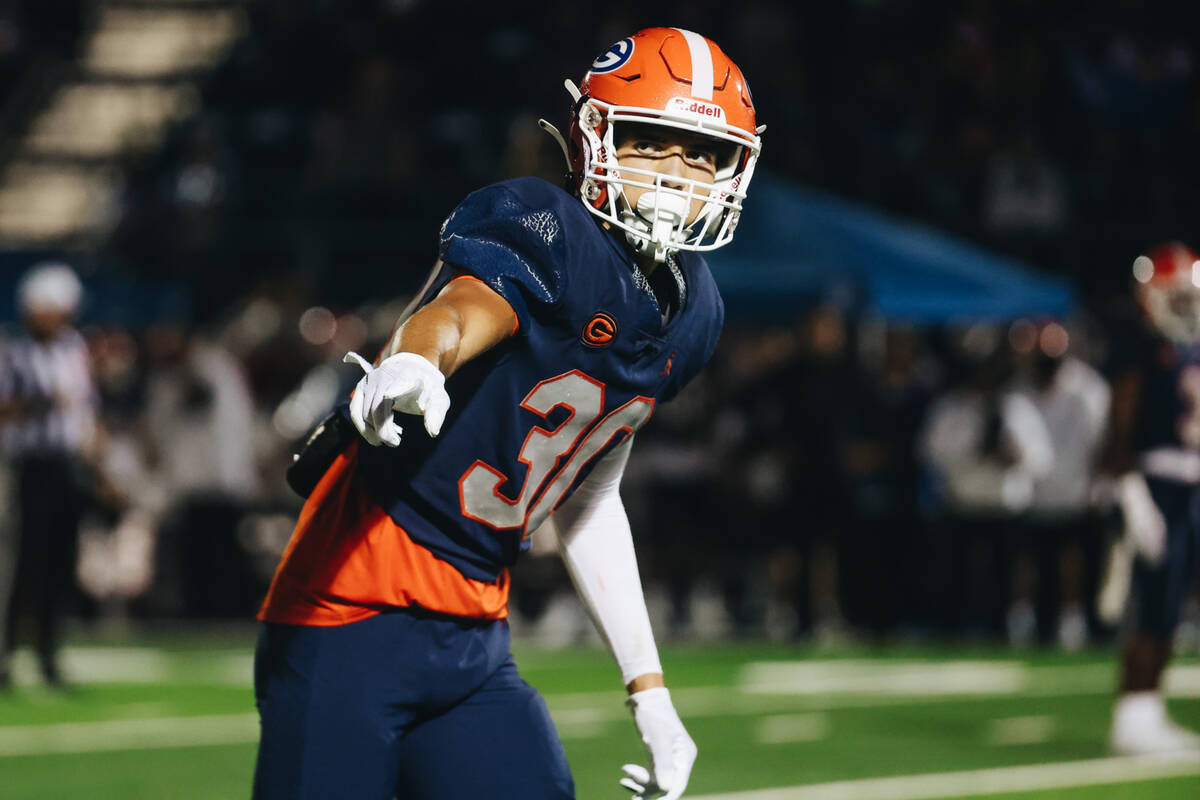 Derek Meadows admitted the recruiting process during the offseason has been a bit "overwhelming" with all the college coaches that have been in touch with him.
The Bishop Gorman junior wide receiver's name has skyrocketed in the recruiting ranks after his play during spring and summer camps caught the attention of some big-time programs.
Meadows, listed at 6 feet, 6 inches, and 195 pounds, is a four-star prospect and the state's top 2025 recruit, according to 247Sports. Meadows holds notable Division I offers from Notre Dame, Washington, Utah, Maryland, Brigham Young and UNLV.
"They love my speed, my ability to get open fast when I'm running deep routes and my catching abilities," Meadows said of the feedback he's heard from college coaches.
In the offseason, Meadows attended a camp at Notre Dame, and he said he loved the environment and seeing how the program operated. Meadows said he's in contact with Notre Dame coaches "almost every day" and said it's one of the schools he can see himself being at.
"I was stoked. I was so happy (when I got the Notre Dame offer)," Meadows said. "That's one of my dream schools, so it's a great feeling to have that."
Meadows said he plans to be at the Pittsburgh-Notre Dame game in October in South Bend and also took recent visits to Washington, UNLV and Brigham Young. He said Nebraska and Oregon State have also been in contact recently.
Meadows is part of a talented Gorman receiving corps that has garnered attention from Division I coaches. He said his teammates have been helpful during the recruiting process.
"I get advice from (Arizona commit) Audric Harris and (Miami commit) Elija Lofton," Meadows said. "They tell me to not worry about offers and do what I do. It helps me stick to the grind and get better every day."
Meadows was the 2023 Gatorade Nevada boys track and field athlete of the year, as he won the Class 5A state title in the 300-meter hurdles (36.73) and ran a leg in the Gaels' winning 4×400 relay team.
"It's gotten me faster, which was my goal for football to get out of my cuts faster and break down better," Meadows said. "Everything there has helped me with getting open and separation from defensive backs. (Track) has helped me a lot."
UNLV adds another local
Three-star Liberty senior linebacker/tight end Andre Porter announced his commitment to UNLV on Wednesday on his social media accounts.
🎰❤️🖤#Committed #GoRebels #dealusin pic.twitter.com/1DaXtSHXGE

— Andre Porter (@AndrePorter2024) September 20, 2023
Listed at 6-2, 225, Porter has 15 tackles and an interception for Liberty on defense this season and has 17 catches with three touchdowns.
UNLV already has commitments from Liberty linebacker Kahekili Paaoao and tight end Jae Beasley. Porter is the sixth local 2024 recruit committed to play for new coach Barry Odom.
A multisport athlete, Porter was a starter for Liberty's boys basketball team that was the 5A state-runner up last season.
Gael adds Big Ten offer
Bishop Gorman junior linebacker Landon McComber announced on his social media accounts Wednesday that he received an offer from Nebraska.
McComber is a three-star class of 2025 recruit, according to 247Sports.
I am extremely grateful and blessed to say that I have received a(n) offer to the University of Nebraska ! @CoachMattRhule @Omeezi_ @HuskerFBRecruit @BishopGormanFB @VaBranch @GusMcNair009 @LBUTraining @GregBiggins @BlairAngulo pic.twitter.com/FmcAf2mRUP

— Landon Mccomber (@LandonMccomber) September 20, 2023
Listed at 6-3, 205, McComber holds other notable Division I offers from Auburn, Georgia, Michigan, Notre Dame Oklahoma, Southern California, Tennessee and Texas A&M.
Jaguar adds SEC offer
Desert Pines sophomore defensive back Treyshaun Jackson received an offer from Tennessee last week.
After a conversation with @ticorod39 and @Coach_Nez_ , I am extremely honored and grateful to say I've received a(n) offer to the university of Tennessee.#Vols 🍊
Thank you @Coach_Nez_ @ticorod39 @__coachtim pic.twitter.com/3A9f9t71Vw

— Treyshaun Jackson (@2fear0fgod) September 14, 2023
Jackson, listed at 5-10, 170, also holds offers from Georgia, Arizona, Colorado State, UNLV and Utah. Georgia was Jackson's first offer. Jackson, who also plays offense and special teams, has 18 tackles and an interception this season.
Contact Alex Wright at awright@reviewjournal.com with any recruiting information. Follow @AlexWright1028 on X.