NOTES: Zimmerman, fellow basketball prospects trim lists of college suitors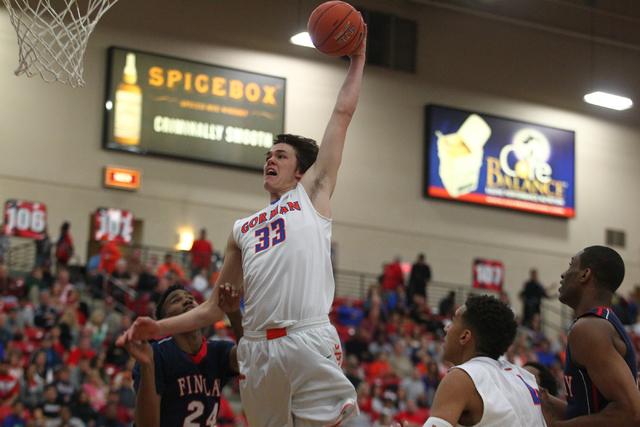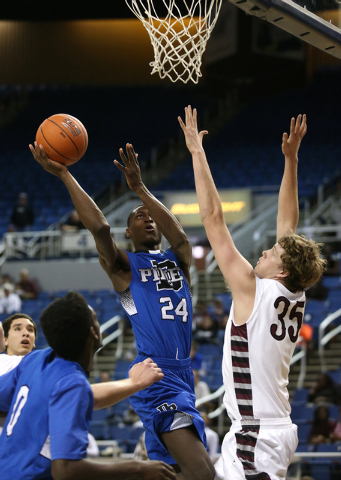 For fans of basketball recruiting, the next three months are the busiest time of the year. And the most exciting to follow.
Not only does the travel circuit begin with high-profile camps and tournaments across the country, but prospects also start to whittle their list of favorite schools — or, in many cases, make a nonbinding oral commitment — before their senior year.
The local class of 2015 is stacked with three consensus top-35 players and a handful of others who will draw attention from college coaches and Internet recruitniks during the spring and summer evaluation periods.
With that in mind, here are the top rising seniors (not including Findlay Prep players) to keep an eye on:
Stephen Zimmerman, Bishop Gorman: The 7-foot center was one of 21 players named Monday to USA Basketball's under-18 national team training camp roster. Last week, the five-star recruit announced on Twitter he cut his list of schools to Arizona, Indiana, Kansas, Kentucky, Louisville, North Carolina, UCLA and UNLV.
Chase Jeter, Bishop Gorman: The 6-foot-10-inch power forward also is ranked a five-star prospect by Rivals.com, Scout.com and 247sports.com. Jeter was cleared to play in the adidas-sponsored tournament last weekend in Miami after missing two weeks with a bruised knee and said last month his top six schools are Arizona, Duke, Kansas, Oregon, UCLA and UNLV.
Re'Kwon Smith, Las Vegas: One of the fastest-rising prospects in the nation, the 6-7 small forward impressed at last month's adidas stop in Texas and told SNY.tv he probably will trim his list in the next month. Arizona, Arizona State, Connecticut, Georgetown, Louisville, New Mexico, San Diego State, Texas, UCLA and UNLV are among the schools that have offered the four-star recruit a scholarship, and he also is drawing interest from Duke, Kansas and Kentucky.
Nate Grimes, Desert Pines: The 6-8 forward is one of the hottest prospects in the West. According to Lamar Bigby, his coach with the Las Vegas Knicks travel team, Grimes is considering several Mountain West schools along with Massachusetts, San Francisco, Southern California, Texas Christian, Texas-El Paso, Tulsa and Washington State.
Nick Blair, Bishop Gorman: The high-flying 6-5 wing emerged as one of the top players at last month's Pangos Spring Spectacular, and he now is hearing from California, Louisville, Texas-El Paso, Tulsa, Washington State and Wyoming, according to Dinos Trigonis, his coach with the Belmont Shore travel team.
■ CIMARRON HONORS FOX — Faith Lutheran football coach Vernon Fox had his No. 30 retired by Cimarron-Memorial during a ceremony at his alma mater Friday. Fox attended Cimarron from 1993 to 1997 and was an All-Western Athletic Conference defensive back at Fresno State before playing eight seasons in the NFL.
■ RECRUITING WATCH — Rancho senior Bryce Harrell signed with Olympic College (Wash.), and Canyon Springs seniors Erick Espinosa, Rashaad Jones and Alex Molina orally committed to Cerro Coso College (Calif.) for baseball. … Desert Pines seniors Kevin Butler and Re'meake Keith signed with Big Bend College (Wash.) and Highline College (Wash.), respectively, Durango senior Paris Estrada signed with Spokane College (Wash.), Eldorado senior Jayveon Brown and Canyon Springs senior Chris Nelson signed with Skagit Valley College (Wash.), and Impact Academy's Tohi Smith-Milner signed with New Mexico for men's basketball. … Silverado senior Jacob Holguin signed with Peninsula College (Wash.) for men's soccer. … Coronado seniors Ali and Sydney Hauck committed to Yavapai College (Ariz.) for women's volleyball.
Contact reporter David Schoen at dschoen@reviewjournal.com or 702-387-5203. Follow him on Twitter: @DavidSchoenLVRJ.