Sans Gorman, panel rambles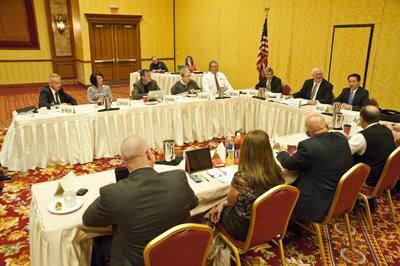 Bishop Gorman High School's presence at a Nevada Interscholastic Activities Association public/private school committee meeting Wednesday lasted less than four minutes.
Long after the school's representative read a statement spelling out the reasons Gorman wouldn't participate, then abruptly left the room, the school had a friend in fellow private school Faith Lutheran.
While not purposefully trying to defend or make a case for Gorman, Faith Lutheran President Steve Buuck made plenty of valid points and might have assisted in brokering a meeting between Gorman and the NIAA.
In the end, the only things decided during the meeting at South Point were to explore the idea of being more transparent about record keeping and finances, and to try again to engage Gorman in a dialogue.
"We want Gorman at the table," Buuck said. "Let's get them here. This was imposed on them. We didn't have the right answer, the right solution, so they didn't come. Did we ever ask Gorman who they would be comfortable with? Was that question ever asked?"
NIAA executive director Eddie Bonine admitted the answer was no.
Gorman's absence made it difficult to find a solution to a problem many public schools have with the success of the school's athletic programs.
"We don't have a key person at this table, and that's problematic," Basic Principal David Bechtel said. "We don't have problems with private schools. Every school experiences wins and losses. Every school experiences ups and downs, but we have to have everybody in the discussion. Otherwise we're just spinning our wheels."
Buuck, however, said his goal is for Faith Lutheran to win state championships in multiple sports, and should that happen, he hopes his school isn't in the same situation Gorman is in now.
"I want to speak for all private schools, most notably Faith Lutheran Junior/Senior High School. That's my main concern," Buuck said. "If somehow my comments support the other 13 private schools in the state, that's wonderful."
Buuck also shared a story of Gorman inviting him to the school for a tour and showing him the school's records when he asked.
"I have great respect for successful schools and people," Buuck said. "We want to learn from the best. Gorman is one of several schools in this valley that are excellent in athletics. We're blessed that Palo (Verde) is in our league. We're blessed that Centennial is in our league.
"We're going to use those people as role models on how to get better."
By the end of the meeting, the focus became less about Gorman and more about one other key issue: the lack of transparency within the Clark County School District regarding open enrollment and magnet school programs.
"I believe the CCSD has issues that we're not bringing to the table," Las Vegas High Principal Debbie Brockett said. "Maybe there wouldn't be the inequalities if we weren't picking kids from our own schools. It's brought to light that there are far too many rumors. I don't believe we ever talked (today) about what is best for kids."
Still, the panel came up with ideas on how private schools can be more transparent, including disclosing their processes for enrollment, financial support, student recruitment and requirements for students to maintain eligibility.
The committee also selected three representatives — Buuck, Legacy Principal Tammy Malich and Reno Principal and NIAA Board of Control President Bob Sullivan — to try to meet with Gorman before the June 25 NIAA board meeting.
"It was a good dialogue," Bonine said. "I'm satisfied. I'll go back and listen to the audio and read the transcript, but I've got other missions like state championships and other positive things in my life that I'm going to deal with first."
Donald Campbell, Gorman's special litigation counsel, was in attendance, but he declined comment until he spoke with a school representative.