Ex-firefighter leads Durango through inferno to state tourney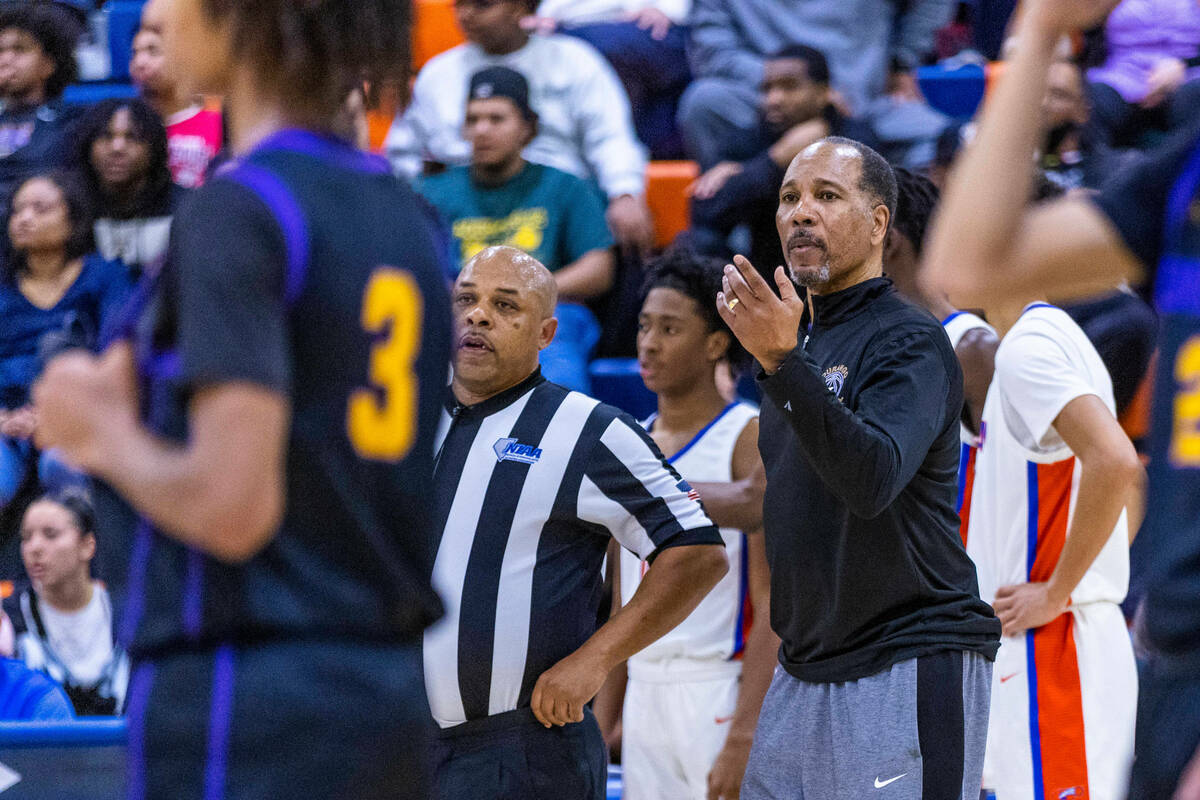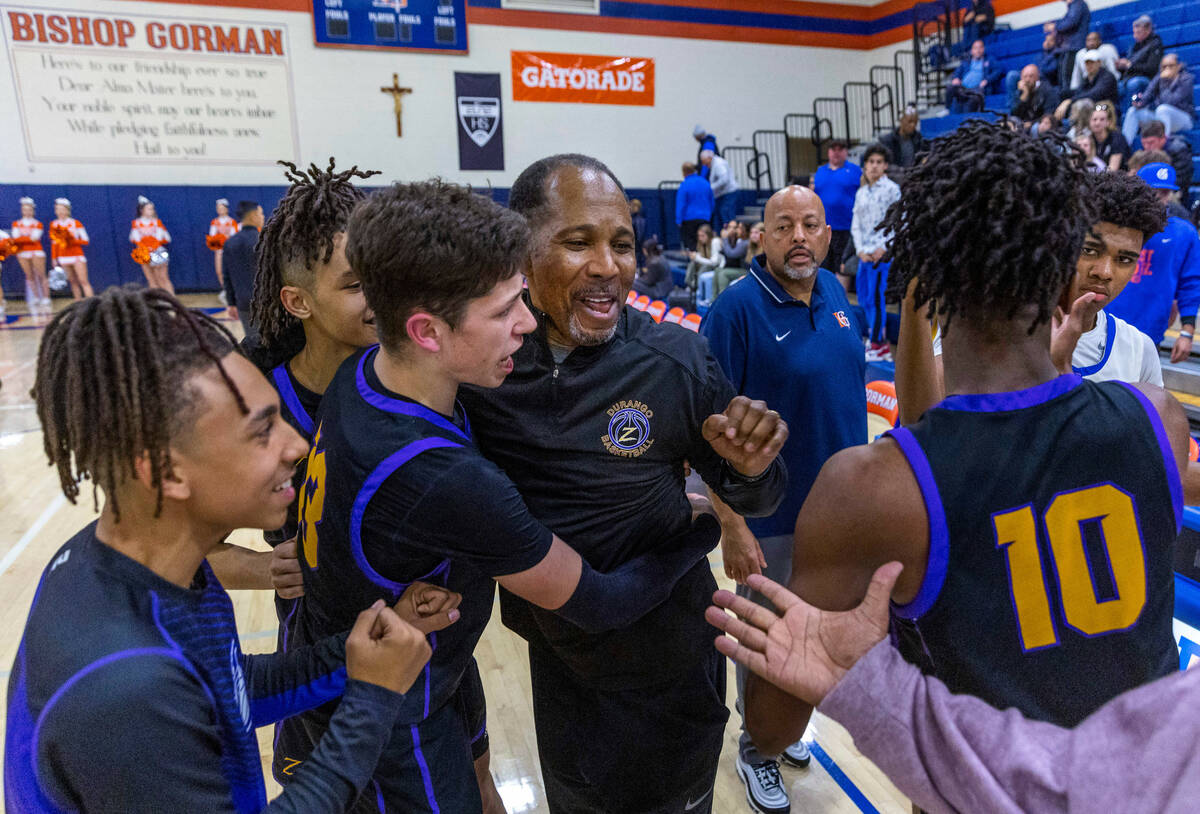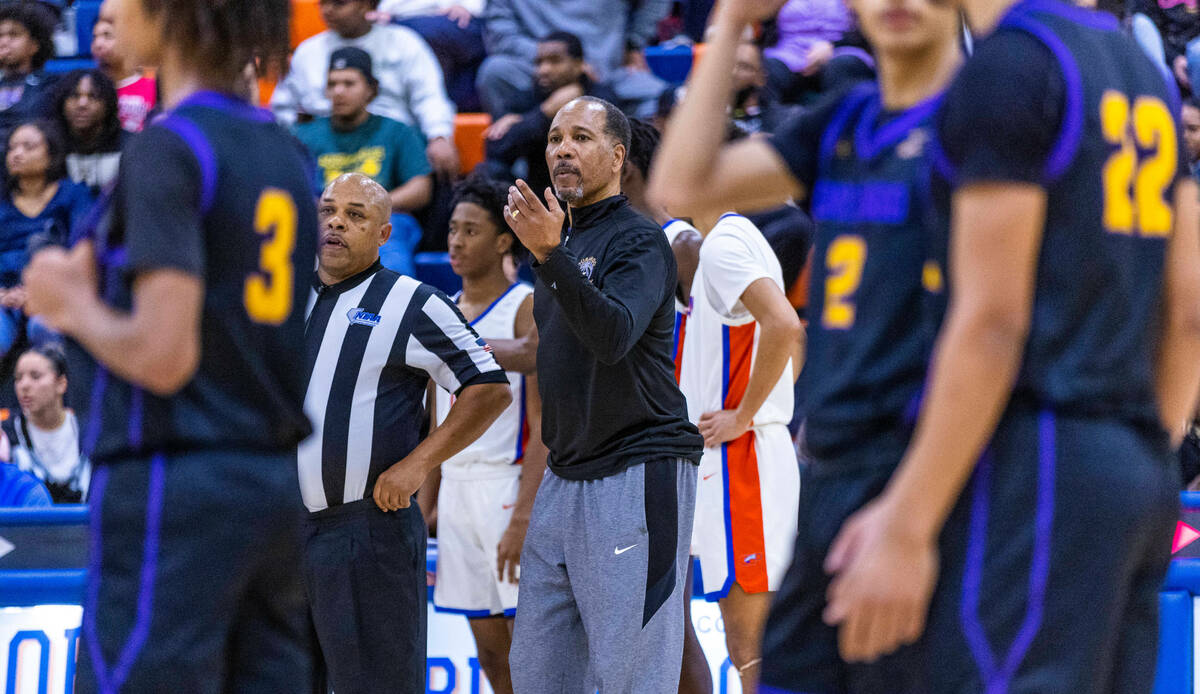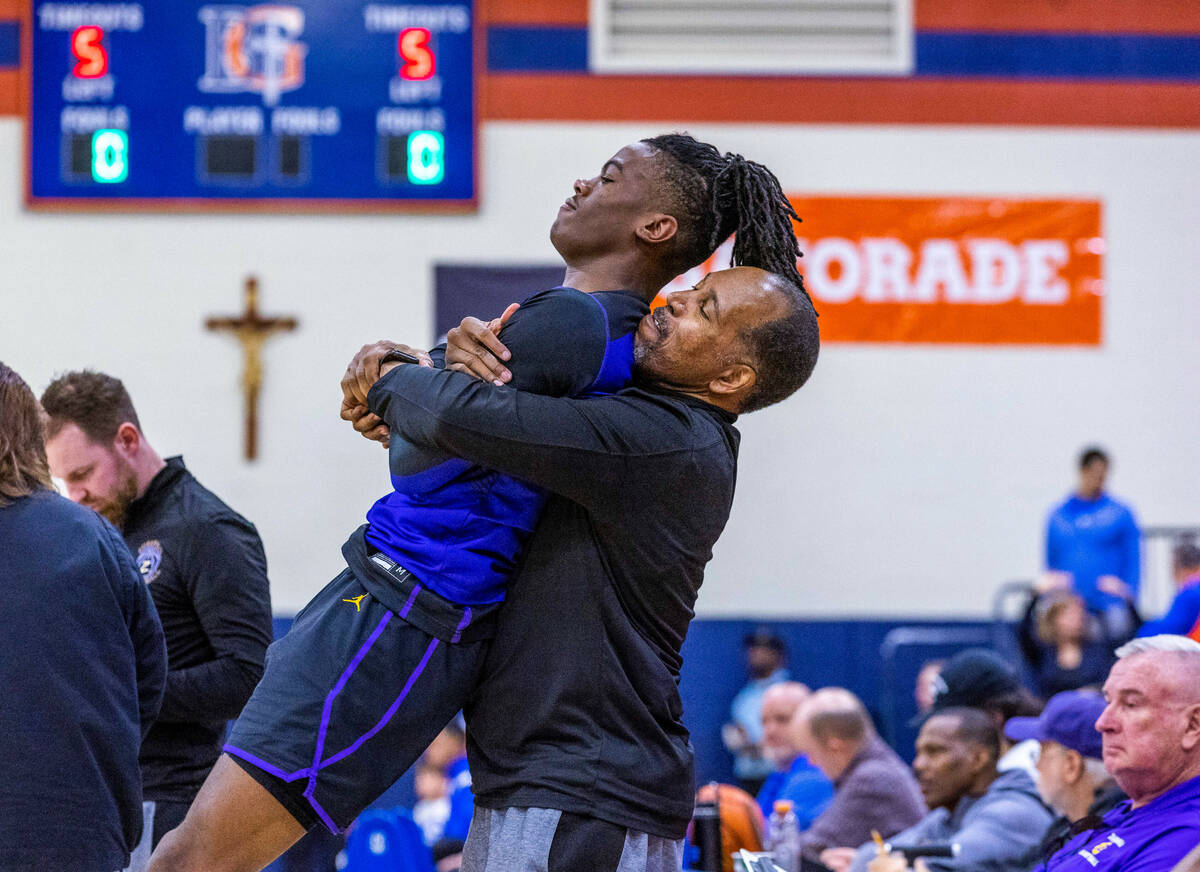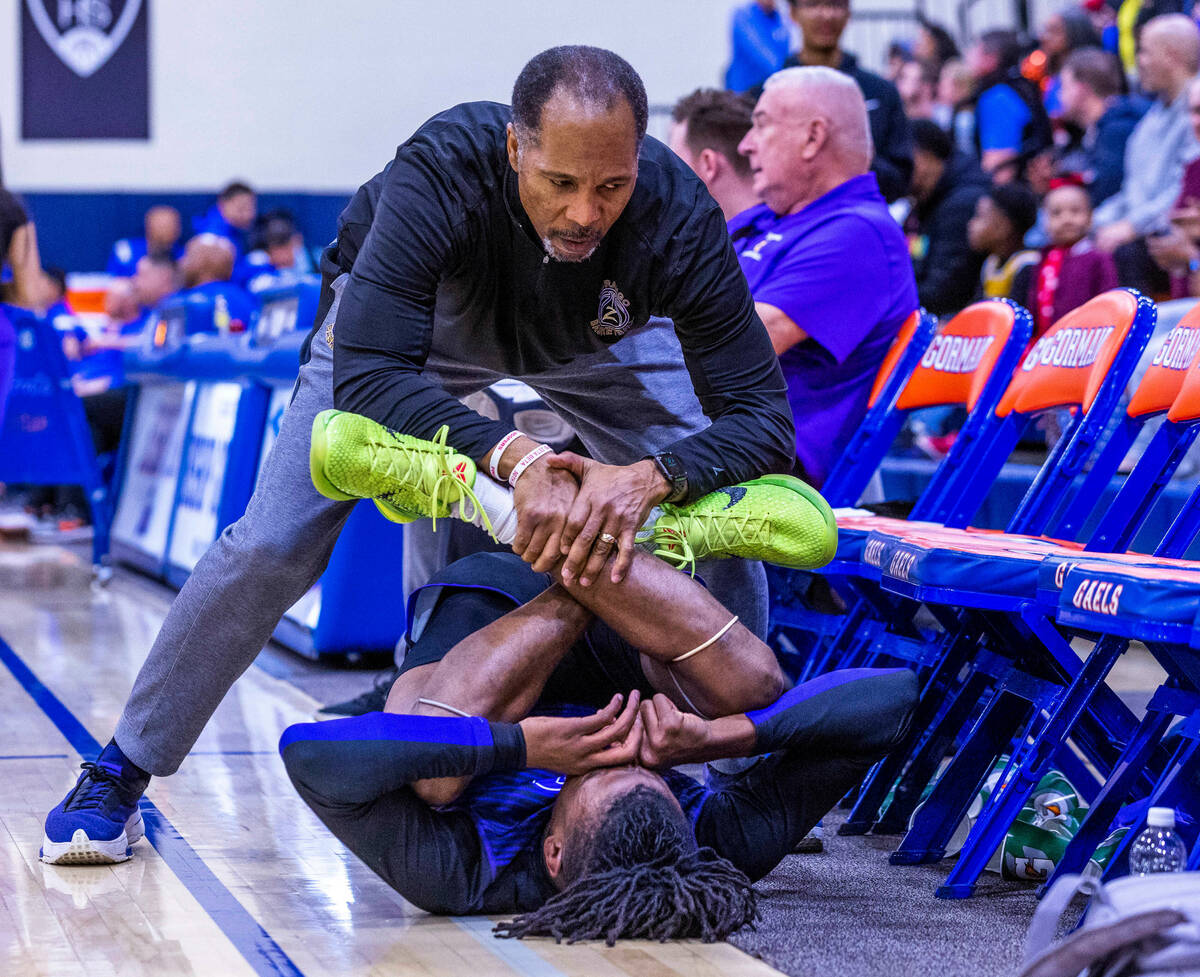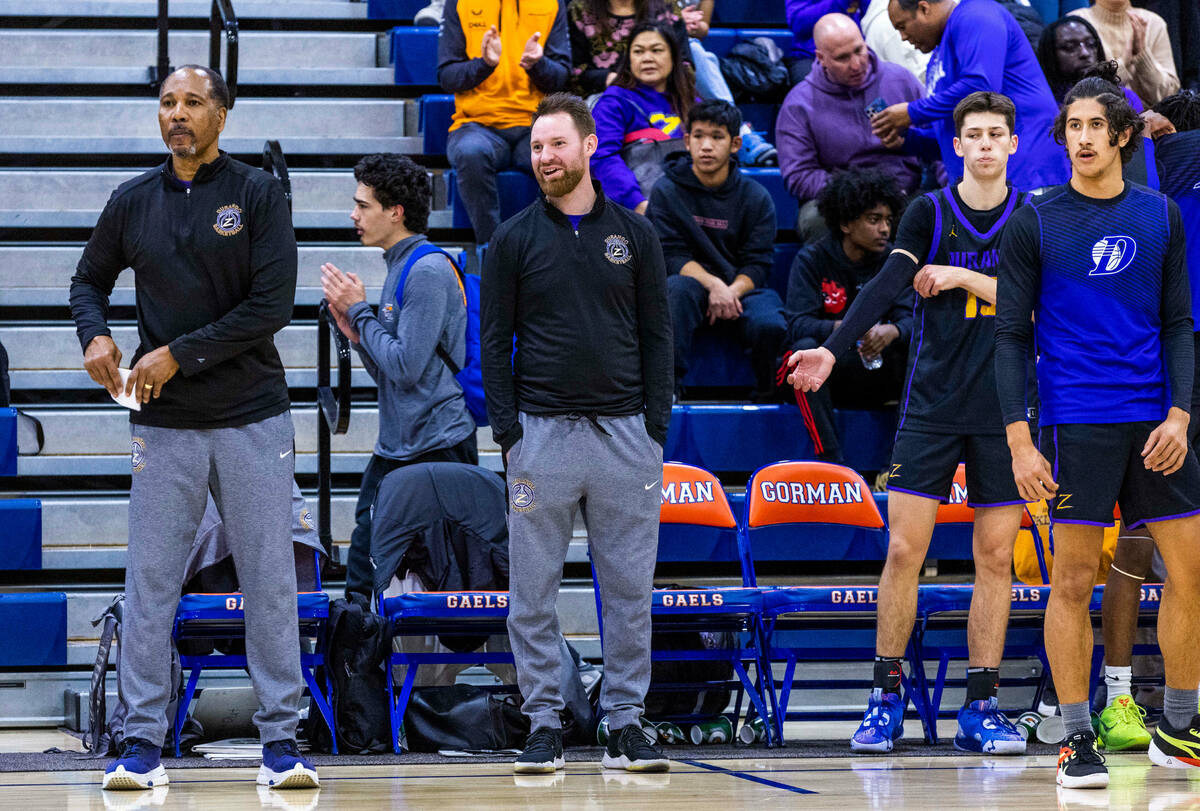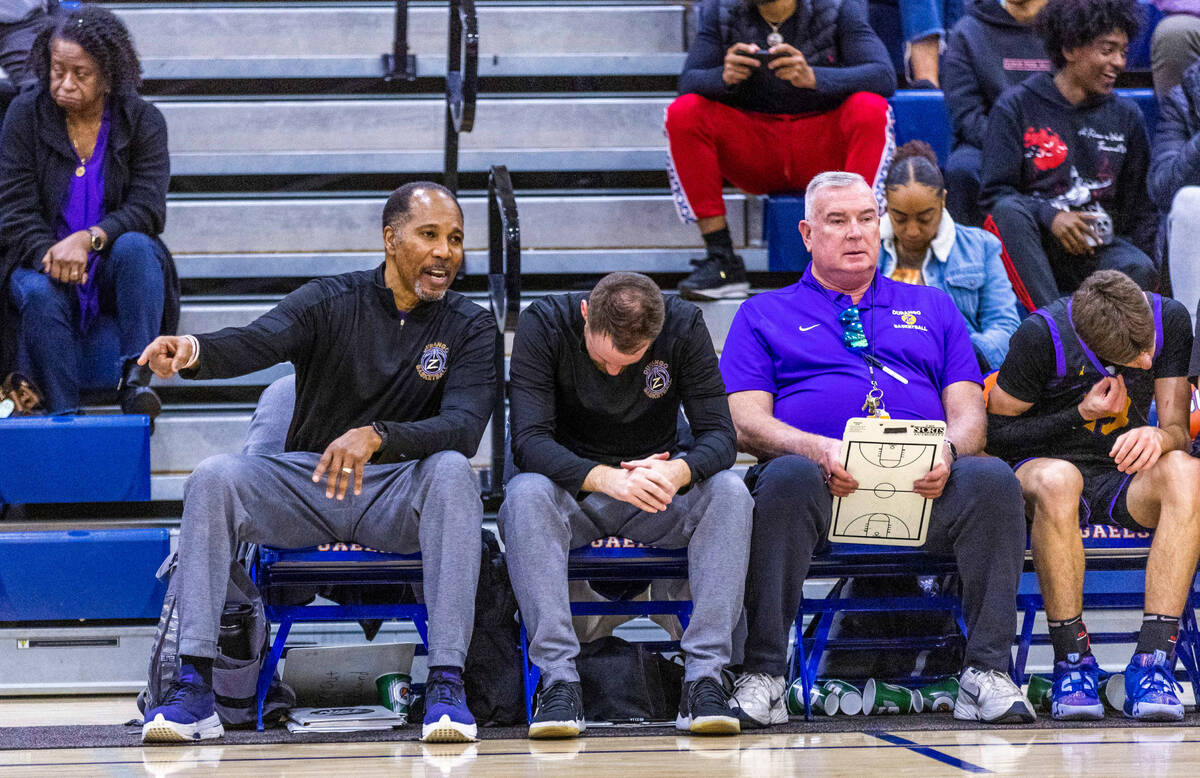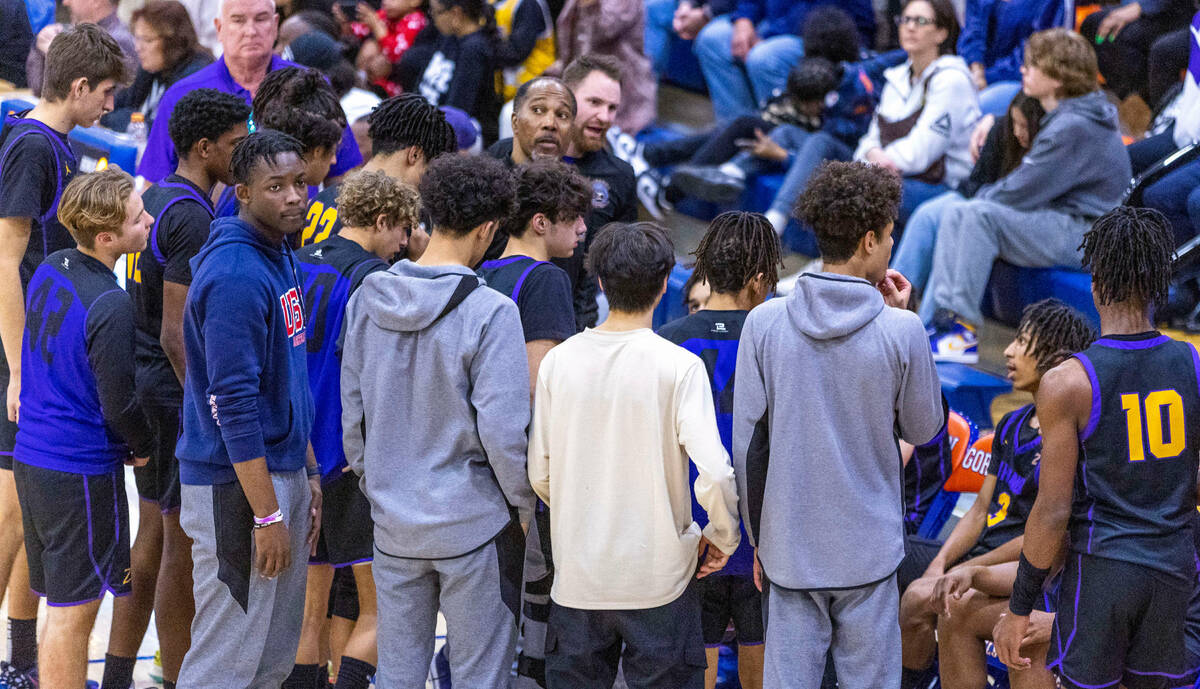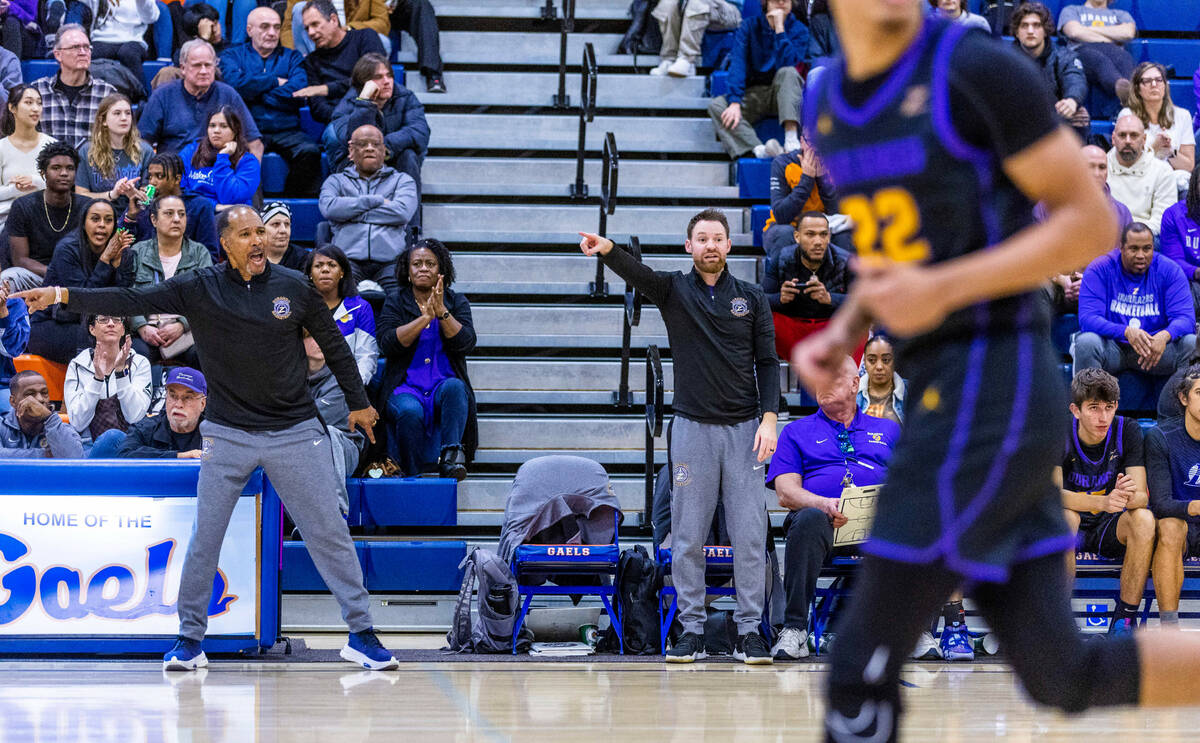 The final buzzer sounded, signaling the end of Durango's 63-55 road victory over Bishop Gorman, earning the Trailblazers a berth in the Class 5A state tournament — and preceding the playing of "24K Magic" by Bruno Mars through the speakers inside the gymnasium.
To which Trailblazers interim coach Michael Lee would boogie, abandoning his steely demeanor to jump, sway and smile.
If only for a moment.
"He was hitting a little swing in his arms. Some old school. You know what I'm saying?" Durango senior guard Tylen Riley said through a smile. "We always stayed glued together. We always stayed resilient. Nobody will ever break us apart."
The Trailblazers haven't missed a beat under the 62-year-old Lee, who assumed head coaching responsibilities after Chad Beeten resigned abruptly at the beginning of the month.
Instead of fraying amid the loss of their former leader, the Trailblazers have rallied around their new one, 30 years a firefighter for the Clark County Fire Department and undaunted by the proverbial inferno he inherited.
"I know he's wanted this forever," said Lee's daughter, Jazmine, who coached Arbor View's girls to the Class 4A state tournament this season. "When he's around basketball, it's laughs, smiles. It's his element. … That's exactly where he wants to be."
Through the fire
The decisions Lee makes now influence wins and losses instead of life and death. He stopped making those kind of calls in 2017, proudly retiring as a captain after three decades with the department.
He once rescued a young boy and a woman. Pulled them out of "an actual fire."
He's also "seen death at its highest point."
Screams are seared into the depths of his memory.
"A line in our department, I always said, 'We want to make sure that we get home,'" said Lee, a native of Rialto, California. "When you're going inside of a fire or an incident, you're always telling yourself the moment you receive that (call) and you're going inside that you want to make sure you get home to your family."
Lee would always safely return.
To Jazmine. To his son, Neiman. To his wife, Sandra, a trio with whom he collectively shares his love of basketball and the Los Angeles Lakers.
He played collegiately at Prairie View A&M, earning a Division I scholarship not through the varsity basketball team at Eisenhower High School — he worked at McDonald's during the summertime when the team was usually constructed, saving money for prom or the occasional movie — but by excelling on the local club circuit and capturing the attention of a recruiter.
Lee manned the wing and studied mass communications, interning with television stations in Houston and commuting to Las Vegas in the summers to play recreationally at Doolittle Community Center. He competed against UNLV greats like Sam Smith, Robert Smith and Larry Johnson.
But more importantly, Lee met his wife, a native Las Vegan for whom he relocated upon graduation in 1984.
"Sometimes, a woman in your life just draws you back to an area where you said, 'Well, man, I find her interesting,'" he said.
Lee first worked 20 months for the Nevada Department of Transportation, transitioning into a firefighter by 1987. As such, he was a mainstay at "Career Day," driving a firetruck every year to greet his children at their elementary school.
The 24-hour shifts he worked formed sizable gaps in his schedule, allowing him to coach their club teams — and eventually serve as an assistant at Centennial, where they both played.
Retirement formed an even bigger void, and Lee returned to the sideline in 2018 as an assistant at Clark alongside Beeten. He hoped to become a head coach, but relished his role on Beeten's coaching staff regardless.
"Quite naturally, we hate that he's not there," Lee said. "He prepares his coaches to one day seek other positions or have an opportunity to be a head coach eventually. I think we've all been groomed for that."
'We can still do this'
The Trailblazers were stunned when they learned of Beeten's resignation the morning of Feb. 1 and say they're still playing for him despite his absence. But they're also playing for Lee, who gathered the players that afternoon in the team meeting room adjacent to the gymnasium to affirm his confidence with one simple statement.
"We can still do this."
Utilizing Beeten's tactics and principles, the Trailblazers have won six of seven with Lee at the helm — avenging a four-point loss to Gorman late in the regular season with their playoff victory.
Two days later, they secured an equally satisfying 65-59 victory over defending state champion Liberty in the Southern League championship game.
As a result, they're the league's No. 1 overall seed in the state tournament, vying for their first state championship since 1996 with a tenacious lineup of guards and wings.
"We go through adversity after adversity and we just keep going," sophomore guard Mason Brown said. "We keep pushing each other, and (we) hold each other accountable."
Lee is more passive than his predecessor, steadying the team's temperament and intervening with timely instruction while empowering his assistants and players to lead.
Like Riley, a California Baptist commit who applies pressure when guarding the ball and alleviates pressure when handling it in crisis. Or junior Taj Degourville, a do-it-all wing and top UNLV target wielding several Division I offers, a smooth shooting stroke and the strength to overpower smaller defenders.
Brown and fellow sophomore Jevon Yapi also score and set the table.
"Everybody's taking a bigger role now than they had before," Degourville said — including an interim coach accustomed to walking into fires.
Lee wouldn't address his future at Durango, knowing the Clark County School District prefers to employ coaches who also teach or serve another position in the school. He's focusing instead on the final week of the season.
On another group of guys he feels fortunate to lead.
"It's that same type of bond you have when you're fighting a fire with your brothers. The love for the game, and helping mentor these young men and helping them develop," Lee said. "It's all about the guys, and trying to get us to a point where we can all do this together. Even though Coach Chad isn't there, he is still with us. His model has been set. And we're just trying to complete it."
Contact Sam Gordon at sgordon@reviewjournal.com. Follow @BySamGordon on Twitter.
Up next
What: Class 5A boys basketball state semifinals
Who: Durango vs. Douglas; Liberty vs. Bishop Manogue
When: 7:50 and 9:30 p.m. Friday
Where: Cox Pavilion