Shadow Ridge, Silverado meet in state title rematch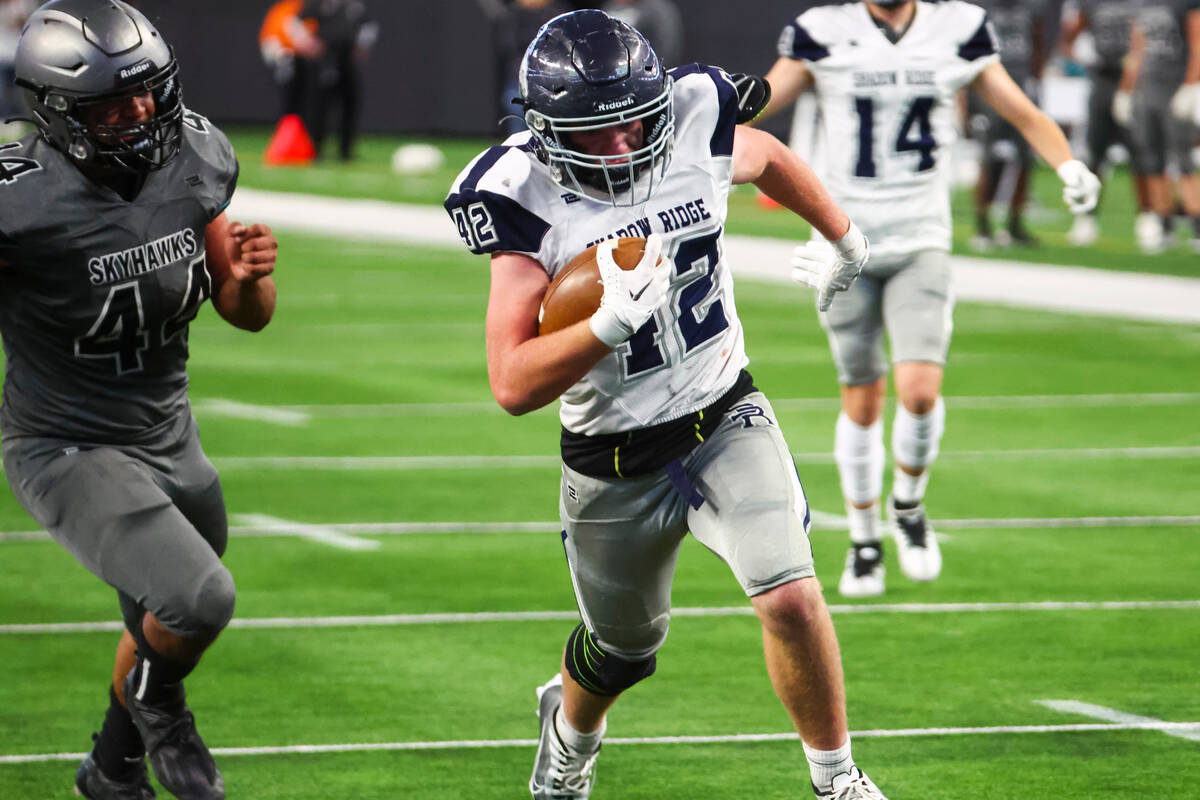 Two things became certain as the Shadow Ridge and Silverado football teams rolled through Class 4A for the second consecutive season last year.
First, they were destined to meet again in the 4A state title game. And after said rematch — won 51-27 by Silverado for its second consecutive title — both would be moved up to 5A during the next realignment cycle.
Silverado hosts Shadow Ridge at 6 p.m. Friday in the teams' first meeting since last November's title game at Allegiant Stadium.
Following an eventful realignment process, Silverado and Shadow Ridge not only found themselves in the state's top classification, but also in the top division, Division I, made up of just seven Southern schools.
After ruling 4A the last two years, Silverado and Shadow Ridge are now playing alongside Bishop Gorman, Liberty, Arbor View, Desert Pines and Coronado in the top division.
"It's definitely a step up in competition," Shadow Ridge coach Travis Foster said. "There's a clear line, and I don't think anyone in town would dispute that, between the top teams in the city and everyone else. We're just relishing the opportunity to compete at the highest level in Vegas."
Shadow Ridge raced to a 3-0 start, Then, after a loss to Arbor View in its league opener, the Mustangs pulled off a 21-20 upset win over Desert Pines. Coronado defeated Shadow Ridge 28-14 last week after jumping out to an early lead.
Foster said there's been some "good and bad" in making the jump to the top division, but praised his team's resiliency. He credited starting quarterback Coen Coloma and the cohesion they have on defense for making the transition this year a bit easier.
"We're fortunate that we made the jump this year," Foster said. "We're bringing back nine guys on defense, so they've had a lot of success in high school football. This 5A Division I is a little different. It's significantly more challenging, but our kids are up to the test for sure."
In Shadow Ridge's run-heavy offense, senior running back Evan Cannon has established himself as the top back averaging 146 rushing yards per game. Cannon had a breakout performance against Silverado last year, rushing for 210 yards and three scores on 21 carries.
"It's his physicality, his consistency," Foster said of Cannon. "You have to tell him at times to take a couple of reps off, relax and let your body heal. He wants to be in there. He wants to take every snap. He's competitive. He's got all the qualities you want in an athlete."
Silverado's depth has been tested this season. The Skyhawks graduated nearly 30 seniors last year which helped them piece together back-to-back 12-0 seasons and state titles. Currently, there are 30 players listed on Silverado's roster on MaxPreps.
Silverado coach Andy Ostolaza declined to be interviewed for this story.
The Skyhawks had their 26-game winning streak, dating back to the start of the 2021 season, snapped in a 24-16 loss to Foothill on Sept. 1. After a 2-0 start, Silverado has lost its last three games.
Senior defensive end and UNR commit Jaylen McGlothlen has been a bright spot for Silverado. He leads the state with eight sacks. Senior Marcus Council, playing both sides, has scored eight touchdowns and is second on the team with 33 tackles.
In the teams' last three meetings, Silverado jumped out to early leads. Foster said in all three games "we've played well, but haven't played well enough to win."
He said his players have "taken it to heart" that they have to set the tone early and have a good start Friday night.
"There's a lot of mutual respect between the programs," Foster said. "Our kids know that (Silverado) is going to be physical up front. Friday's going to be a good football game. It's going to be a good test of the work they've put in over the last eight to 10 months. We're excited about it."
Contact Alex Wright at awright@reviewjournal.com. Follow @AlexWright1028 on X.