Shadow Ridge's Aubrey Nellems finds future home at Southern Utah
December 20, 2017 - 7:08 pm
Updated December 20, 2017 - 7:38 pm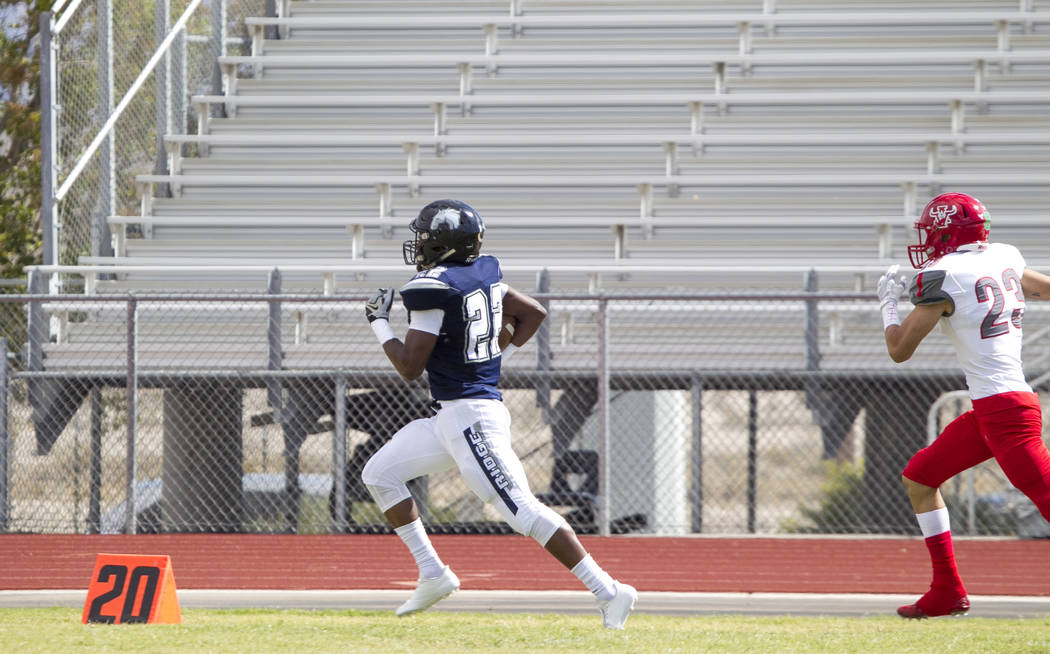 Dozens of Division I colleges reached out to Shadow Ridge senior football player Aubrey Nellems, a 6-foot-1-inch, 210-pound two-way star who averaged 9.7 yards per carry, rushed for 1,222 yards and scored 12 touchdowns last season.
And dozens backed off when they learned Nellems' faith is more important to him than football.
Not Southern Utah.
And after an arduous recruitment, he's finally at peace with his future.
Nellems signed a national letter of intent Wednesday morning — the first day of the new early signing period — to play college football for the Thunderbirds, who belong to the Division I Football Championship Subdivision.
Colleges from Power Five conferences — namely Arizona, Arizona State and Brigham Young — contacted Nellems throughout the course of his prep career, but stopped recruiting him when they found out he would miss a practice or a game because of his devotion to the Hebrew Israelite faith.
Nellems hasn't wavered from his beliefs and is committed to resting on his Sabbath, which is dictated by the lunar calendar instead of the traditional Gregorian calendar and may fall on game days.
He learned the religion from his stepfather, Kelvin Bazile, who married his mother, Felisha, and taught him about religion and football throughout the course of his upbringing.
"We brought him up to keep with his faith," Kelvin said. "Family and all of that is No. 1. Then you start getting into your vocations."
Nellems made Shadow Ridge's varsity football team as a freshman and earned a scholarship offer from Southern Utah at a team camp before his sophomore season.
His recruitment continued during 11th and 12th grade, but Nellems began hearing the same thing from the Division I coaching staffs that ultimately decided against offering him scholarships.
"I talked to recruiting coordinators, and they would say … 'We commend you for your faith. We're very impressed with it. We need more guys like you,'" Nellems said. "And that's usually the end of the conversation … Evidently, lots of schools have turned me down."
Southern Utah wasn't one of them. Thunderbirds coaches understood the significant role religion plays in Nellems' life.
They've already analyzed their 2018 schedule and have prepared a plan for Nellems, who will play linebacker and study sports medicine.
Kelvin and Felisha are ecstatic, and praised their son's patience and commitment to his beliefs. They affirmed that Southern Utah is the right place for him.
"I'm very proud of him. He stuck to his guns," Felisha said. "I think it's very important, and he made it clear that even if it wasn't about football, a free education is a free education. I'm very happy about it.'
Contact reporter Sam Gordon at sgordon@reviewjournal.com. Follow @BySamGordon on Twitter.
Prep signees
Name, School, College
— Daniel Bellinger, Palo Verde, San Diego State
— Lorenzo Brown, Desert Pines, Montana
— Palaie Gaoteote, Bishop Gorman, Southern California
— Jacob Isaia, Bishop Gorman, Michigan State
— Brevin Jordan, Bishop Gorman, Miami
— Elijah Kothe, Faith Lutheran, San Diego State
— Crishaun Lappin, Liberty, UNR
— Jaden Mitchell, Desert Pines, Arizona
— Allan Mwata, Liberty, San Diego State
— Aubrey Nellems, Shadow Ridge, Southern Utah
— Kenyon Oblad, Liberty, UNLV
Other scholarship football players can sign during the traditional signing period, which begins Feb. 7.