ALL-STATE SOFTBALL: Centennial's Bowen honored for second time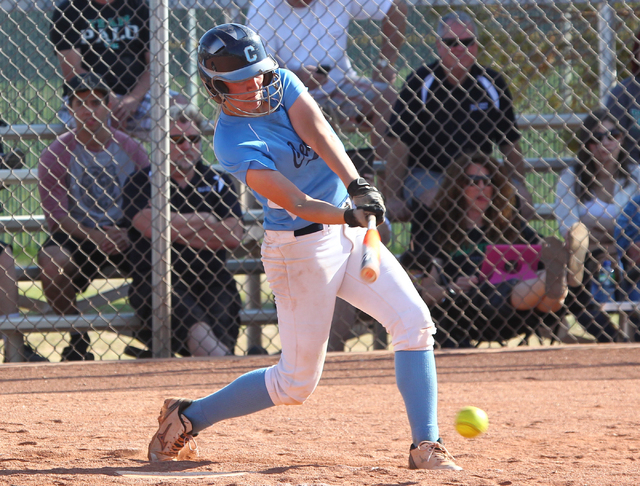 Softball coaches throughout the state might have June 10 circled on their calendar.
It's the day Centennial High will hold its graduation and the day Heather Bowen officially will leave high school.
For opposing coaches, it feels like she's been there forever.
Bowen capped her remarkable career as the Bulldogs' shortstop by hitting .558 with 12 home runs and 54 RBIs this season and is the Review-Journal's state player of the year for the second time in three years.
"I'd like to keep her around one more year," said Centennial coach Mike Livreri. "I'd love to have her back, change her name and put her at catcher.
"It's hard to see her go. The last time I saw her step into the batter's box (in Centennial's last game) was a sad, sad day for a coach. Those types of talents, they don't come around often."
Bowen finished with the state records for career hits (243) and runs (218) and tied the state record in doubles (65). She's third on the career lists in home runs (39), RBIs (190) and walks (73) and fourth in career batting average (.501).
She was the state player of the year as a sophomore when she hit .480 with 18 doubles, 16 homers and 54 RBIs.
This season, Bowen had a career-best 63 hits — 37 for extra bases, including 20 doubles and five triples for the Bulldogs (30-8), who lost to Palo Verde in the Sunset Region final. She had a slugging percentage of 1.142.
"It was almost like her sophomore year again," Livreri said. "She just has a well-rounded, all-around game. She has something in her that is very competitive. She doesn't like to lose, and she wants to be the best. She has a great work ethic."
Yet for all of Bowen's impressive numbers, offense might not be the best part of her game.
She committed only eight errors at shortstop this season and routinely took away hits with her range and cannon-like arm. Bowen has the ability to throw runners out at first from the outfield grass.
"Her defense is more than just the plays she makes," said Centennial assistant coach Curtis Livreri. "How she captains and controls the whole field makes the whole team play defense well. There were games when she wouldn't produce hitting and we would still win because our defense would be spectacular. That was all her quarterbacking the defense.
"From day one, she bought in immediately. If we told her to collect outs, she knew what that meant, and she made sure the whole team knew exactly what that meant."
Bowen and senior third baseman Savannah Horvath, the state player of the year last year, formed one of the best left sides in state history.
"You'll never see a left-side and (Nos.) 3-4 hitters for four years like what we just saw in maybe forever," Curtis Livreri said. "They're once-an-era players, once in 20 years maybe, and we had them together."
Bowen will continue her career next season at the University of Utah. And her coaches expect her to fit right in.
"She challenged herself by going to a big school," Mike Livreri said. "She can be very successful. She's coachable. She's multidimensional. She can play a lot of positions. She's determined. They're going to be hard-pressed to keep her off of the field."
Complete list of all-state softball honorees