CLASS 2A SOFTBALL: Needles knocks off Lincoln County for 12th state title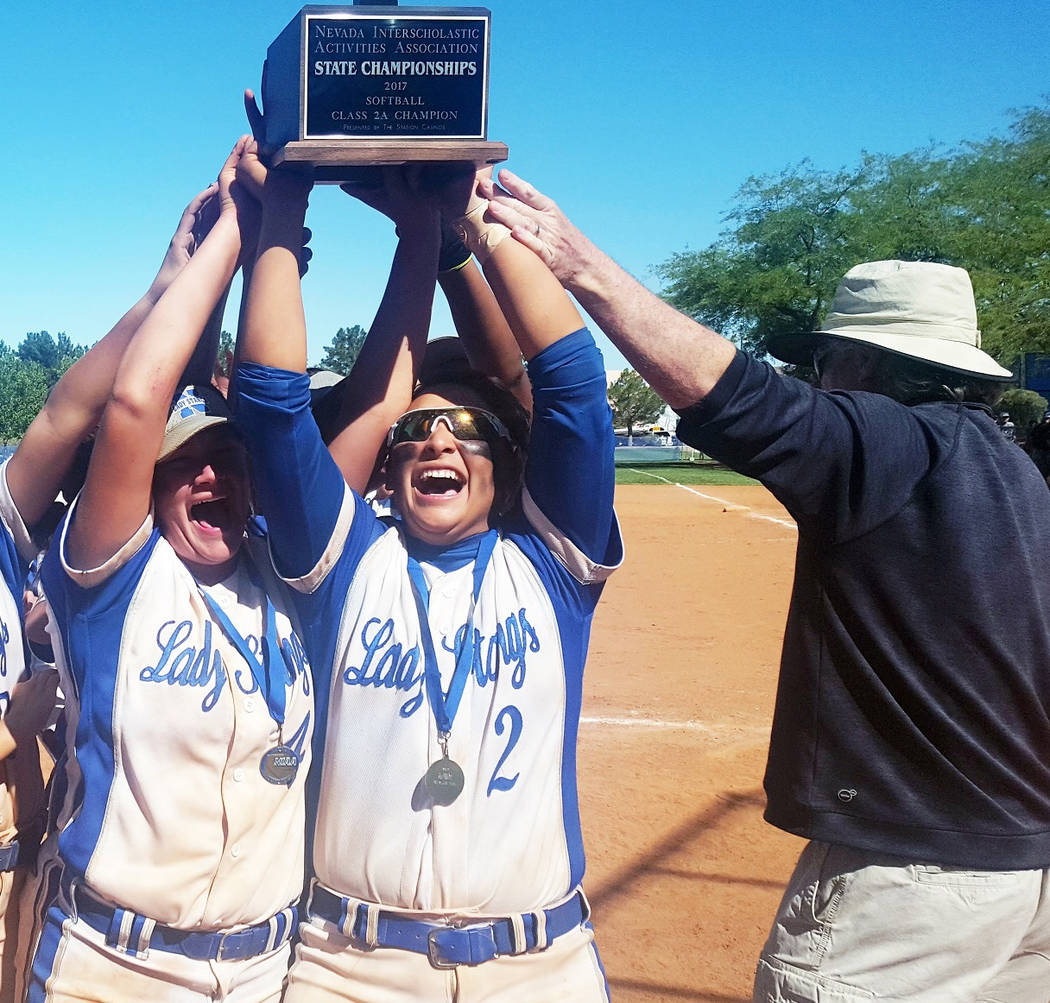 Needles softball is back on top of Class 2A softball.
The Mustangs defeated Lincoln County 20-6 on Saturday at The Meadows, winning their first state championship since 2013.
Needles (26-4) holds the Nevada Interscholastic Activities Association record among all classes, with 12 state championships in softball.
Lincoln County (25-11) forced a second game by winning an earlier contest, 16-15, in eight innings.
"I felt the whole time we were the better team," Needles coach Tony Rubalcaba said. "We gave them the first game. Little nervous coming in and a lot of errors. I told them before the second game, we clean it up, the way we're hitting the ball, they're not going to be able to keep up with us. And that's what happened."
After committing four errors in the first game, Needles was flawless defensively in the decisive contest, while starting pitcher Kourtney Fletcher neutralized the Lynx lineup, scattering eight hits, and striking out five. She retired eight of the last 12 batters she faced, while getting out of a bases-loaded jam in the fourth inning.
"If I stay up and I pick them up, they shake it and the mistake doesn't happen again. And if it does, it does and we just have to battle back from that," Fletcher said. "We knew coming out of that (earlier) game they were going to come hyped. So I just told them we have to match their hype, we have to stay hyped, we have to be loud, we have to be annoying.
"I had no doubt in the second game we were going to win."
After the Mustangs loaded the bases with their first three batters of the game, Paige Murch brought in Jaycee Fragoso with a single. When center fielder Sadie Teel misplayed Murch's hit, Preslee Murch and Brenna Chavez came around to score, giving Needles a 3-0 lead. The Mustangs sent 14 batters to the plate in the top of the first, and set the tone by opening a 9-0 lead.
"We knew that if we came out strong that no one could beat the Lady Stangs twice in a row — it was impossible," Fragoso said. "We just kept our heads in it and came out strong and let Kourtney do her thing on the mound. We let her know that we had her back the whole time."
Fragoso finished 4-for-5 with three runs and four RBIs, while Preslee Murch was 4-for-4 with four runs scored and three RBIs to lead Needles offensively.
"I just didn't want to lose; I didn't want to lose to Lincoln so I had to make sure the girls kept their heads up so we can stay in it," Preslee Murch said.
Bruke Zozaya went 3-for-3 with three runs and two RBIs, along with Nicole Hoopewas 2-for-4 with three runs for Needles.
Lincoln County's Cameron Lloyd was 2-for-2 with a home run, two runs and an RBI, and teammate Kia Phillips was 2-for-3 with one run and two RBIs.
It was the fifth time the Mustangs defeated Lincoln County in seven meetings this season.
Lincoln County 16, Needles 15 — After reaching base on an error by Zozaya in right field, Kristal Jackson scored on a sacrifice fly by Lloyd in the top of the eighth inning. Pitcher Sadie Soderborg silenced the Mustangs in the bottom half of the frame, as the Lynx forced a second game.
Cardinal went 4-for-6 with three runs and six RBIs to lead Lincoln County.
Paige Murch went 5-for-6 with a double, a home run, two runs scored and eight RBIs to lead Needles.
Box scores: