DIVISION I-A SOFTBALL HONORS: Eagles' Masterson lets her play do the talking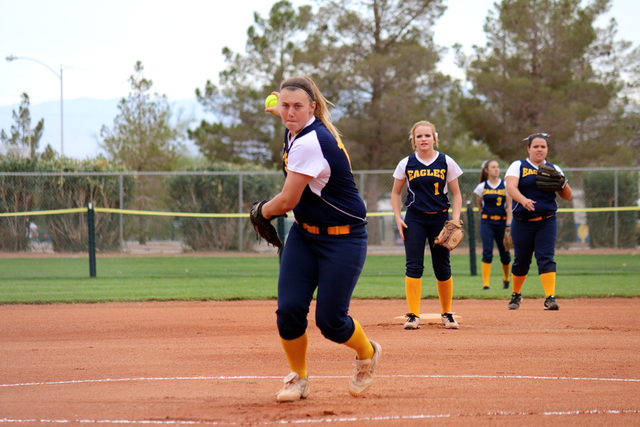 Boulder City's Charlene Masterson isn't a very talkative person.
But the junior's play on the softball diamond spoke volumes this season.
Masterson was named the Division I-A Southern Region Most Valuable Player by the region's coaches after leading the Eagles to an undefeated record in Sunrise League play and a spot in the region semifinals.
"She just comes in and does her work," Boulder City coach Angelica Moorhead. "She's very shy, a major introvert. But she's starting to coming out of her shell a little more now. Charlie, being a smart ball player and having confidence, makes her valuable anywhere — in the circle, at the plate, in the field."
Masterson went 18-6 this season with a 0.97 ERA and finished with 213 strikeouts and 29 walks in 145 innings of work.
She also batted .531 with 17 extra-base hits, including four home runs, and 53 RBIs to lead the Eagles.
"She's just a great kid," Moorhead said. "She works really hard. She's not cocky. She's not stuck up. She just wants to play softball. I can't say enough about her. … It helps us so much when she's in the circle. She throws the ball hard and hits great corners."
Sierra Vista sophomore Kalei Watkins took home the Sunset Player of the Year honors after going 16-7 with a 2.12 ERA. She finished 219 strikeouts and only 16 walks.
Watkins also batted .590 with six home runs and 41 RBIs.
"She's a special talent," Mountain Lions coach Keith Ulrich said. "I've coached various sports in Vegas for eight years, and I've had some really good basketball players, but in terms of pure talent, she's the most talented. Not only does she have talent, but she also wants to learn. She was our leader and our captain. She got everyone else going.
"What sets her apart is she truly cares about the other girls on her team. She's like a mother figure, in the sense that she wants them all to be happy. She's very altruistic and is not a selfish human being. It's rare to see someone that talented, yet grounded and concerned for other people."
Ulrich was named the Southern Region Coach of the Year. He also won the honor for the Sunset Region, while Sunrise Mountain's Stacey Patterson took home Sunrise Coach of the Year.
Masterson and Watkins led the All-Southern Region first team. They were joined by Boulder City's Alyssa Ybarra and Kylee Hamel; Cheyenne's Destiny Gain; Faith Lutheran's Mosie Foley; Moapa Valley's Makayla Jackson; Pahrump Valley's Jordan Egan; Sierra Vista's Adrianna Somerville; Spring Valley's Michaela Hood and Ellie Endsley; and Sunrise Mountain's Brittany Miller and Andrea Garner.