DIVISION I SOFTBALL HONORS: Coronado's 'invaluable' Query rewarded by Southeast League coaches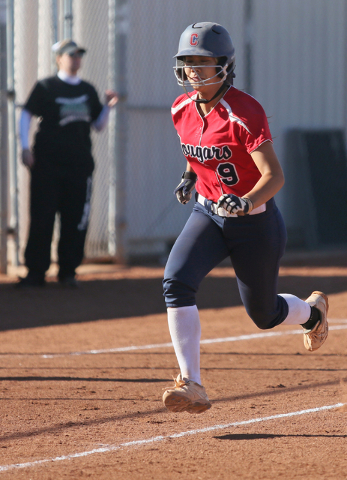 One of the many words Coronado softball coach Missy Krueger uses to describe junior Basia Query is invaluable.
On a team with no seniors, Query took on a leadership role and floated between catcher and shortstop depending on where her team most needed her on a given day.
The other coaches in the Southeast League saw Query's value, too. The junior was named the league's Most Valuable Player.
"Basia has been a leader since she was a freshman," Krueger said. "Her softball knowledge is great. She has a very high softball IQ. She's the last one to leave the field every day, and she's not afraid to pull a younger player aside to help them with what they should be doing.
"She's just invaluable."
Awfully good, too.
Query batted .452 with 12 doubles and 36 RBIs as she helped the Cougars to the Southeast League title.
"She just plays to win," Krueger said. "She's passionate. You can't teach it. She plays tough, and she never gives up. She hits the ball hard every time up."
As a catcher, Query handled a relatively young pitching staff. Junior Sarah Pinkston was in her first year on Coronado's varsity after sitting out last season because of back surgery. Sophomore Jillian James and freshman Tatum Spangler also benefited from Query's guidance.
"She's good at coming to me kind of discreetly and telling me when something isn't right or when we maybe should be throwing a certain pitch more," Krueger said. "I respect her, and she knows the game."
When shortstop Dylan Underwood was sidelined by a concussion, and when James, also an infielder, missed time because of a leg injury, Query filled in without missing a beat.
"It was every other day for a little while," Krueger said of shuffling Query's position. "No matter where she was, she was going to be the leader on the field. She handled our infield and outfield positioning the same as she would if she were catching. The sky is the limit for her."
Pinkston, who was 10-5 with a 1.85 ERA, was the league's Most Valuable Pitcher.
Eldorado's Brently Garbutt was named the league's Coach of the Year.
In the Northeast League, Liberty sophomore Breanna Alvarez and Silverado senior Hanna McCall shared MVP honors. Valley junior Kristina Manthei was the Pitcher of the Year. Canyon Springs' Mickey Arquette was named Coach of the Year.
State runner-up Palo Verde swept the major honors in the Southwest League, with senior Dejanae Gage taking MVP honors and classmate Kelsea Sweeney named Pitcher of the Year. The Panthers' Kelly Glass was Coach of the Year.
In the Northwest League, Arbor View senior Kayla Stephens was named Player of the Year, and the Aggies' Maria Yoder was Coach of the Year. Centennial senior Cheyenne Cudahy was Pitcher of the Year.
Contact reporter Bartt Davis at bdavis@reviewjournal.com or 702-387-5230.