DIVISION I SOFTBALL: Pitchers Lacro, Williams help Panthers fight past Reed for title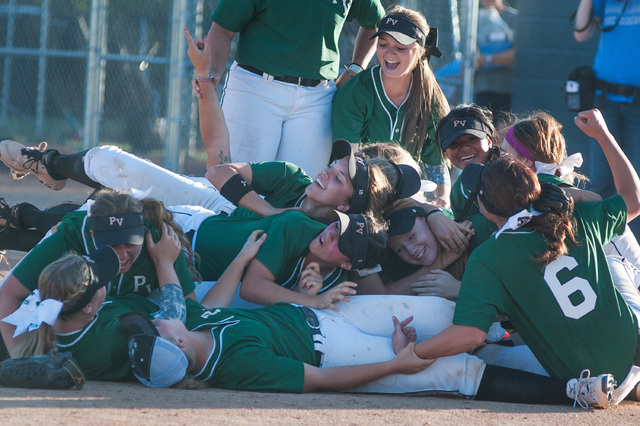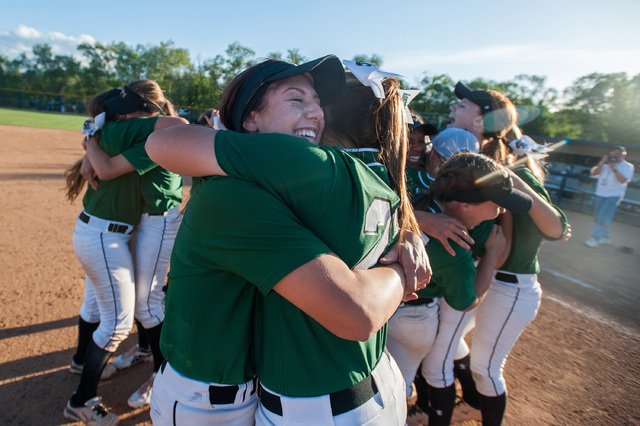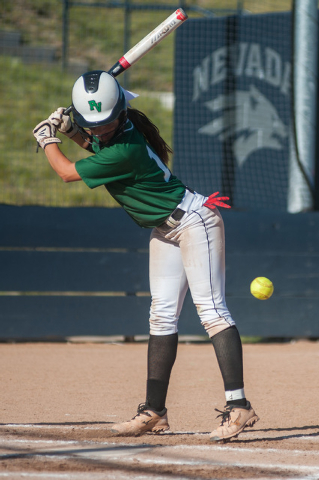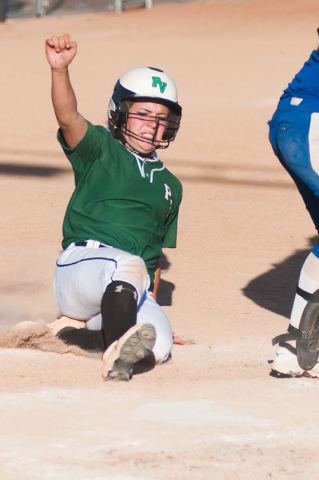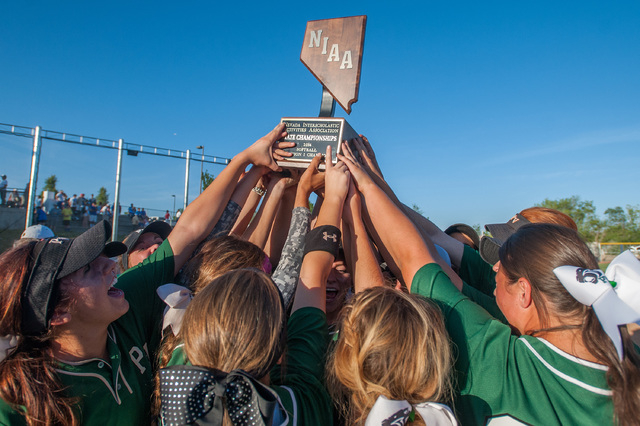 RENO — Last season, Rachel Williams couldn't pitch on back-to-back days.
Last week, Melissa Lacro likely wasn't even a thought to pitch in the state tournament.
The two Palo Verde seniors combined to gut their way through a winner-take-all championship game Saturday and lead the Panthers to a 12-8 win over Reed in the Division I state softball title game at UNR's Hixson Park.
"(Lacro) hasn't pitched in three months. For her to take the ball and do what she did…" Glass said. "Rachel has worked through so much, and she's grown up a lot. This year has been her best year.
"This just means so much."
The Panthers (33-7) cruised to two easy wins to open the tournament before stumbling in their first shot to win the title and losing to Reed, 11-7 in the day's first game. It set up the showdown game, and strapped for pitching, the Panthers turned to Lacro.
Williams, who has worked her way through shoulder problems the last two seasons, threw 145 pitches in the opener. Kelsea Sweeney was unavailable with a back injury, and freshman Hailee Lupinetti became ill while warming up for a relief appearance in the first game.
So Palo Verde turned to Lacro, who had thrown sparingly during her first three seasons, but only four innings in two appearances this year, the latter coming on March 26.
"I knew there was a chance that I was going to have to pitch this game," Lacro said. "I just kept believing I could do it."
Lacro navigated her way through five innings, allowing eight runs on 13 hits.
But it was good enough as the Panthers clawed out of a 5-1 hole with a seven-run top of the fifth. Lacro's bases-clearing triple down the right-field line made it 7-5. She scored on a passed ball.
Lacro had two hits in her previous 11 at-bats before the triple.
"She was silent for a little bit, and I just looked at her and said 'Where have you been?'," said Glass, who gave Lacro a bear hug at third base.
The Raiders tied the game at 8-8 in the bottom of the fifth, but two-out singles by McKenzie McBride and Lacro in the top of the sixth gave the Panthers the lead for good.
And Palo Verde turned to Williams to protect it.
After allowing eight hits and nine walks in the first game, Williams retired the Raiders in order in the sixth and worked around a one-out walk in the seventh.
Appropriately, Williams got a tapper to the circle to finish it. She underhanded the ball to first baseman Rachael Turner, and the Panthers mobbed near the first-base line.
"It was an indescribable feeling," Williams said. "Knowing that all the seniors were going out with a bang, it's overwhelming."
Williams tossed five innings in the Panthers' win over Reed on Thursday, and four more in relief in a win over Foothill on Friday.
She worked a total of 8 2/3 innings Saturday. In four state tournament games, she threw 288 pitches.
"I've never been ridden through a tournament like this before," Williams said. "It definitely made me step up and be there for my team."
The Panthers racked up 21 hits, including 14 in the final three innings, in the final. Turner was 4-for-5, and Kiley Harrison went 4-for-6 for Palo Verde. Lacro was 3-for-5 with four RBIs.
"We just found our energy," Lacro said. "We're probably the most energetic team in Nevada, and we found it again."
Palo Verde scored 47 runs in four games, including 37 in three games against Reed, which hadn't allowed more than seven runs in a game all season.
It was the second state title for Palo Verde. The first came in 2011 when this year's core group of seniors were freshmen. Five of the Panthers' seven seniors played on that title-winning team.
"The first one was special, but I think this one means more," Glass said. "They wanted this one even more. I pushed them, and they allowed me to push them to be better. It means a lot for our seniors."
In the opener, Reed used a seven-run fourth inning to erase a 5-0 deficit and force the decisive game.
Breanna Beatty homered twice for the Panthers.
Box scores: