Green Valley looks to repeat as 5A state softball champion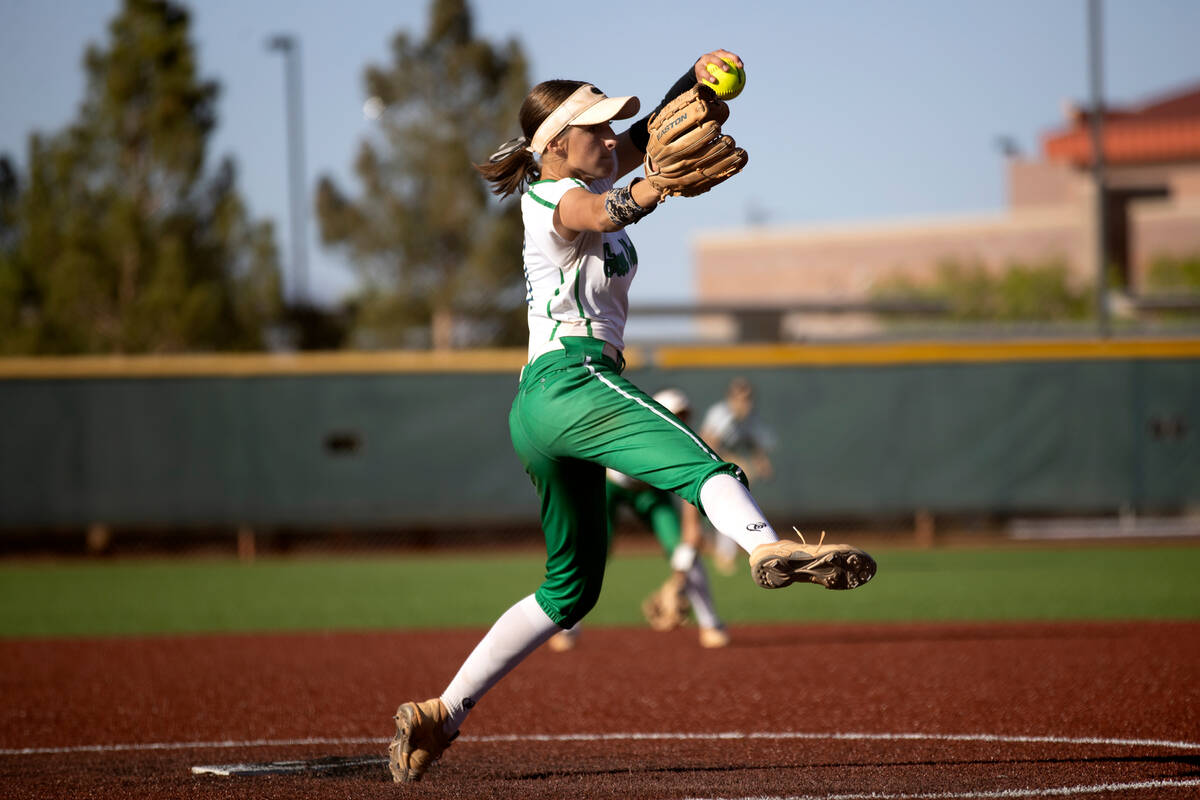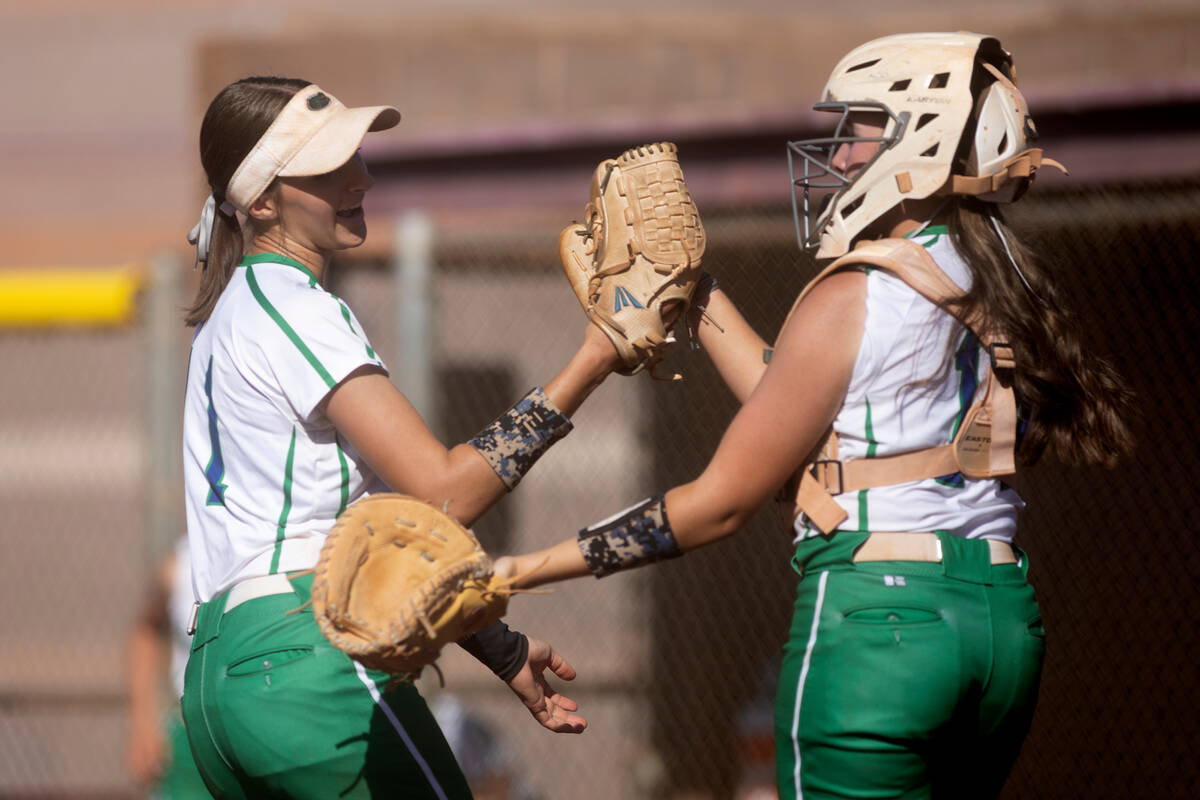 There hasn't been a letdown by reigning Class 5A state softball champion Green Valley.
The Gators have won 21 straight games and passed every test from 5A opponents.
Green Valley begins its quest to repeat as the 5A Southern Region playoffs begin Monday. The 3A Southern Region playoffs also begin Monday, and the 4A state playoffs begin Wednesday.
Here's a breakdown of how the playoffs shape up:
Class 5A
■ League champions: Green Valley (Desert), Shadow Ridge (Mountain).
■ The favorite: Green Valley.
The Gators haven't missed a beat despite losing four starters off last year's team under first-year coach A.J. Coleman. Runs have been hard to come by against senior pitcher Avari Morris, whose dominance has helped Green Valley outscore Desert League opponents 100-18 in 12 games.
■ The dark horse: Centennial.
Two of Green Valley's closest games in league play came from Centennial, with wins of 6-4 on March 27 and 3-0 on April 20. Led by senior starting pitcher Teagan Clemmons, the Bulldogs' team ERA is 1.80. Offensively, Centennial has been led by a balanced attack with eight players hitting for a .315 average or better.
Potential first-round upset: Faith Lutheran over Palo Verde.
Faith Lutheran had its struggles in the Desert League, finishing third with a 7-5 league record. But the Crusaders enter the playoffs with more than a week's worth of rest and have playoff experience by winning the 5A Southern Region title last year. Faith Lutheran defeated Palo Verde 1-0 on March 7.
Class 4A
■ League champions: Bishop Gorman (Mountain), Silverado (Desert).
■ The favorite: Bishop Gorman.
The Gaels have struck a balance between youth and experience to give themselves a chance to repeat as state champions. Six players are hitting better than .400, and three are freshmen. On the mound, experience has been the key with senior starting pitcher Jordyn Fray, who has a 1.28 ERA in 87⅓ innings with 69 strikeouts.
■ The dark horse: Tech.
Tech was the only 4A team to play Gorman tough, losing 4-3 on April 14 and 8-0 on May 3.
■ Potential first-round upset: Doral Academy over Las Vegas.
Doral Academy finished tied for fourth in the much tougher Desert League, but is the fifth seed after losing a tiebreaker and will start the playoffs on the road. Doral Academy starter Jenna Becker is 11-3 with a 1.30 ERA and should give the Dragons an edge in their first-round game.
Class 3A
■ League champions: Virgin Valley (Mountain), Boulder City (Desert).
■ The favorite: Virgin Valley.
The Bulldogs are in a league of their own, rolling through every opponent on their way to a 32-0 season and outscoring opponents 414-68. Virgin Valley is hitting .482 and has a team 1.04 ERA.
■ The dark horse: None.
Every Virgin Valley win against 3A opponents has been by double digits. It will be hard-pressed for a team to quiet the Bulldogs' bats, as all eight players with more than 60 at-bats are hitting over .400.
■ Potential first-round upset: Pahrump Valley over SLAM Academy.
The teams split their regular-season meetings, and they went to extra innings. Going on the road won't be a tough ask for Pahrump Valley, which won at SLAM Academy 15-13 on April 15.
Contact Alex Wright at awright@reviewjournal.com. Follow @AlexWright1028 on Twitter.
Softball playoff schedule
Class 5A
Southern Region tournament
Monday
All games at 4 p.m. at higher seed
Game 1: N. 4D Coronado at No. 1M Shadow Ridge
Game 2: No. 3M Arbor View at No. 2D Centennial
Game 3: No. 4M Liberty at No. 1D Green Valley
Game 4: No. 3D Faith Lutheran at No. 2M Palo Verde
Class 4A state tournament
Wednesday
All games at 4 p.m. at higher seed unless otherwise noted
Game 1: No. 5D Doral Academy at No. 4M Las Vegas
Game 2: No. 6M Legacy at No. 3D Spring Valley
Game 3: No. 5M Bonanza at No. 4D Chaparral
Game 4: No. 6D Mojave at No. 3M Durango
Thursday
All games at 4 p.m. at higher seed
Game 5: Game 1 winner at No. 1D Silverado
Game 6: Game 2 winner at No. 2M Tech
Game 7: Game 3 winner at No. 1M Gorman
Game 8: Game 4 winner at No. 2D Cimarron-Memorial
Class 3A
Southern Region tournament
Monday
All games at 4 p.m., at higher seed
Game 1: No. 8 Canyon Springs at No. 1M Boulder City
Game 2: No. 5 Moapa Valley at No. 2D Clark
Game 3: No. 7 Valley at No. 1D Virgin Valley
Game 4: No. 6 Pahrump Valley at No. 2M SLAM Academy