Palo Verde's Grace Chavez a leader on, off softball field
March 23, 2017 - 12:50 pm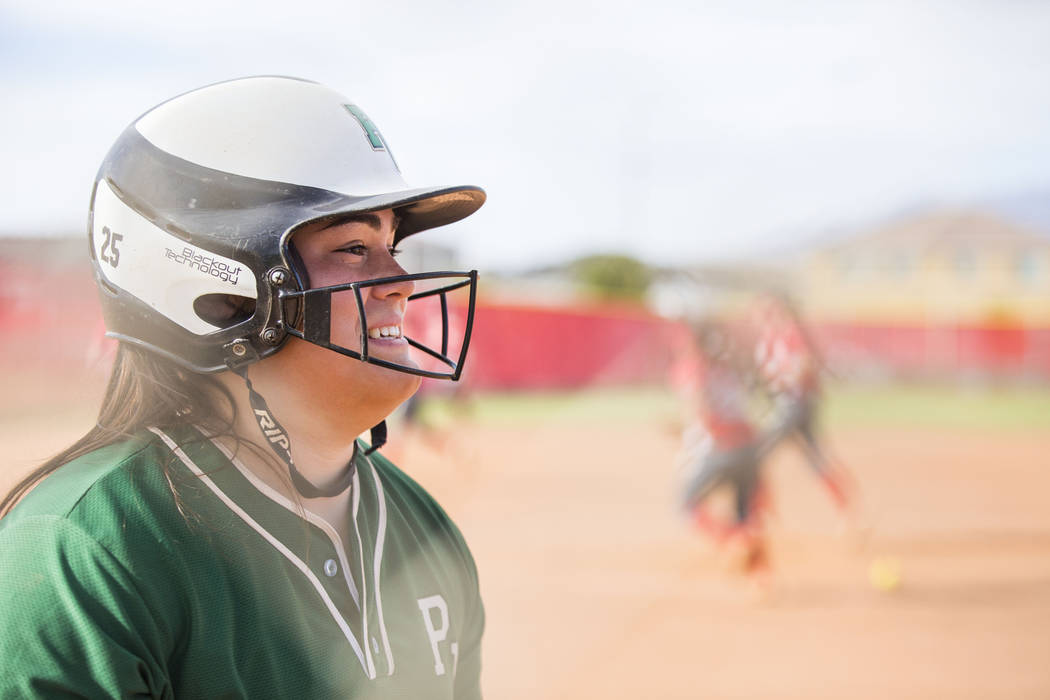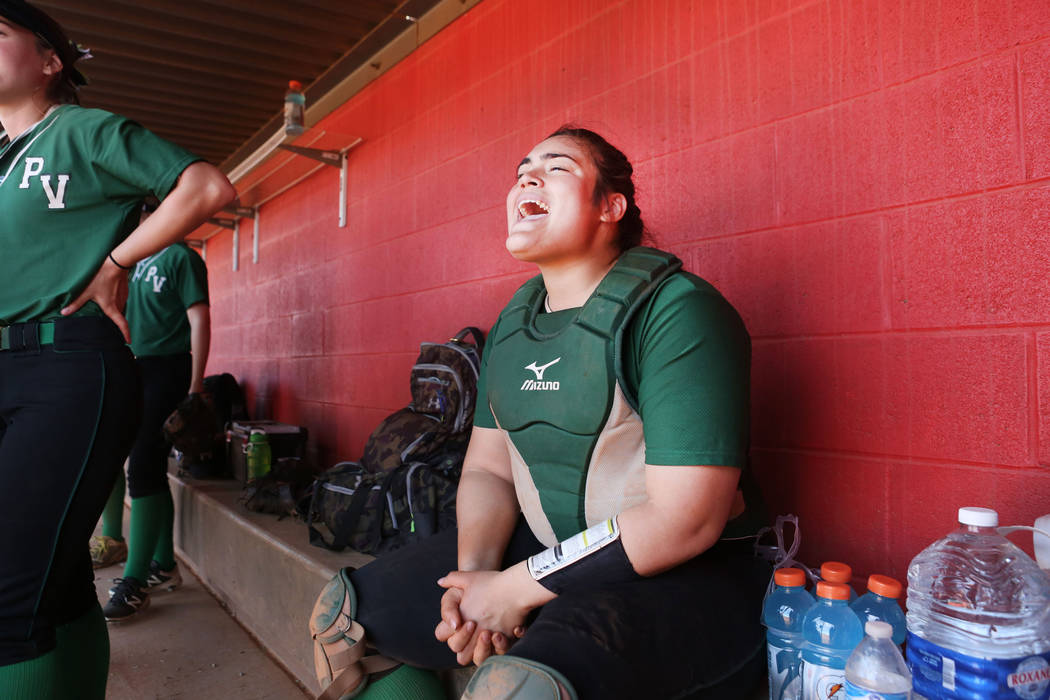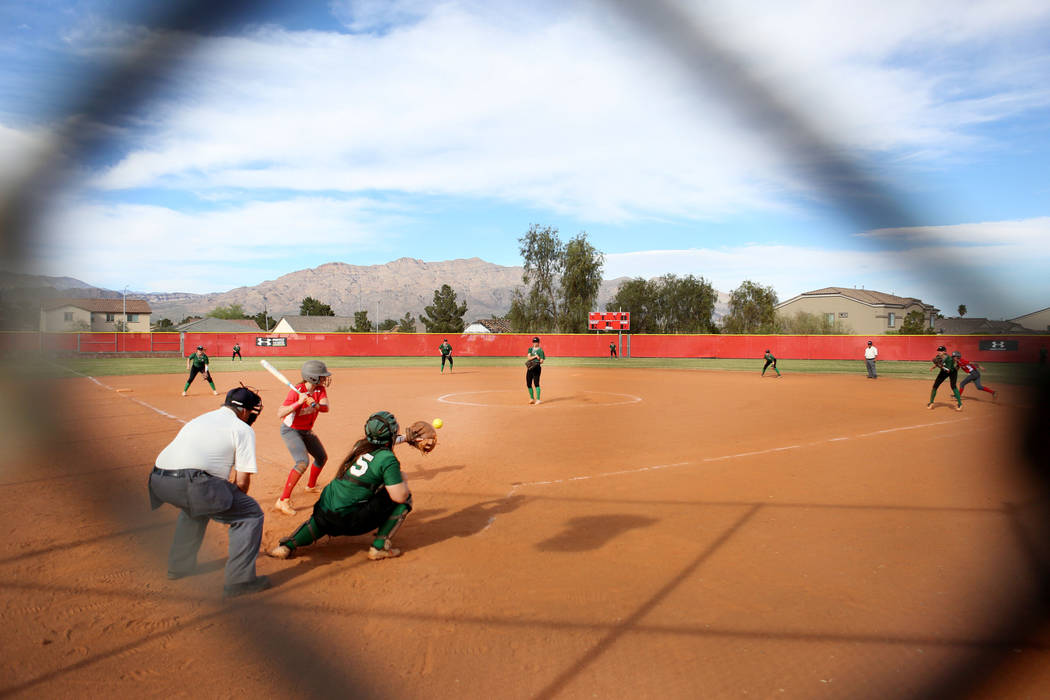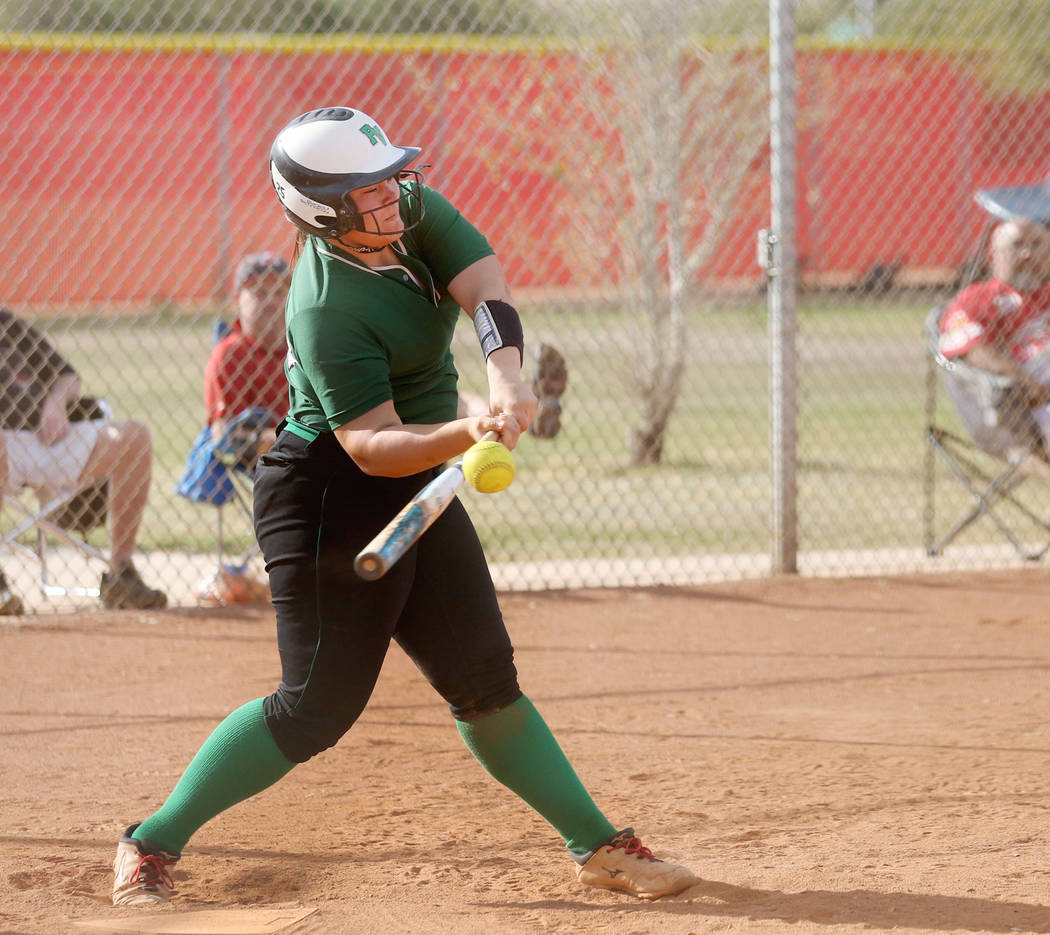 Last week in a game at Shadow Ridge, Palo Verde softball junior catcher Grace Chavez belted a ball to right field. It was creamed, but bounced off the top of the wall and fell harmlessly into the fielder's mitt, and returned to the infield before she could advance beyond first.
Chavez hit the longest single possible, which turned into a point of humor for her teammates.
"She's been working hard on trying to hit a ball that hard, and she finally did and it didn't even go over," junior pitcher Taylor Askland said with a chuckle.
Chavez stomped on first base in mock fury. She missed a home run by mere inches, which is a sore spot for her.
"I was so mad," Chavez said. "I am one of the only girls in the starting nine that doesn't have a home run, and that really makes me mad."
Chavez is the heart and soul of a Panthers team that started the season 12-4 overall and 4-1 in Northwest League play. The lack of a home run is a playful jab at a player that everyone, especially the ace pitcher, loves.
Askland and Chavez have played together for years on the same team, whether it be the Panthers or a travel team that predated their Palo Verde days. They're best friends off the field. When the team was in California last weekend for a tournament, they were inseparable during time off, going shopping and eating together.
The two also have a visible chemistry on the field. Chavez almost always catches Askland, and the pitcher credits her catcher with stealing strikes and keeping her levelheaded when she starts to struggle.
"I've caught her for so many years, I know where she'll miss, where she'll hit, and I know what to do to get into her head to help her out," Chavez said. "Because we do have that friendship and that bond, I'm not scared to tell her what she's doing wrong. I'm not scared to say, 'You're missing this spot and you need to fix it.' "
Chavez prides herself on her rapport with Askland and how it turns into wins. A shutout, such as Monday's 7-0 win at Arbor View, is the best possible outcome for Chavez, even when she goes 0-for-3 at the plate.
"When she has a good day, I have a good day, but when she has a bad day, I do have a bad day also," Chavez said. "When she's having a bad day, I do take it personally because I can do something better to help her."
Chavez's go-to move is to tell Askland to take a chill pill, then she actually holds her fingers an inch apart and mimes putting a pill in her hand. She doesn't leave until Askland takes it.
"She entertains everyone," Askland said. "She's so funny."
Chavez is much more than a defensive catcher and a personal handler for the team's ace. Her .449 batting average and 13 RBIs are third on the team, and her 19 singles is tops.
But she hasn't hit that homer yet. For a player who hit three her freshman year and 10 last season, she knows it's coming. And when it does, a valuable player to a potent Panther squad will get even more dangerous.
"I'm base-hit queen," Chavez said. "Everyone was like, 'Yeah, base hits win ballgames, Grace,' and I said 'Yeah, that's great,' and they're all over here hitting home runs.
"I will hit one, though. Many. I need to get that, though. I'm going to hit it. Don't sleep on me. I will hit them."
Contact Justin Emerson at jemerson@reviewjournal.com or (702) 387-2944. Follow @J15Emerson on Twitter.