Roundup: Sierra Vista gets by Durango in final inning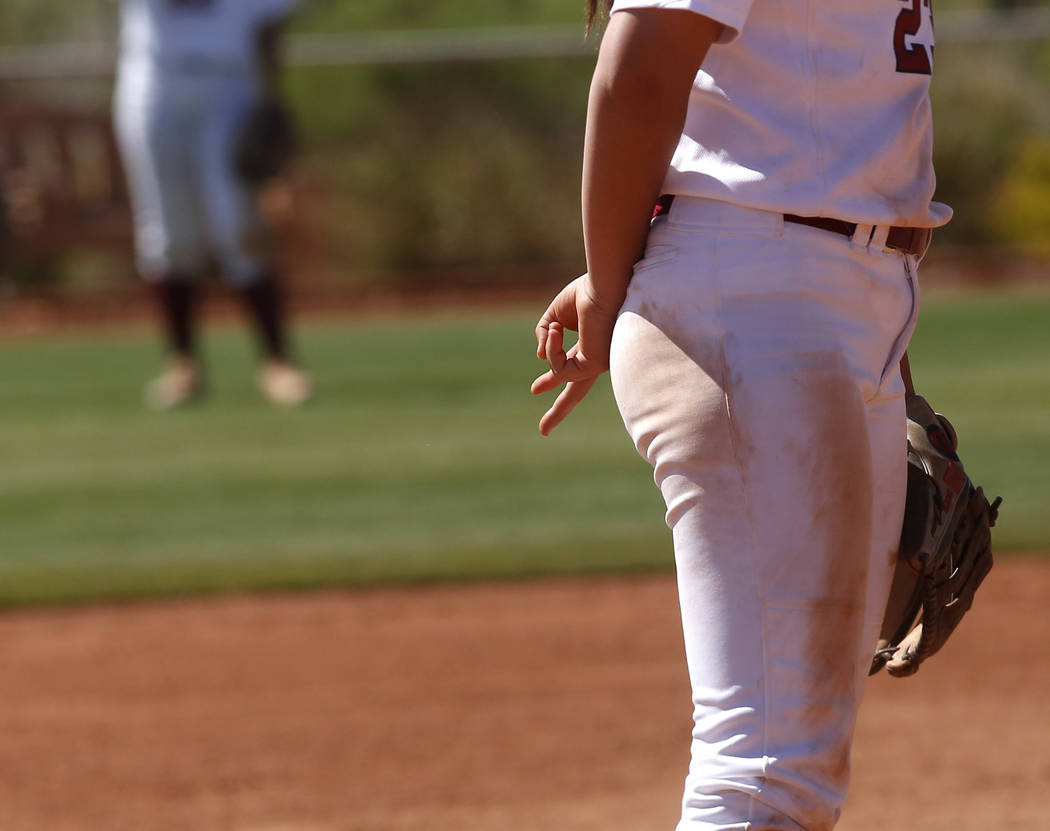 Sierra Vista's softball team scored twice in the bottom of the seventh inning to edge Durango for a 6-5 home victory on Tuesday afternoon.
Hola Rosalia Nakayama led off the bottom of the seventh inning with a single. After a strikeout, Ryan Watkins singled and Mia Buranamontri walked to load the bases.
Jasmine Martinez walked to force in the tying run, and Buranamontri scored the winning run on a two-out error.
Buranamontri went 2-for-3 with two runs for Sierra Vista. Nakayama went 2-for-4 with a triple, and Watkins was 2-for-4 with a double for the Mountain Lions.
Destiny Cisneros, Madisyn Conriquez and Keely Thompson each went 2-for-4 for Durango.
Desert Oasis 14, Bonanza 4 — At Desert Oasis, Meghan McInerney and Holly Severance hit back-to-back home runs in the third inning to help the Diamondbacks 10-run the Bengals in five innings.
McInerney finished with a pair of home runs and four RBIs.
Ashley Kersey and Carla LaRosa both doubled for Bonanza.
Pahrump Valley 15, Del Sol 0 — At Pahrump, the Trojans scored 10 runs in the third inning to complete the three-inning victory over the Dragons.
Skyler Luaver was 2-for-2 with a walk, and Jacquellen Stobbe and Amaya Mendoza each doubled for Pahrump.
Shadow Ridge 23, Legacy 0 — At Legacy, Alisha Schultz fired a perfect game and struck out six as the Mustangs routed the Longhorns in three innings.
Caitlin Covington was 2-for-5 with a grand slam and five RBIs to lead the offense.
Alyssa Stanley was 2-for-2 with a solo homer and four runs, and Shea Clements was 2-for-3 with double, a run and two RBIs for Shadow Ridge.
Mountain View 15-21, Democracy Prep 0-5 — At Democracy Prep, Miah Fields-Gibbens fired a three-inning no-hitter with six strikeouts in the opener as the Saints swept the Blue Knights.
Yamile Calzadilla was 2-for-2 with three RBIs for Mountain View. Anabell Agramon was 1-for-1 with a double, three runs and two RBIs, and Julia Sevilla was 1-for-1 with two runs and three RBIs for the Saints.
In the second game, Fernanda Aguilar was 2-for-2 with a double and four RBIs to lead the Saints. Valerie Gonzalez went 2-for-3 with a triple, three runs and three RBIs for Mountain View.
Moapa Valley 17, Sunrise Mountain 5 — At Sunrise Mountain, Emilie Barraza earned the win with 14 strikeouts, and was 3-for-4 with a home run to power the Pirates past the Miners.
Sierra Bunker also finished 3-for-4 with a homer for Moapa Valley, which got a home run from Aria Messer.
Christabelle Garner struck out 14 in the circle for Sunrise Mountain.
Virgin Valley 10, Cheyenne 2 — At Cheyenne, Kari Wakefield went 3-for-5 with an RBI, and Taylor Barnum added a double and an RBI as the Bulldogs turned back the Desert Shields.
Winning pitcher Savannah Price scattered five hits and struck out five for Virgin Valley, which erased a 2-0 first inning deficit with five runs in the second.
Madelynn Kennedy went 2-for-2 with two doubles and rang up 15 strikeouts in a losing effort for Cheyenne.
Hannah Tennant went 3-for-3 for Cheyenne.
Eldorado 4, Las Vegas 2 — At Las Vegas, Mariana Maldonado had two hits and the Sundevils took advantage of five errors to down the Wildcats.
Adriana Romero tossed a four hitter with eight strikeouts to pick up the win for Eldorado.
Nicole Forrest had a double an an RBI, and Melina Fabian hit a double for Las Vegas.
Western 16, Tech 10 — At Western, Alexis Cho struck out nine, and Arianna Lawson drove in four runs to lift the Warriors past the Roadrunners.
Melissa Fuller was 3-for-4 with three RBIs for Tech.
Foothill 4, Green Valley 3 — At Foothill, Leah Becker tossed a complete game, allowing three hits, and had a double at the plate as the Falcons nipped the Gators.
Skylar Glaude supplied an RBI single, and teammate Jocelyn Shupp added two hits for Foothill.
Olivia McClain had a hit and two runs to pace Green Valley.
Chaparral 10, Mojave 7 — At Mojave, winning pitcher Losi Brown tossed a complete game with seven strikeouts and helped herself with two doubles and an RBI as the Cowboys outlasted the Rattlers.
Ta'Nyia Zeno hit an inside the park home run, and Larissa Lynn doubled and drove in a run for Mojave, which also got a double from Emilee Mitton.
Palo Verde 15, Cimarron-Memorial 2 — At Cimarron, Kendall Hopkins went 4-for-6 with a double, a home run, three runs and three RBIs as the Panthers beat the Crusaders.
She also went the distance, scattering seven hits and striking out five, to get the win.
Makall Whetten was 3-for-7 with a home run and three RBIs, and Samantha Wade went 4-for-5 with two runs and three RBIs for Palo Verde.
Mya'Liah Bethea went 2-for-3 with a solo home run for Cimarron.
Boulder City 13, Desert Pines 3 — At Desert Pines, Ellie Ramsey was 4-for-5 with four runs as the Eagles beat the Jaguars.
Lily Osman and Marleena Mills each went 2-for-2, and Jordan Moorhead was 2-for-5 with a run and an RBI for Boulder City.
Bailey Bennett-Jordan pitched four hitless innings with eight strikeouts to get the win.
Bishop Gorman 15, Spring Valley 1 — At Spring Valley, Darian Pancirov was 3-for-4 with three RBIs, and the Gaels coasted to a four-inning victory over the Grizzlies.
Monique Passalacqua was 2-for-2 with a double and a triple for Gorman.
Katelyn Ramos drove in a run for Spring Valley.
Box Scores:
Mountain View 15, Democracy Prep 0
Mountain View 21, Democracy Prep 5
Moapa Valley 17, Sunrise Mountain 5
Palo Verde 15, Cimarron-Memorial 2
Boulder City 13, Desert Pines 3
Bishop Gorman 15, Spring Valley 1