Small schools: Lily Osman's big day sends Boulder City to 3A region final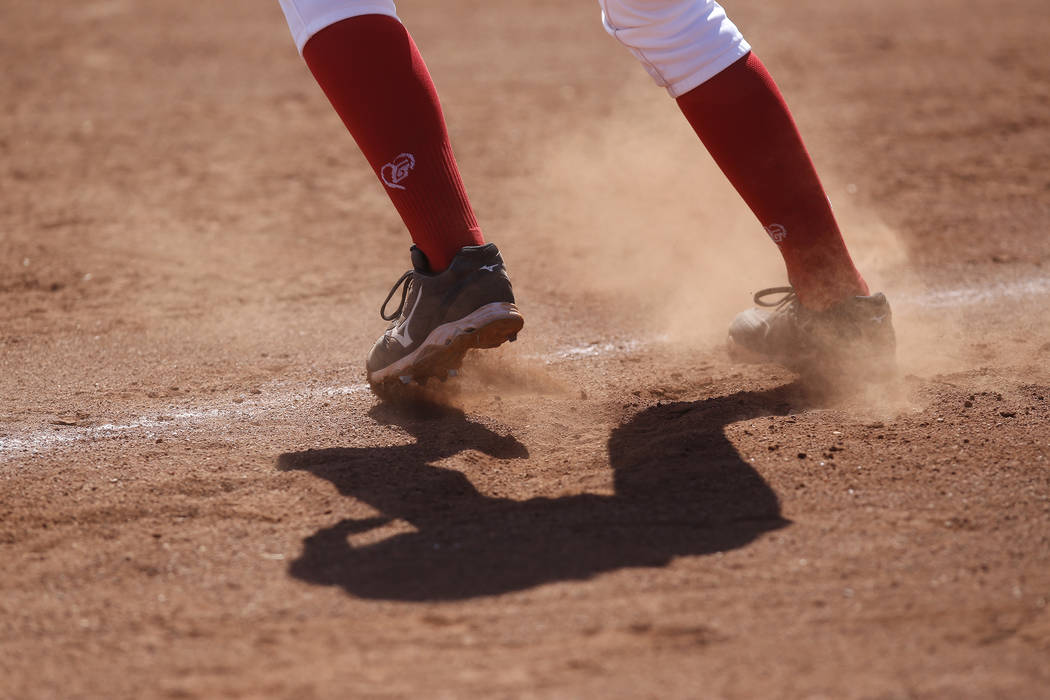 Lily Osman was 3-for-5 with two doubles, two RBIs, three runs and a home run, as host Boulder City's softball team outslugged Moapa Valley to win 12-8 and move on to the Class 3A Southern Region final.
Ashley Wishard supplied three hits and a run for Boulder City (23-9).
Sierra Harding and Abbie Evans each had three hits, and teammate Kaitlyn Anderson supplied a three-run double to lead Moapa Valley (23-7).
Boulder City will play in the championship game at home at noon Saturday.
Moapa Valley will play either Mojave (12-8) or Pahrump Valley (25-9) at 6:30 p.m. Friday at Boulder City.
Mojave 12, Chaparral 9 — At Mojave, Ta'Nyia Zeno belted a walkoff three-run home run in the bottom of the eighth inning to power the Rattlers by the Cowboys.
Essence McRae was 4-for-5, and Ysabella Morales had two hits for Mojave.
Fiona Togogae went 4-for-5 with two doubles for the Cowboys (14-8), and teammate Losa Laolagi finished 3-for-5 with two doubles.
The Rattlers will play Pahrump Valley at 4 p.m. Friday at Boulder City.
Pahrump Valley 18, Virgin Valley 5 — At Pahrump, Jacquellen Stobbe was 2-for-2 with a two-run double and three runs as the Trojans routed the Bulldogs in five innings.
Alyvia Briscoe had two hits and three RBIs, and teammates Evandy Murphy and Skyler Lauver each added two hits for Pahrump.
Savannah Price had a two-run home run, and Taylor Barnum smacked a solo homer to pace Virgin Valley (16-14).
Class 2A
Lake Mead 6, Lincoln County 5 — At Needles, California, Josey White was 2-for-2 with a home run, two runs and two RBIs to help the Eagles edge the Lynx in a Class 2A Southern League Tournament first-round game.
Jillian Morejon was 2-for-4 with two doubles and two RBIs for the Eagles (11-9), who scored three times in the top of the fifth inning to take a 6-4 lead and held on.
Kendra Mathews and Kailey Kelley each went 2-for-4 for Lincoln County (17-13), which got home runs from Hannah Bleak and Macie Howard.
Lake Mead will meet host Needles (18-7) at 4 p.m. Friday. Needles was a 19-1 winner over Laughlin in the day's first game.
Lincoln County will play Laughlin (12-8-1) at 1:30 p.m. at Needles.
Class 1A
Indian Springs 7, Tonopah 4 — At Alamo, Hailey Linfoot's single with two outs in the bottom of the sixth inning plated Aubree Young and Breana Nichols to break a 4-4 tie and helped the Thunderbirds rally past the Muckers in a first-round game of the Class 1A Southern Region tournament.
Halle Jackson was 2-for-3 with a home run and two RBIs, and Linfoot was 2-for-4 with a triple and two RBIs for Indian Springs (14-5). Faith Prine was 2-for-3 with an RBI for the Thunderbirds.
Lauren Klapper was 2-for-2 with an RBI, and Blaze Snegirev went 1-for-4 with a triple and three RBIs for Tonopah (11-10), which took a 4-3 lead into the bottom of the sixth.
Indian Springs will play host Pahranagat Valley (17-6) at 11:30 a.m. Friday.
The Muckers will play Beaver Dam (8-13) at 2 p.m. Friday in Alamo.
Pahranagat Valley 15, Beaver Dam 0 — At Alamo, Karley Whipple and Morgan Harris each went 2-for-3 with a homer as the Panthers rolled over the Diamondbacks in three innings.
Harris had three RBIs, and Whipple had two RBIs.
Rachel Bunker was 2-for-2 with a double and two RBIs for the Panthers.
Box scores:
Boulder City 12, Moapa Valley 8
Mojave 12, Chaparral 9, eight innings
Pahranagat Valley 15, Beaver Dam 0
Pahrump Valley 18, Virgin Valley 5