Small schools: Marleena Mills, Jerra Hinson guide Boulder City to crown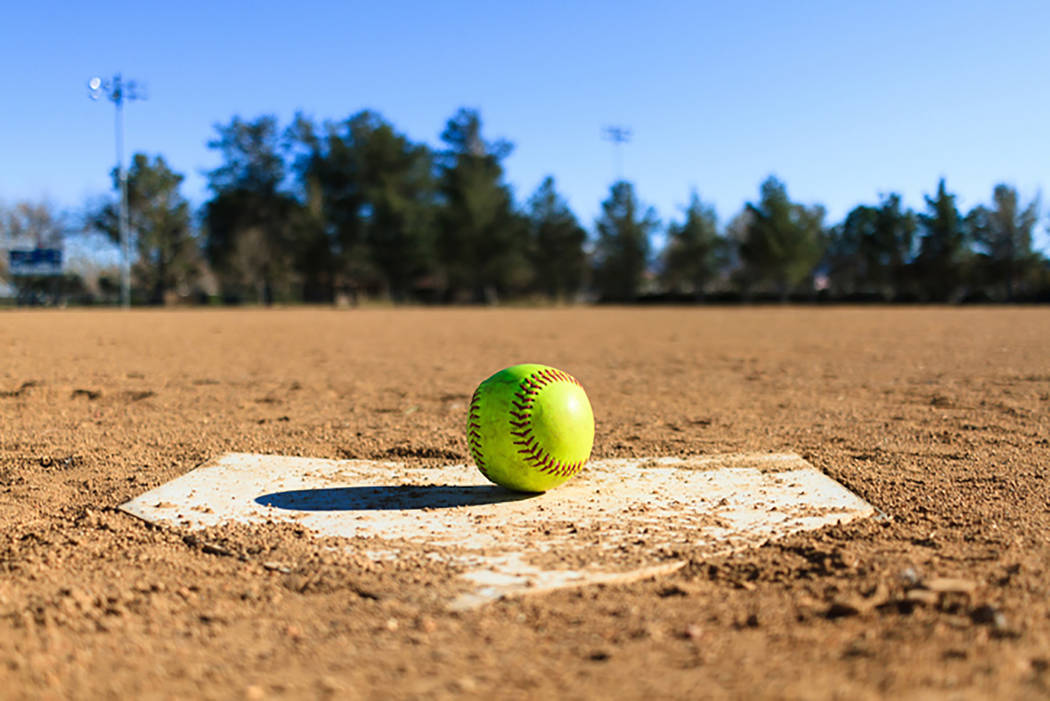 Marleena Mills and Jerra Hinson each homered and drove in three runs Saturday to help lead host Boulder City's softball team to the Class 3A Southern Region championship with an 8-2 win over Pahrump Valley.
Mills gave the Eagles (24-9) an early lead by connecting for a two-run home run to straight-away center in the bottom of the first inning.
"We were just ready to play today, and we just wanted that plaque so bad," Boulder City coach Angelica Moorhead said. "I'm proud of them. They're a great group of kids."
The Trojans (26-10) responded in the top of the second. Allyson Rily connected for a triple that drove in Skyler Lauver. An attempted sacrifice went awry however, when courtesy runner Hayley Cuellar was picked off at third base by Eagles first baseman Jordan Moorhead.
"That was a huge game-changer for us," Angelica Moorhead said. "She played the ball well and instead of going for the (sure) out decided to try and keep the runner there or get the out."
Mills brought in another run in the third, scoring Moorhead with a ground-rule double. The Eagles then added two more runs in the fourth and three more in the sixth on a home run by Hinson.
Amaya Mendoza responded by homering off Eagles pitcher Bailey Bennett-Jordan in the top of the seventh, but Bennett-Jordan responded by retiring the final three Trojans in order.
Bennett-Jordan went the distance, allowing just two hits and hitting a batter. She struck out six.
"Bailey did a great job for us in the circle and Marleena did a great job behind the plate getting the ball rolling for us with that home run to get on the board first," coach Moorhead said.
Mills said it was a special experience to share with her teammates.
"It felt amazing, it's been a super-emotional day for me," Mills said. "That last inning, especially we all realized 'This is happening, we're going to be regional champs.'"
Both teams advance to the Class 3A state tournament, which begins Thursday at Reno High.
Class 1A
Pahranagat Valley 14, Indian Springs 4 — At Alamo, Karley Whipple went 2-for-4 with a home run, three runs and three RBIs as the Panthers claimed their sixth straight Class 1A Southern League tournament title with a five-inning win over the Thunderbirds.
Morgan Harris was 2-for-2 with a home run and four runs scored, and winning pitcher Ashlyn Wadsworth went 1-for-1 with a solo home run for Pahranagat Valley, which took advantage of eight walks and 11 Indian Springs errors.
Pahranagat Valley (19-6) scored four runs in the first inning and led 9-0 after two innings.
Kaitlyn Farrar was 1-for-2 with an RBI for Indian Springs (15-7).
Both teams advance to the Class 1A state tournament, which begins Thursday at North Valleys.
Class 2A
Needles 17, Laughlin 2 — At Needles, California, the Mustangs wrapped up a dominant run in the Class 2A Southern League tournament with a three-inning win over the Cougars.
Needles (20-7) outscored its opponents 53-5 in three tournament games.
Both Needles and Laughlin (14-9-1) advance to the Class 2A state tournament, which begins Thursday at Reed High.
Box scores:
Boulder City 8, Pahrump Valley 2
Pahranagat Valley 14, Indian Springs 4