Spartans regain focus after lead shrivels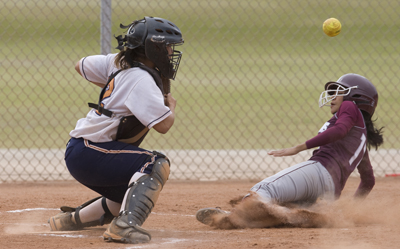 Not that it's likely to be a frequent occurrence in the pitching-rich Northwest League.
But just in case it comes up again, Cimarron-Memorial's softball team found out Tuesday that playing with an eight-run lead isn't always an easy thing.
The Spartans banged out 10 hits in the first two innings and built an 8-0 lead at Legacy, then held on for an 11-8 victory that kept
Cimarron (15-6, 5-1 Northwest) in a three-way tie for first place with Centennial and Shadow Ridge.
"We jumped on them early, and then we just lost our focus," Spartans coach Steve Gorden said. "Our girls were so focused to play, but once you lose that focus, it's hard to get it back."
Starlyn Thomas set an early tone with a leadoff triple. Seven batters into the game, Cimarron had five hits, including a home run, two triples and a double.
"I was just looking for the first good pitch I saw," said Thomas, who finished 4-for-5 with two runs and an RBI. "I just nailed it."
Hannah Williams' two-run, inside-the-park home run gave the Spartans a 5-0 lead after one inning. Four consecutive singles to start the second helped push the lead to 8-0.
But the Longhorns (15-4, 2-4) pecked away at the lead, pulling to within 9-6 on Sierra Pico's two-out, two-run double in the sixth inning. Pico went 3-for-3 with five RBIs for Legacy.
"I'm really impressed with their hustle, their grit," Gorden said. "They fought back. They've got a nice team. They're right there."
Legacy did its damage off Cimarron pitcher Carrie Sheehan, who hadn't allowed more than six runs to a Nevada team all season and had surrendered just nine runs total in the Spartans' first five league games.
Cimarron scored two runs in the seventh inning on an RBI triple by Jessica White and a single by Thomas before Legacy scored twice in the bottom of the seventh and had the potential tying run on deck.
"It is a little tough to keep that focus when you're up 8-0, but we were able to pick it up at the end," Thomas said.
Sheehan and Williams each went 2-for-4 with three RBIs for the Spartans.
Darcey Cochran was 3-for-5 for Legacy, and teammate Kaylan Hanson went 2-for-2 with an RBI double.